Change bitcoin to euros does not have to be difficult. In this article we will learn how to exchange bitcoin for euros safely, easily and quickly. Because although bitcoin is great not everything is buy bitcoin, sometimes it is necessary to exchange it for euros (???? yes, sad but true). Read on to learn all the keys.
Let us begin!
Bit2Me offers a convenient way to exchange bitcoin for fiat money (euros, dollars,…) and can even use that money in cash.
In addition, Bit2Me is working on adding more and more ways to make payments, as is the case with Paypal. But not only that. Bit2Me has developed Bit2Me Card, a MasterCard card with which you can use all the cryptocurrencies, supported in Bit2Me (more than 40 currently) in more than 40 million online stores, physical stores and ATMs for cash withdrawal, from practically all over the world. We also recommend you take a look at this article to learn how to proceed legally with cryptocurrency taxes in Spain.
As you can see, the options are multiple, and all this from your Bit2Me user account.
Below we will explain the complete process, which only has 4 simple steps.
IMPORTANT: For what we are going to explain, you will need to have a user account in Bit2Me Wallet. Don't worry as it is free, in Spanish and only takes a couple of minutes. You also have free phone support and in Spanish. Create your account with this link and you will get € 5 free on your first purchase of € 100 or more: https://bit2me.com/?r=HJW-L2K-6WW
This entire process is available via web browser, but also through the download on your Android or iOS mobile from the Bit2Me APP.
STEP 1 to exchange bitcoin: Register on the web
You will only need to do this step the first time. If you already have a Bit2Me account, please skip it.
To operate on a cryptocurrency buying and selling platform that complies with current regulations and is committed to the safety of its users, the first thing that is needed is a registration process. Bit2Me is no exception and has a simple registration process but in accordance with the guidelines required by current legislation.
Create Account: It consists of a 20 second process where you enter your email and the password you want to use. We recommend using a unique password, one that you have not previously used on other platforms, and that you add characters other than numbers and letters. Click here to open your account with a € 5 gift.
Verify identity: The second step will be to verify your identity. To do this, click on the "complete account" button. You must indicate your phone number and add your data and photo of the DNI (a normal process for financial platforms).
Once these two steps have been carried out, the Bit2Me team will review the data provided, and in a matter of minutes your identity will be verified.
While they verify your identity you can continue with the next step.
STEP 2: Deposit your bitcoin
The next step will be to deposit the bitcoin in your Bit2Me wallet. You must transfer the bitcoins from the current wallet to the Bit2Me wallet.
To do this, you only have to send the bitcoin to the address of your Bitcoin wallet in Bit2Me.
With your user session started, access the wallet (https://wallet.bit2me.com) and in the bitcoin wallet copy the address that you have on the right. It also appears in QR format so you can scan it.
Once you send the bitcoin to the address of your wallet in Bit2Me, the payment will be detected instantly.
After two confirmations (approximately 20 minutes) you can sell them.
STEP 3 to exchange bitcoin: Sell your bitcoin
Once your bitcoin is available in your wallet, you can sell them, and receive the corresponding euros in exchange based on the current price.
The sale is instantaneous and really easy. With a single click you will complete the sale of your bitcoins.
By the way, it is not necessary to sell 100% of the deposited bitcoin. You can sell the satoshis you want whenever you want.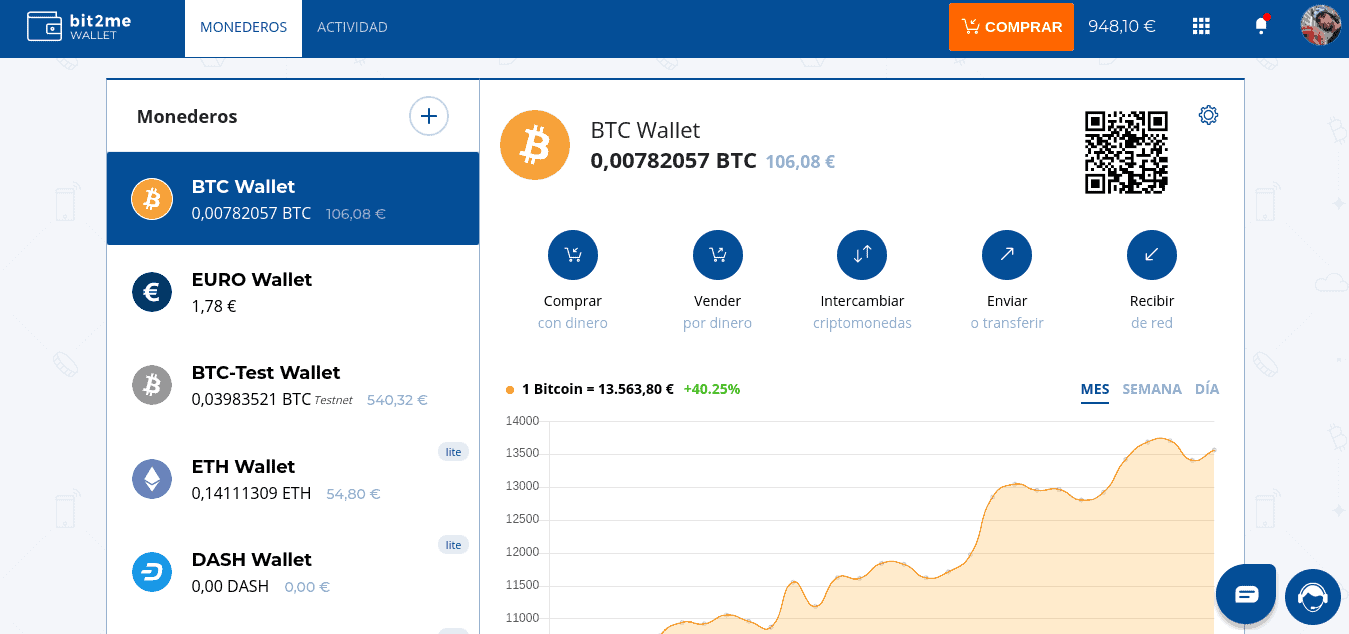 STEP 4: Withdraw the euros
Once you have learned to change bitcoin and converted your bitcoins to euros you can withdraw them, for example to your bank.
Depending on the country where you live, you can use some withdrawal methods or others. Although the most common is to use the withdrawal by means of bank transfer.
To do this you must, in your euro wallet, click on the withdraw button. When you do, you must select the bank transfer option, enter the IBAN code of your bank account where you want to receive the money and accept.
Simple as that! You are now ready to do the process yourself.
Once you have the money in your bank you can convert it to cash or do whatever you want. Also, if you want to learn more about how accept cryptocurrency payments in your business in this article you can continue learning much more about the use of bitcoin.
Remember
If you have any questions, when you create your account you have free support via chat, email and even telephone in Spanish.