Find out how you can buy a token NFT within the Enjin marketplace, one of the largest NFT markets in the world specialized in the world of video games blockchain.
LEnjin's suite is one of the most used spaces in the world NFT because it allows to unite in a very easy way, blockchain technology with the world of video games, applications and more. This in order that these virtual objects can be easily transferred between real or virtual markets, in a decentralized and secure way.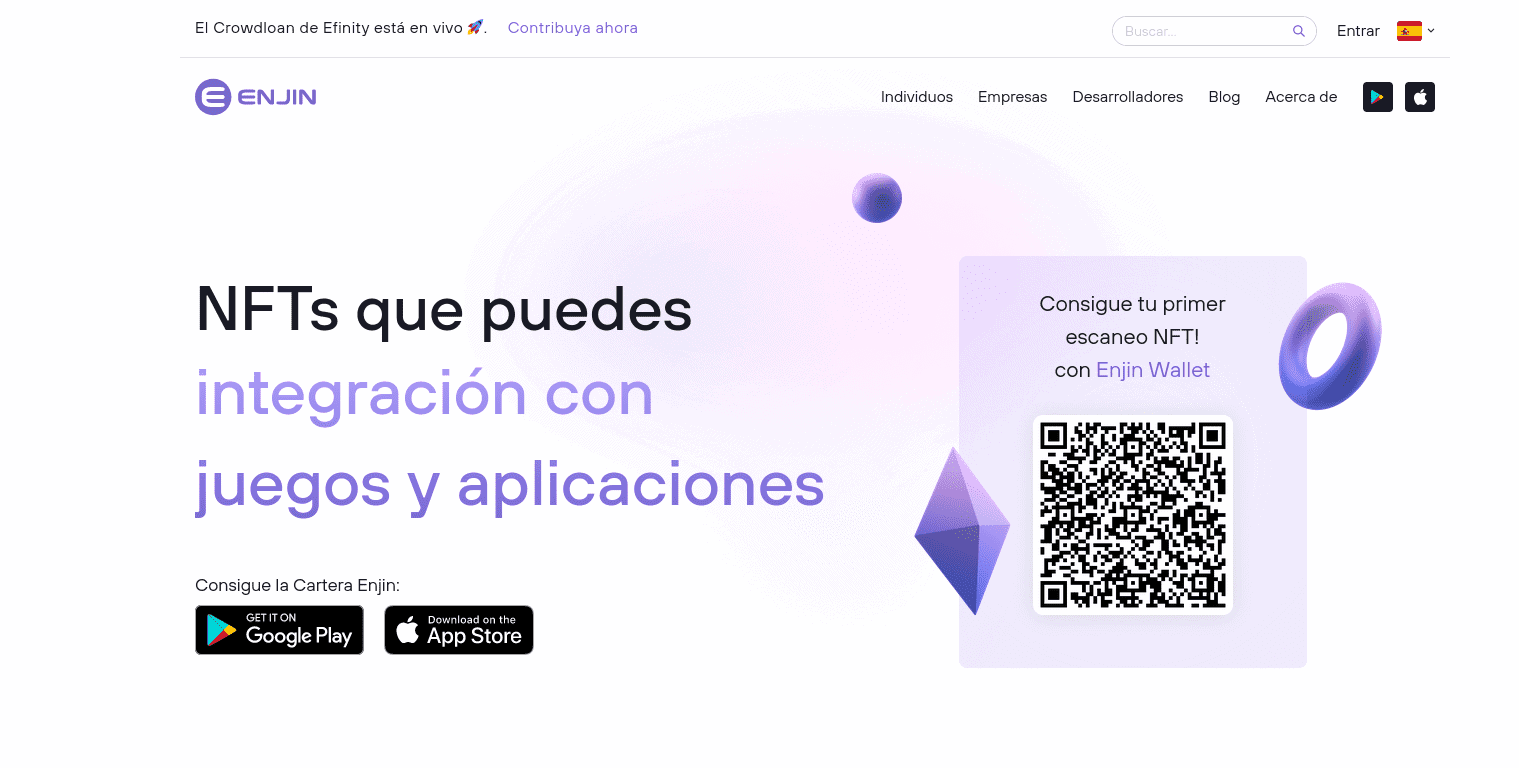 Do you want to know more about Non-Fungible Tokens? Know all the details of this type of tokens through our Elementary Course NFT. How to create them, how to sell them ... Sign up now for free And at the end you can get a certificate from Bit2Me Academy.
How to access NFTs in Enjin?
Accessing the Enjin marketplace is very simple and you can do it from this link. the name of this market es EnjinX and from there you can access all the NFTs that make life in the Enjin ecosystem.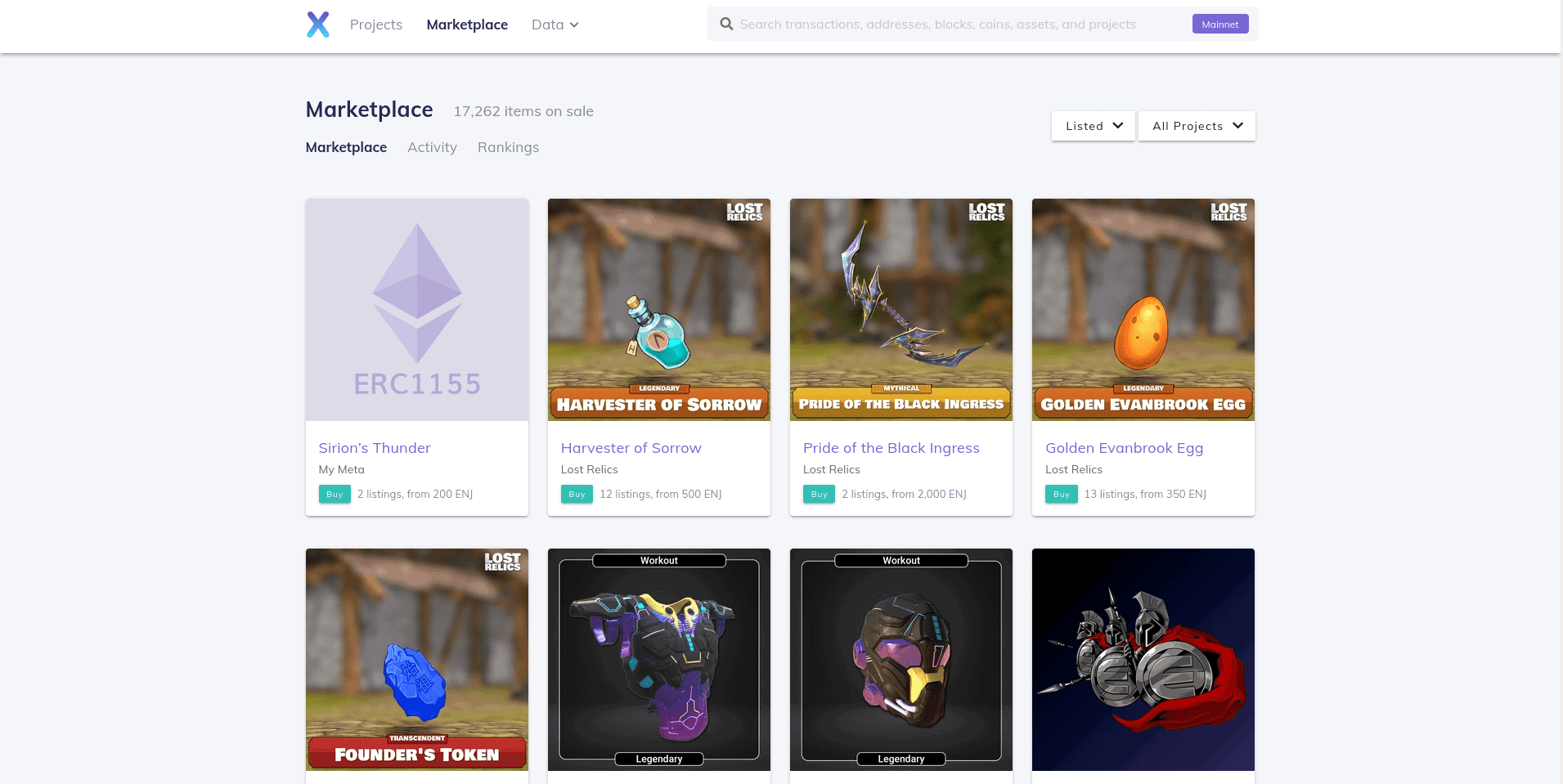 But what can we find in this marketplace? Well, any app or game that Enjin uses, or any NFT that has been created on this network or transferred to it, can be found in this market. This allows us to see NFT of blockchain games as famous as Lost of relics, Age of rust o AlterVerse.
How do I make my first NFT purchase on Enjin?
To access all this diversity, you need to install the Enjin Wallet, the official wallet of this network. This wallet is available for both Android and iOS. Once you install the app, you will have to get the ENJ and ETH tokens (the ETH is used to pay the network commissions) necessary to buy the NFT you want. Buy ENJ y Ethereum it's very simple and from Bit2Me you can do it without complications and with total safety.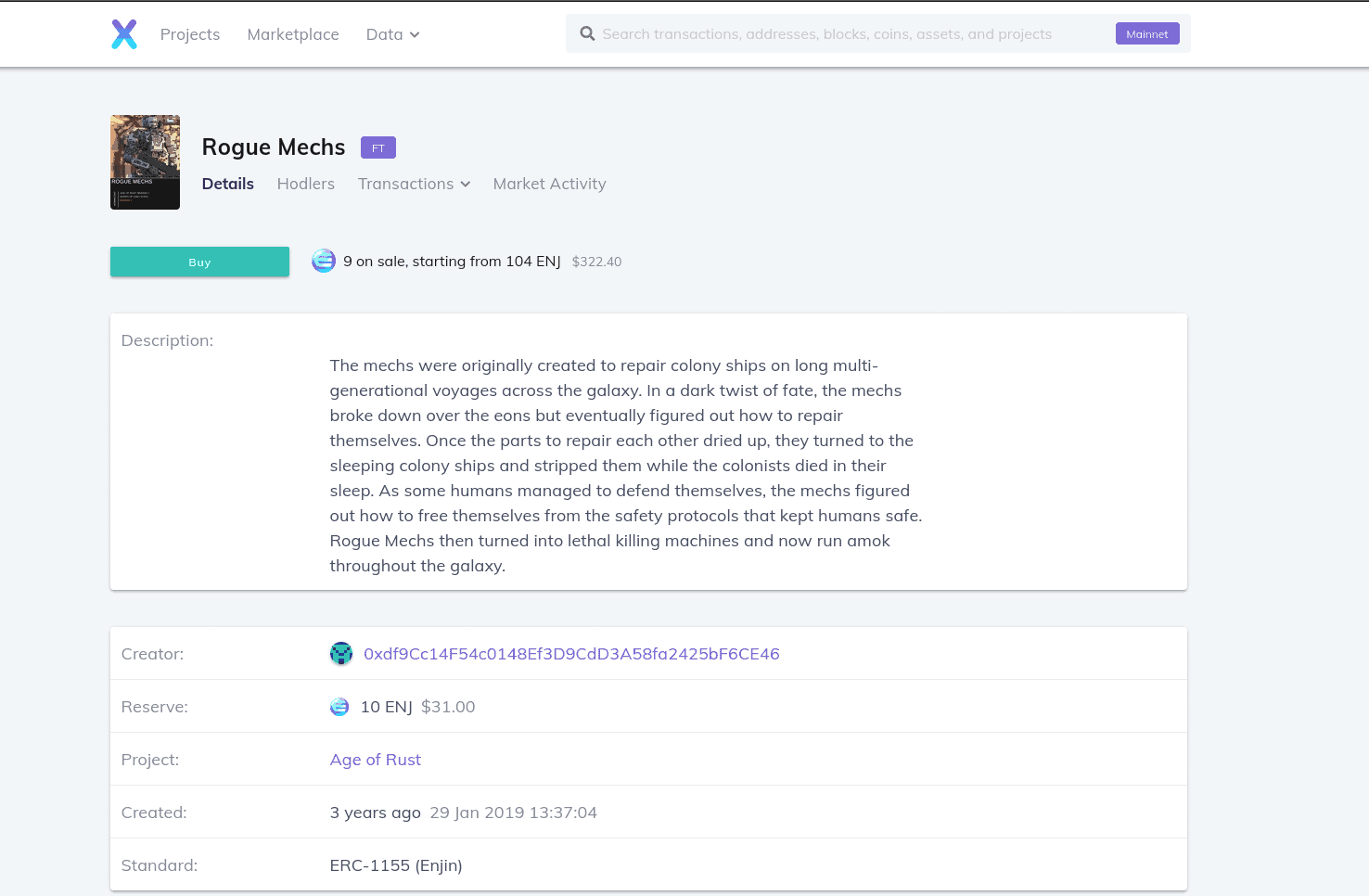 Once you have this active wallet on your smartphone, all you have to do is send the ENJ tokens necessary to buy the NFT that interests you and so you can interact with EnjinX and buy whatever you want.
Which NFT to choose?
The second step is to choose the NFT that we are interested in obtaining. For example, in this case, we have decided to buy an Age of Rust Rogue Mechs.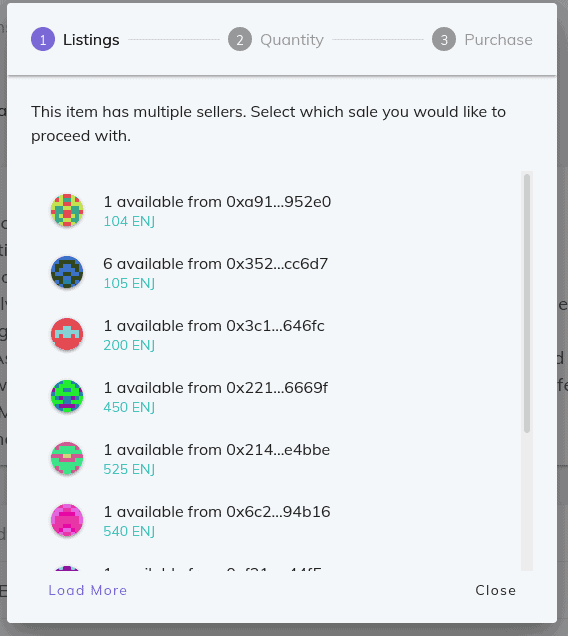 At this point we already have the token that interests us and to buy it, all we have to do is press "Buy". By clicking on the button, you will see a list of addresses that have said NFT in stock, the units available at that time and the price of the NFT as such: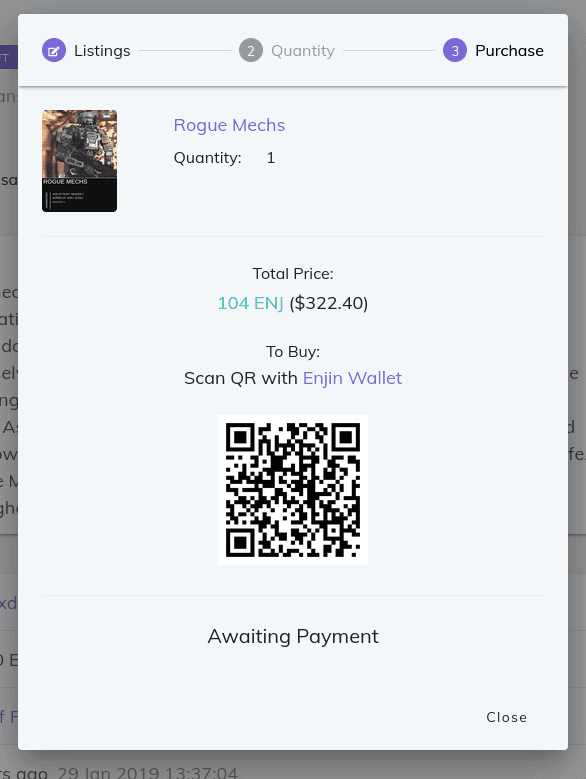 In this case, we will choose option number 1 and a box will immediately appear to make the payment of the chosen NFT.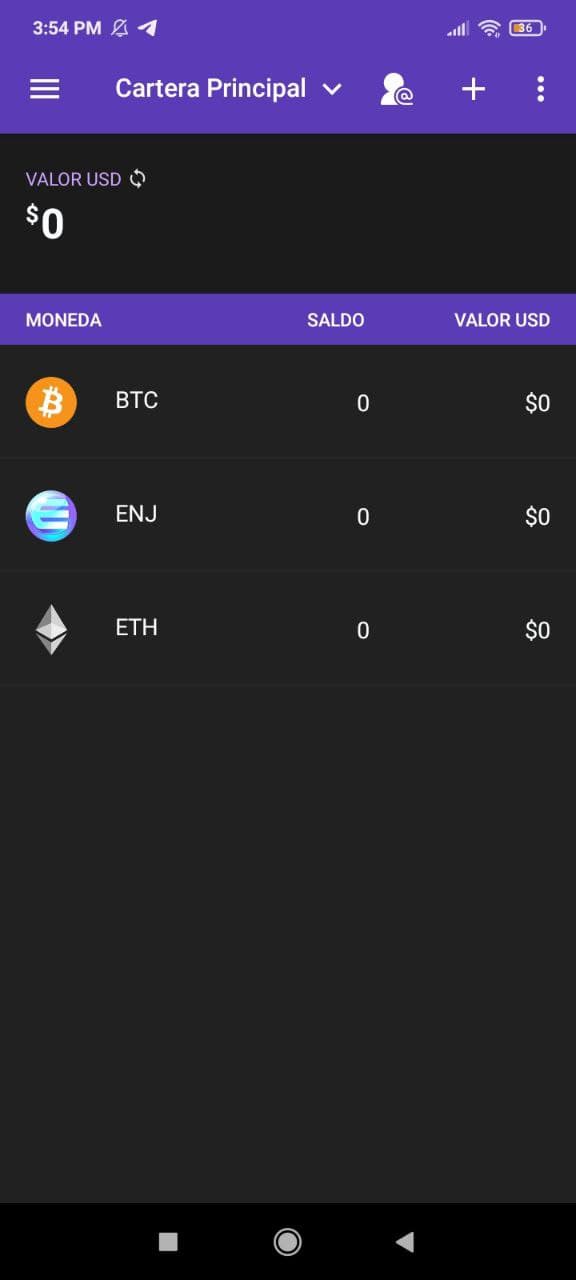 How to complete the purchase?
To finish this point, you must have the 104 ENJ in your Enjin wallet to pay the price of the NFT (plus the ETH necessary to pay the network commission of Ethereum). Once you have this balance in your wallet, all you have to do is go to the wallet and look for the "Scan QR" option.
Once you scan the NFT QR code, a payment space is generated, with which you only have to click on "Pay" for this payment to be made and you receive your NFT.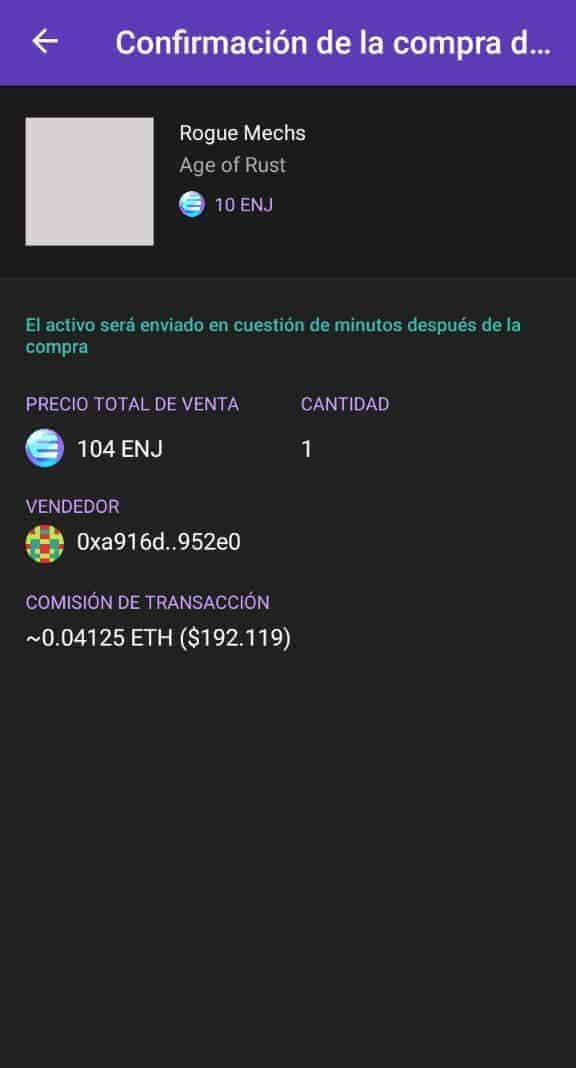 With these simple steps and after a few minutes (while the transaction is confirmed) you will already have this new Enjin NFT in your possession and you will be able to do whatever you want with it. As you can see, the process of using EnjinX is very easy.
Recommendations
As you have seen, shopping at EnjinX is quite simple. The Enjin wallet is designed to make all these operations easy and safe. However, here are some recommendations to make your user experience much better:
Make sure you have both the balance in ENJ (for the NFT purchase) and the balance in ETH (to pay the ETH network commission). The ETH commission is a bit volatile and the gas expense in EnjinX is quite high, so we recommend that you carefully review the value of the network commissions.
The Enjin wallet allows you to operate with the Jumpnet network (created by Enjin). The objective of Jumpnet is to be a 2-layer on Ethereum that allows faster and cheaper operations. If you want to save on commission expenses, this is the recommended option to carry out your operations. However, you must first make sure that the NFTs you want to buy are available on that network.
On the other hand, Enjin is currently building its Efinity network. The goal of this project is to make all operations in Enjin even more economical, with easier integration and a much more extensible ecosystem. In any case, it is best to keep an eye on the evolution of these technologies, as Enjin works hard on them and the results can be surprising.