One of the most interesting points in the history of the Bitcoin It starts with the exchanges. And it is that despite all the news and changes at the social and economic level that Bitcoin offers, there are many people who know it for its periods of high volatility. It was these events that aroused the interest of investors and the industry press. Especially driven by the trading and buying and selling opportunities offered by this cryptocurrency.
In its beginnings, and as already explained in the chapter on "How much is a bitcoin worth?", A bitcoin started worth 0 Euros. It was completely unknown to the general public. In 2009, the first exchanges that were made were purely to testing mode and without a specific market value. The first recognized transaction between two people occurred on January 12, 2009 between Satoshi Nakamoto y Hal Finney, a developer and crypto activist.
With the passage of time, more computer scientists, mathematicians, cryptographers and anyone interested in this decentralized payment system were introduced to the ecosystem. But it was not until October 5, 2009 that what would be one of the first bitcoin values ​​in the market with a ratio equivalent to 1,309.03 BTC for $ 1. From that moment the price began to fluctuate giving way to the first exchanges and market movements. Thus began the history of bitcoin related to exchanges and securities in the market.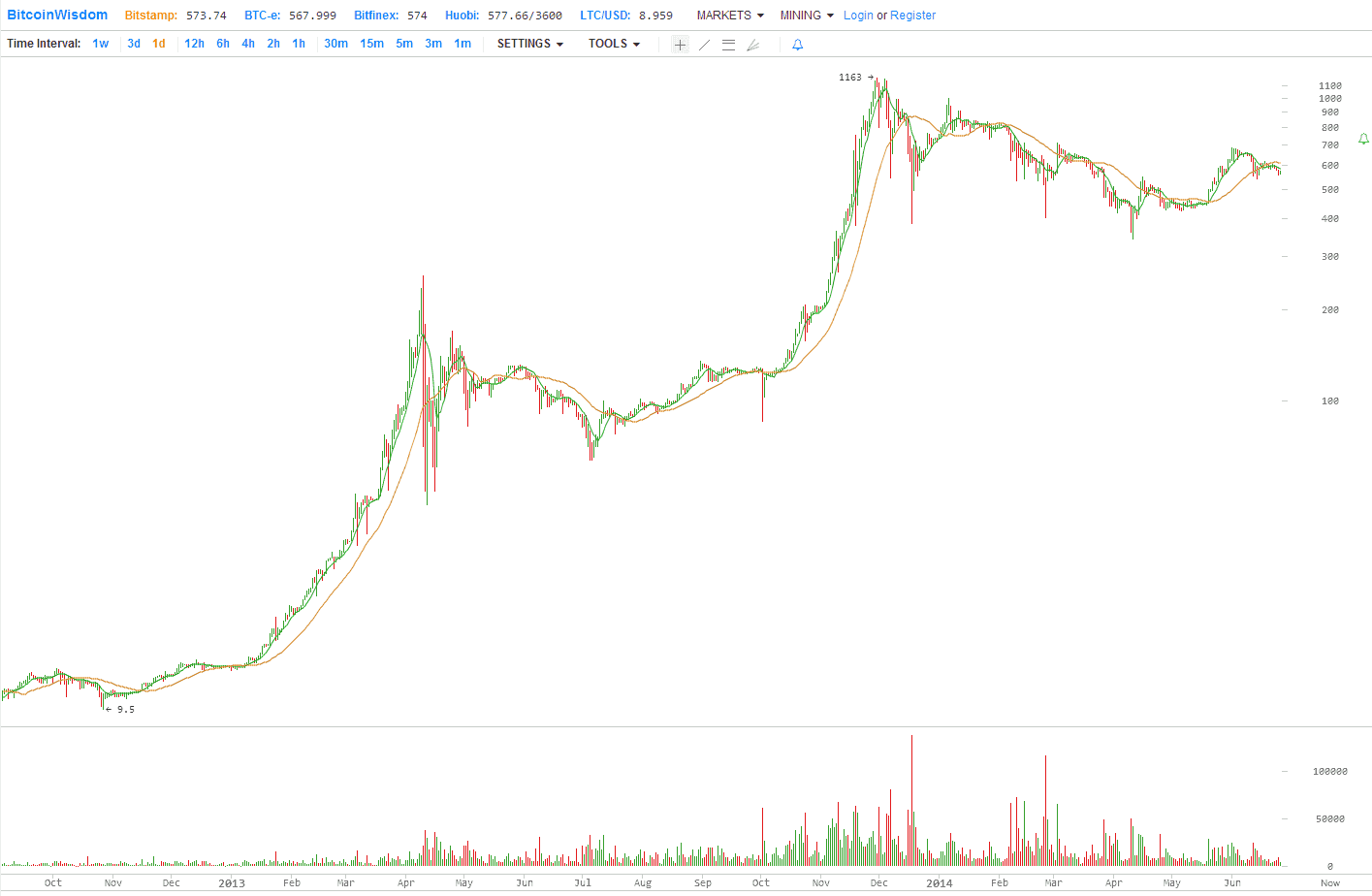 In this new article we will review all the most important events and history that have developed since the appearance of the first "exchanges"Or exchange houses in Bitcoin.
An important point before starting
Before starting our trip, let's clarify something: Bitcoin has not turned nerds into economists. Surely you have come across this "meme" on many occasions through forums such as Bitcointalk or Reddit communities.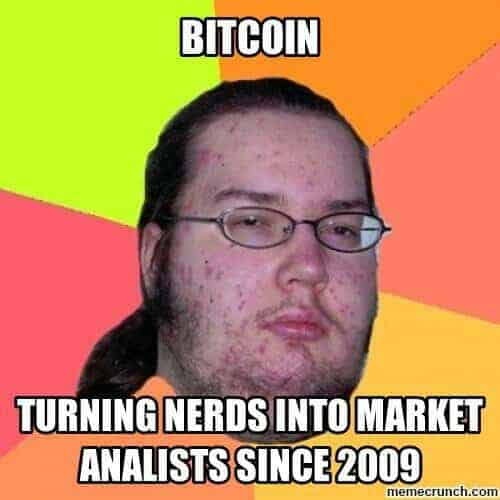 Bitcoin has been for many an opportunity to offer their services on the Internet and charge in bitcoins while maintaining privacy and without the difficulties that other payment services did offer. You just have to download any wallet, generate an address and send it to the issuer to make the payment. So no, all those computer scientists who are dedicated to trading will have studied a minimum to know the operation and mechanics of the markets.
The nature of Bitcoin allows any individual to discover it and start earning or moving their first bitcoins.
A little context
At present we are used to operating in exchange houses making exchanges between different cryptocurrencies, . This allows us to convert our digital assets into fiat money and vice versa. We could easily name at least five exchange houses from various countries or continents. But every story has a beginning, an evolution and some main actors, among which Bitcoin occupies the place of honor of these exchanges.
Within the exchange category, it is convenient to differentiate between buying and selling platforms where we can exchange fiat money for cryptocurrencies. Additionally, we have trading platforms that allow us to speculate live and offer a console for real-time operations and tools for technical price analysis. Some platforms are smaller, others larger, some stricter when it comes to adding cryptocurrencies and others more lax. At the moment of truth, what is relevant is that they all have the function of promoting exchange in a safe, simple and fast way.
We currently find a clear trend and that is the transition from centralized to decentralized trading exchanges. Centralized markets are those that carry out intermediation to make changes between different cryptocurrencies, such as going from Bitcoin to Ethereum and are due to the standards of different countries. Decentralized markets allow only to exchange cryptocurrencies that are in the same blockchain. Or what is the same, we could only change Ethereum between tokens created under its blockchain.
The first exchange rate
As we indicated in our article '¿How much is a bitcoin worth? ' is initially had a zero value or had no value, if you prefer. For more than a year it had no real value (until Laszlo Haynek bought two pizzas with 10.000 BTC) and everything was based on donations and exchanges as a test to see how the platform works. Here begins the history of bitcoin and the first exchanges.
Despite not having real value, it was created on October 5, 2009 a bitcoin buying and selling service called the New Liberty Standard that towards a value ratio of 1.309,03 BTC for $ 1. This value relationship was established according to the energy cost of mining Bitcoin or what is the same, a kind of compensation for the mining of blocks according to the price of electricity. Thus began an endless story that would take Bitcoin exchanges to take off in the world.
First exchange of bitcoins to fiat
There are countless solutions to convert our cryptocurrencies to fiat money and vice versa, but at the beginning of time this was not so simple. The first transaction of this type is registered on October 12, 2009 where New Liberty Standard buys a total of 5.050 BTC from Sirius for an amount of $ 5.02 through PayPal.
This operation established that approximately 1.010 BTC were equivalent to $ 1, which is the first increase in value of the price of Bitcoin and a significant appreciation.
Found the first known bitcoin to USD transaction from my email backups. I sold 5,050 BTC for $ 5,02 on 2009-10-12. https://t.co/8XcBmzJljf

- Martti Malmi (@marttimalmi) 15 January 2014
This action was undoubtedly a milestone in the history of bitcoin exchanges, and began an unprecedented transformation.
The Bitcoin Market is born
In February of 2010 a Bitcointalk user named dwdollar created a portal called Bitcoin market in which bitcoins could be bought and sold from person to person including payment systems such as Paypal, thus becoming one of the first references in the purchase and sale of BTC known to date. On June 4, 2011, Paypal stopped offering support in the Bitcoin Market due to the fraud that some users made claiming that they did not receive anything in exchange for what they had paid for the bitcoins.
The arrival of Mt. Gox
On July 18, 2010 appears on Bitcointalk a rather brief message where the creation of the first exchange itself is reported, where the parameters of the last price are established in an exchange operation, the highest and lowest value in the last 24 hours, the volume in the last 24 hours, thus such as the price of the highest selling positions and the lowest buying positions.
Jed McCaleb was the creator of this exchange that sold the exchange on March 6, 2011 to Mark Karpeles. It became one of the most important platforms until its controversial, dark and strange ending and the disappearance of all the user's bitcoins.
Three new exchanges with other fiat currencies
In approximately ten days, three new exchanges appear that innovate allowing to change into non-dollar fiat currencies. Britcoin is born on March 27, 2011 It allows you to exchange bitcoins to British Pounds (GBP). On March 31, it starts its Bitcoin Brazil services that allows the exchange between pairs by means of Brazilian reals (BRL). Finally BitMarket.eu is born on April 5 that allows the exchange of bitcoins to euros (EUR)
Hacks begin
Although the case of Mt. Gox is the best known and is the first after this, many more cases have come. We will only review a few cases and very briefly, since we have developed a specific article to discuss the thefts of bitcoins and other cryptocurrencies.
Gox: On June 19, 2011 unknown attackers force a security breach and steal thousands of bitcoins from users and compromise usernames and email accounts.
Bitomat: Important Polish exchange that became the third in volume suffers an attack and 17.000 BTC are stolen from users.
MyBitcoin: About 120.000 bitcoins are stolen from users, which at the time was equivalent to two million dollars.
TradeHill: Close to $ 100.000 was lost, causing the immediate closing of the exchange house, which in February 2012 was the second with the highest volume.
Bitcoin: On May 11, 2012, he suffered the theft of 18.000 BTC, which at that time was equivalent to $ 90.000.
Exchange today
We have seen the most relevant events throughout the history of exchanges and there is still a long way to go, both positive and negative, unfortunately. What interests us now is knowing what the outlook is like and talking a little about which are the largest markets internationally. In addition there are also the Decentralized exchanges (DEX) whose boom has begun to grow.
General data
Right now the situation seems favorable to the cryptocurrency market and specifically to exchanges in much of the world. If we look at CoinMarketCap we can see that there are more than 13.000 exchanges that are listed on this website and the number increases significantly over the months.
The countries are beginning to regulate and establish specific rules for the operations of the exchanges. South Korea and Japan are the most progressive and most open to these platforms as long as they comply with certain rules focused on transparency and avoiding money laundering.
Switzerland, Estonia and Malta are the ones that provide the most facilities when it comes to establishing exchanges and other projects based on cryptocurrencies, because they have clear laws that must be complied with and that seek to protect users. For its part, the United States supports and controls the exchanges, although it does not have clear rules in favor or against it, and the position is quite ambiguous despite being allowed to operate.
Exchange Europe
Bitsamp: It may be the first exchange developed and based in Europe, specifically it is located in Luxembourg and was founded by Nejc Kodric in 2011. It is highly valued and operates globally.
LocationBitcoins: This exchange is the most reputed today and one of the most money moves at European level. It was founded by brothers Nicholas and Jeremias Kangas in Helsinki, Finland in 2012.
CEX.io: London, UK based exchange bureau that was founded in 2013 by Oleksandr Lutskevych. They have an impeccable track record and they are really demanding when it comes to adding new cryptocurrencies.
Exchange United States
Kraken: Also based in San Francisco, the United States is the first to be created on American soil, being founded on July 28, 2011 by Jesse Powell. It has great prestige and is one of the largest volumes of Bitcoin moves every day.
Coinbase: The San Francisco, United States-based exchange founded in June 2012 by Brian Armstrong allows us to easily buy Bitcoin, Ethereum and other cryptocurrencies.
Bittrex: Based in Seattle, the United States was founded by Bill Shiharo in 2013. It has recently received a major interface update and is adding the option pairs with US dollars.
Poloniex: Located in Delaware, United States and founded by Tristan D'Agosta in January 2014, it is one of the most demanding when it comes to adding cryptocurrencies and offers high security measures to protect users.
Exchange Asia
Bitfinex: Based in Hong Kong, it was founded in 2012 by Raphael Nicolle and Giancarlo Devasini and is characterized by being reliable and safe, being one of the first to hit the market. It is the second in volume of Bitcoin movements.
Huoban of: The Singapore exchange founded in 2013 by Leon Li is one of the largest volume of Bitcoin and other cryptocurrencies in the market.
Okex: Founded in 2013 by Star Xu based in Beijing, China. The exchange house is the third in volume of exchange of BTC and the first in Ethereum and EOS, among others. One of the most important today.
bitflyer: It is the most important exchange in Japan and was founded on January 9, 2014. It complies with the Japanese regulations regarding transparency and security.
Binance: It was born in 2017 from the hand of Chanpeng Zhao and is based in Shanghai, China. It is the one with the largest volume of Bitcoin today and gains importance daily.