learn how to accept Bitcoin in your business in an easy and simple way using Bit2Me Commerce and Bit2Me Wallet, and join the revolution of the crypto world.
THave you ever wondered how many Bitcoin users are there in the world? Well, the answer is that There are currently more than 50 million people already using Bitcoin worldwide. That's right, and with each passing year, more and more people begin to use this new type of global money, forgeable and safe. A huge and growing audience that a company must not miss. If you have ever wondered how to accept Bitcoin as a payment method In your business, don't worry, we are going to explain it to you here.
Also start accepting Bitcoin and other cryptocurrencies, in your business is take a step forward when it comes to the use of digital money and new technologies. How the Internet changed our world, Bitcoin and technology blockchain they are changing the way we view and handle money. And the best thing is that all this is happening now. So you can also be part of this transformation, becoming a pioneer of it.
With that in mind, here are the 7 most important reasons why you should accept bitcoin and, with it, get more potential out of your business:
It's free: Accepting payments in Bitcoin is Free. It has no cost to you as a trade / business. Unlike accepting card payments.
It's fast: It takes no more than 2 minutes to start accepting payments.
No fraud: There are no fake bitcoins, and no one can roll back a confirmed transaction you have received.
It is Global: Get clients without thinking about borders. Receive payments worldwide without problems and thereby expand your presence in new markets.
Easy accounting: Everything is digitally accounted for accurately and without errors.
It does not have limits: Receive payments without quantity limits, both micropayments of cents and large amounts.
Gives you visibility: It is free marketing. That easy. Stand out from the competition with a digital transformation at zero cost being the pioneer of your town, something that newspapers and other media will want to publicize, and thereby promote your business for free.
You convert more: Expanding the accepted payment methods gives you access to a larger audience, being the holders of bitcoins a public without so many alternatives of spending in stores, making your store more relevant.
Far was it when Bitcoin was a thing of "geeks", now it is an economic tool that is used more and more all over the world. Did you know that Bitcoin is accepted as a payment method in companies as famous as Microsoft? So is! And it is not the only company that accepts payment for goods or services.
Tens of thousands of companies already do it, including many top-tier ones: WordPress, Soundcloud, Reddit, Namecheap, Virgin, Playboy, Shopify, Name.com, Fiverr, Steam, Tesla, Badoo, Zynga, Destinia, IBM, Cars .com, Overstock, Expedia or Foodler. Of course, the list keeps expanding more and more. Y What is it the best of this? That the next one can be your business.
Here you will discover a new way to attract income through new customers with whom to close sales, stand out from the competition and, furthermore, be a true pioneer.
And it is that rarely in life do you have the opportunity to be the first to something. But Bitcoin is here to change this, and thereby help your company.
Thanks to Bitcoin you can be the first in something incredible. In addition, being the first in the country, city or even town is something worth appearing in the newspapers, and this is something that you can take advantage of in your favor, this free marketing being the lever to take your business one step further.
This was verified when Bit2Me helped the Gran Teatro Bankia Príncipe Pío in Madrid (Spain). After being the first theater to accept Bitcoins, it appeared in dozens of first-rate national and international media.
And for this reason, in this new Bit2Me Academy guide, we will explain how you can do the same, and in just 2 minutes, completely free of charge: AT ZERO COST, without buying gadgets and without having any advanced computer knowledge. You only need your computer (or smartphone) and Bit2Me, that simple. So get ready to innovate!
How do I start accepting Bitcoin?
To accept payment in bitcoin in your business you do not need to register with any special organization, or anything like that. You simply need a tool called a purse or wallet and sign up for the Bit2Me Commerce service offered by Bit2me, so that when a client pays you with their bitcoins you can receive them and store them in your purse, and after that deliver the good or service.
At this point in Bit2Me we offer Bit2MeCommerce. It is an online payment gateway (and in the future also offline) that makes it easier for companies to pay with cryptocurrencies. It is a product aimed at companies that have an electronic commerce and want to allow payment with cryptocurrencies. This service is therefore aimed at businesses or companies that want to add a payment option such as cryptocurrencies so that customers can use it when buying their products or services. To do this, interested companies must register with the Bit2Me Commerce service in order to start accepting payments in cryptocurrencies in their businesses.
It is a global service that will allow you to accept customers from all over the world, eliminate fraud by saying goodbye to chargebacks and high commissions and get your business to manage payments much faster. In addition, it is a flexible service that currently allows you to receive payments online and soon also in your business on the street.
Setting up this service is simple and free. The service has an open and free API that allows the full potential of the service to be integrated into all types of platforms: accept payments, make withdrawals, make exchanges and much more. Also, Bit2Me Commerce is fully configurable. It can be customized to easily convert wallets, eliminate volatility when converting to euros, and receive as many daily payments as needed, making it suitable for all types of businesses. In addition, Bit2Me Commerce allows businesses to easily view and download company movements in a single click.
Getting to know Bit2Me Commerce better
Bit2Me Commerce It is a comprehensive solution offered by Bit2Me and specially designed to meet the needs of those businesses and businesses in Spain and Europe that seek to accept payments in bitcoin.
With Bit2Me Commerce, any business can start receiving payments in bitcoin for their products and services. It also offers added functionalities that allow you great flexibility in your day to day. Here we detail some of them:
Bit2Me Commerce sets you apart from the competition by allowing you to receive cryptocurrency payments from customers around the world.
It is a global service that accepts clients from all over the world whether or not they have a bank.
It is a secure service that eliminates fraud and will allow you to say goodbye to high commissions and returns.
It is a fast service that allows you to convert crypto payments to euros instantly.
Bit2Me Commerce is flexible, allowing you to receive payments online and also soon offline in businesses on the street.
Bit2Me Commerce has completely transparent commissions: 1,95% on merchant payments.
Transfers with Bit2Me Commerce are free. This service allows you to make withdrawals directly to your bank. Terms may change depending on the bank used.
Compensations are fast. This service allows you to receive your money by transfer, both in cryptocurrencies and also on the card.
Payments are irreversible, which reduces the possibility of fraud when using the card. In addition, payments cannot be reversed and do not penalize.
Bit2Me Commerce allows you to comfortably view and download the list of movements of your business in a single click.
It also allows you to accept payments in cryptocurrencies and receive them in euros. Soon it will be able to be configured to be used with more currencies.
All this, in addition, 24 hours a day, 7 days a week. And not only this:
You don't need to install any application.
It's free.
With support by phone, chat and email.
Accessible from any browser.
Accessible from anywhere on the planet.
With text and video tutorials.
Bit2Me Commerce allows you to keep your balance in cryptocurrencies, or change your balance to euros and send it to your bank. You can also rest easy when you participate in a secure system, without refunds or chargeback, and at the same time avoiding the very high fees charged by other systems, such as debit / credit cards.
Best of all, Bit2Me Commerce is part of the Bit2Me Suite, where you can find other functionalities tailored for you, such as Bit2Me Card: Bit2Me VISA debit card that will allow you to use your income in millions of physical and online stores around the world, in addition to being able to withdraw cash from millions of ATMs globally, safely and without complications. In Bit2Me Commerce You can expand the information and request more data to start implementing payments with cryptocurrencies in your business in a professional and secure way.
How to start: step by step
Here we will explain how to do the process via the web, but it is just as simple with your smartphone.
Creating your account will only take a few seconds, and it will allow you to accept payments in Bitcoin. Subsequently, and if you want to change the bitcoins to euros totally or partially, you must complete your user account verifying your identity. However, if you do not want to convert to euros, saving the bitcoins as an investment, you should not do anything else.
Go for it!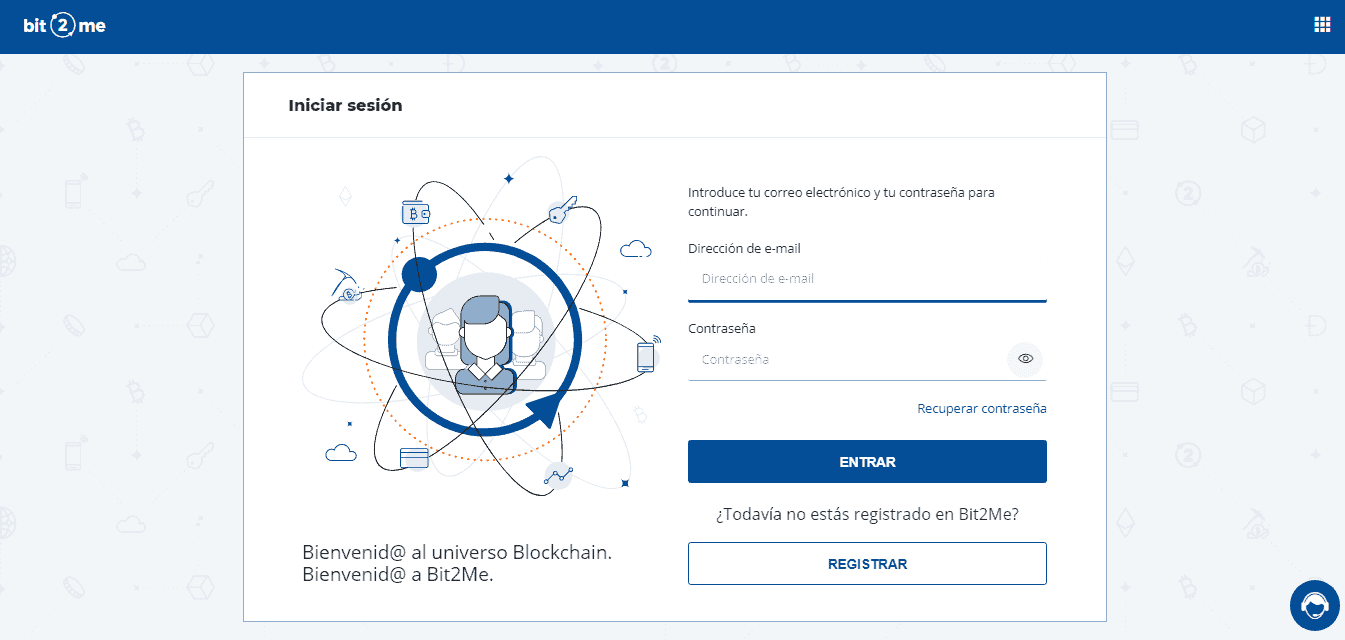 To start our registration process you must simply enter your email address along with the password you want to apply to our platform.
Immediately after registering your account, go to the email you used for registration. In it you will see a message sent from Bit2Me with a link to verify that the email account is indeed correct.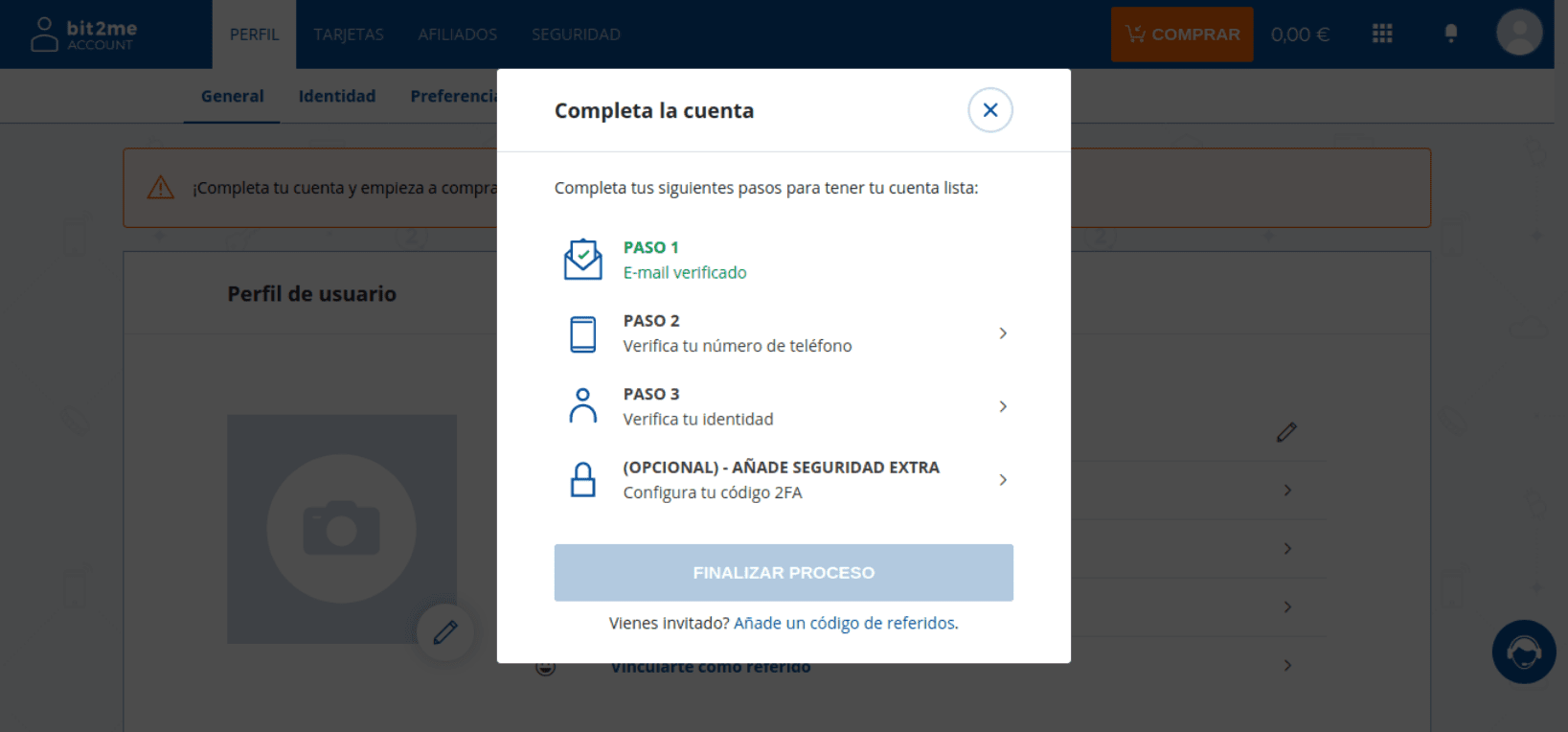 Step 2: Complete your account
If you have in mind to convert the received bitcoins to euros, and send those euros to your bank, you must complete your user account.
This is a standard process in which you will have to perform 2 actions: link your mobile phone number and put your personal data, including photos of your ID that guarantee the authenticity of what you indicate in the data form.
To link your phone, in your profile settings, you must:
Indicate the phone.
Enter the code received by SMS.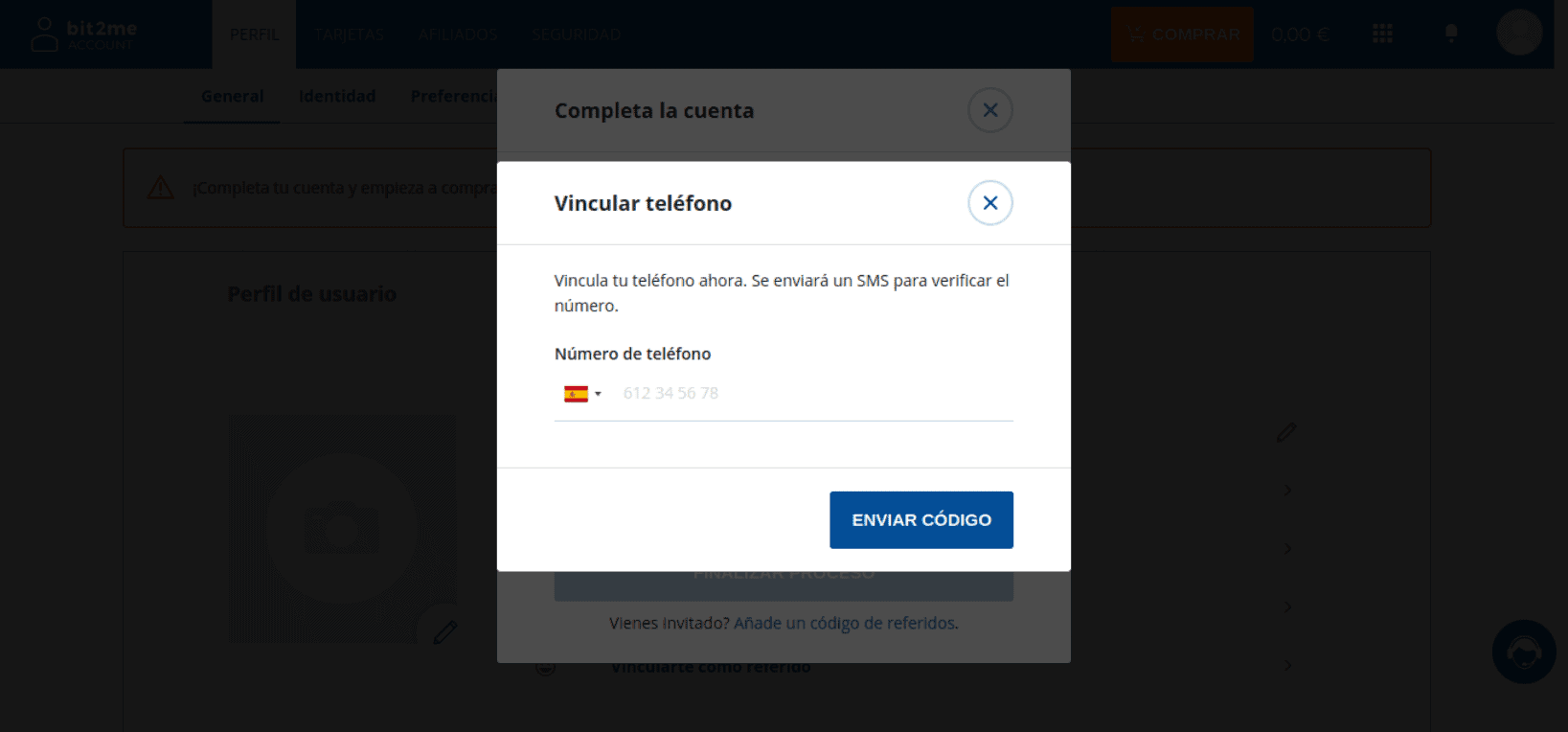 To verify your identity, also in the configuration of your account, you must follow the identity process in which you must enter the data and add the photos that the system indicates.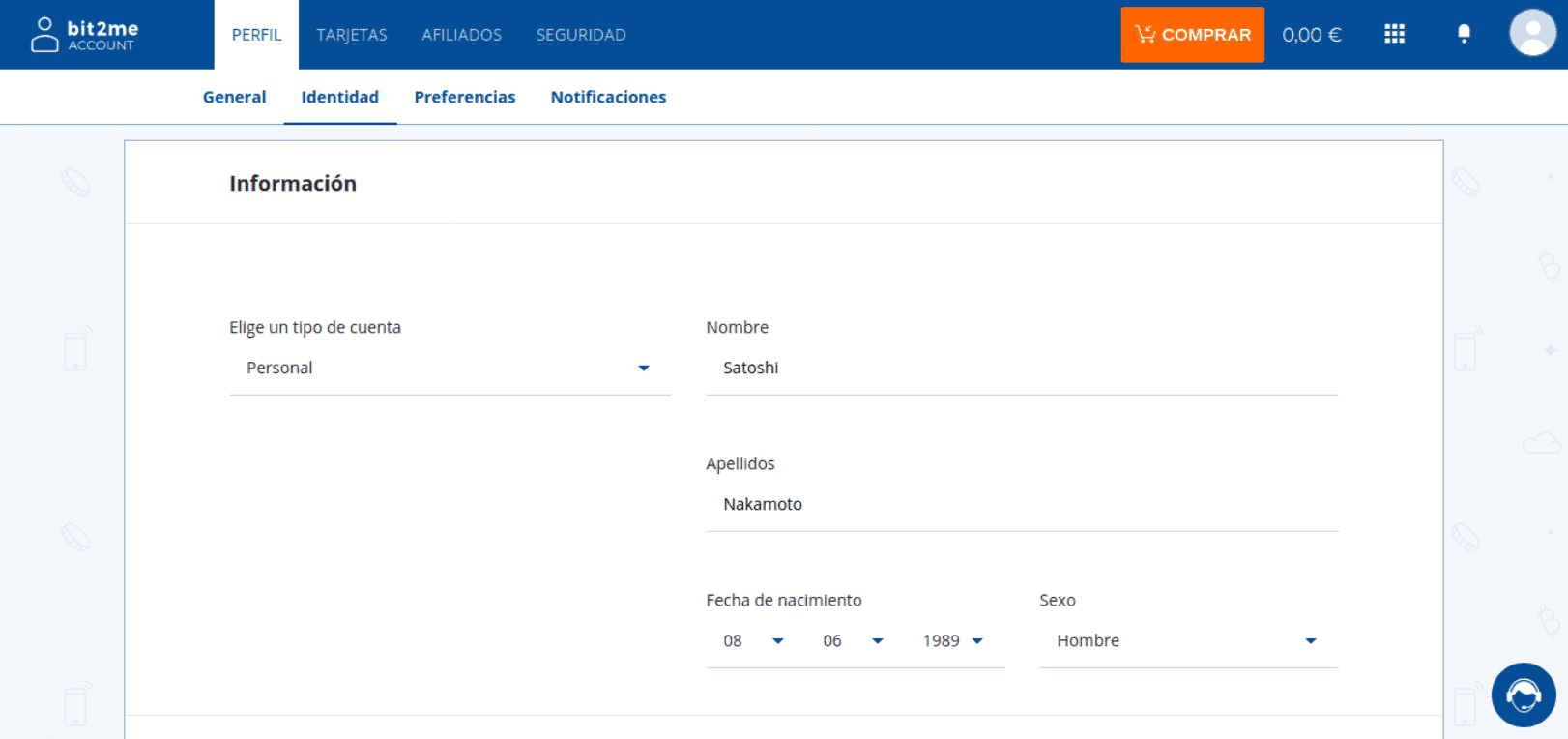 Step 3: Receive payment in Bitcoin
Once your account is created, you can see your Bitcoin wallet, among others, in the wallet service. We will focus on this tutorial on Bitcoin, as it is the most used currency.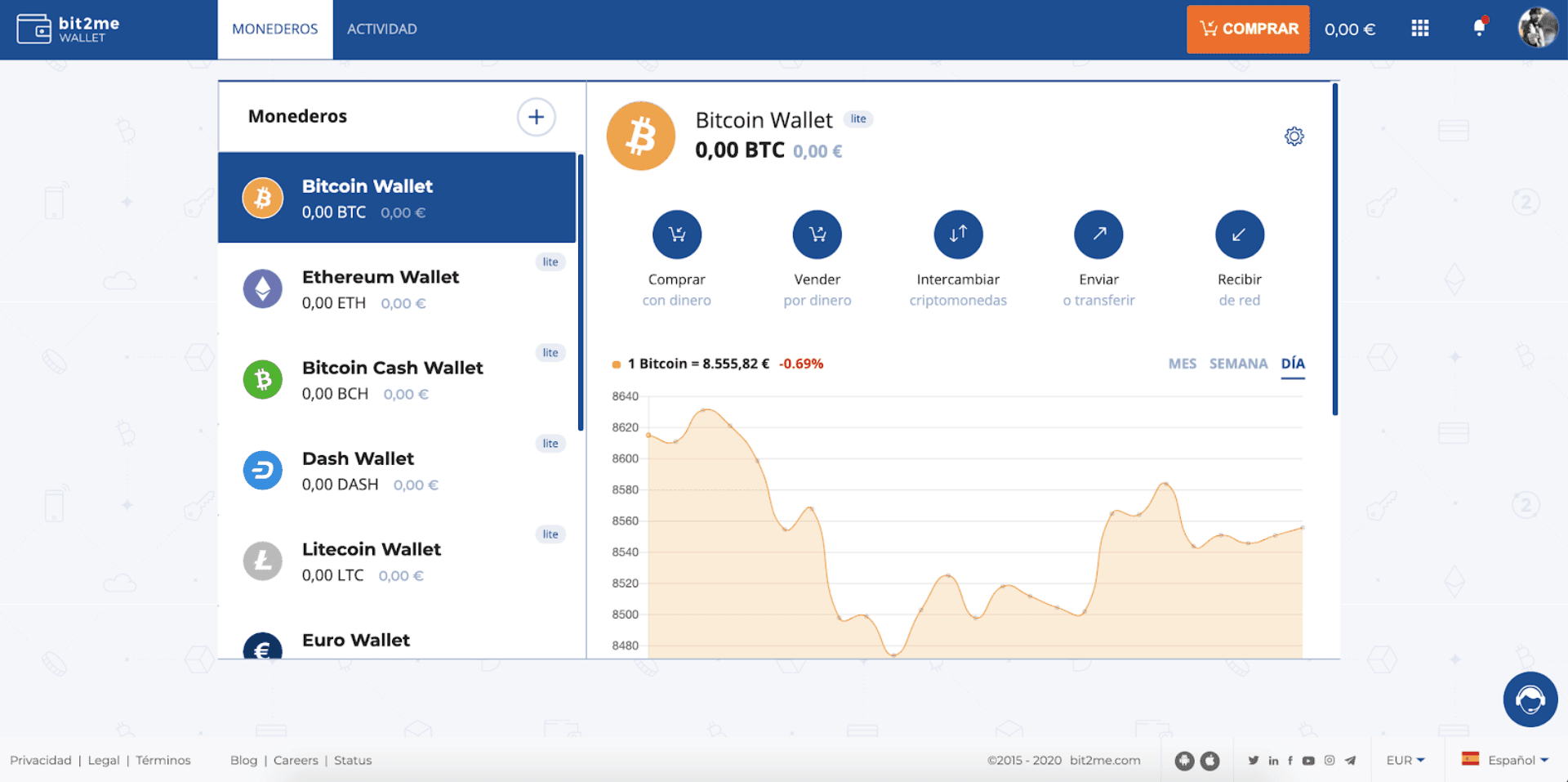 With the same user account, within Bit2Me Wallet, you can create as many wallets as you want. Something very useful when you want to organize your funds. By selecting a Bitcoin wallet and clicking on the "Receive" button you will see your Bitcoin address. You can see this address in alphanumeric format and in QR format to be able to receive bitcoin.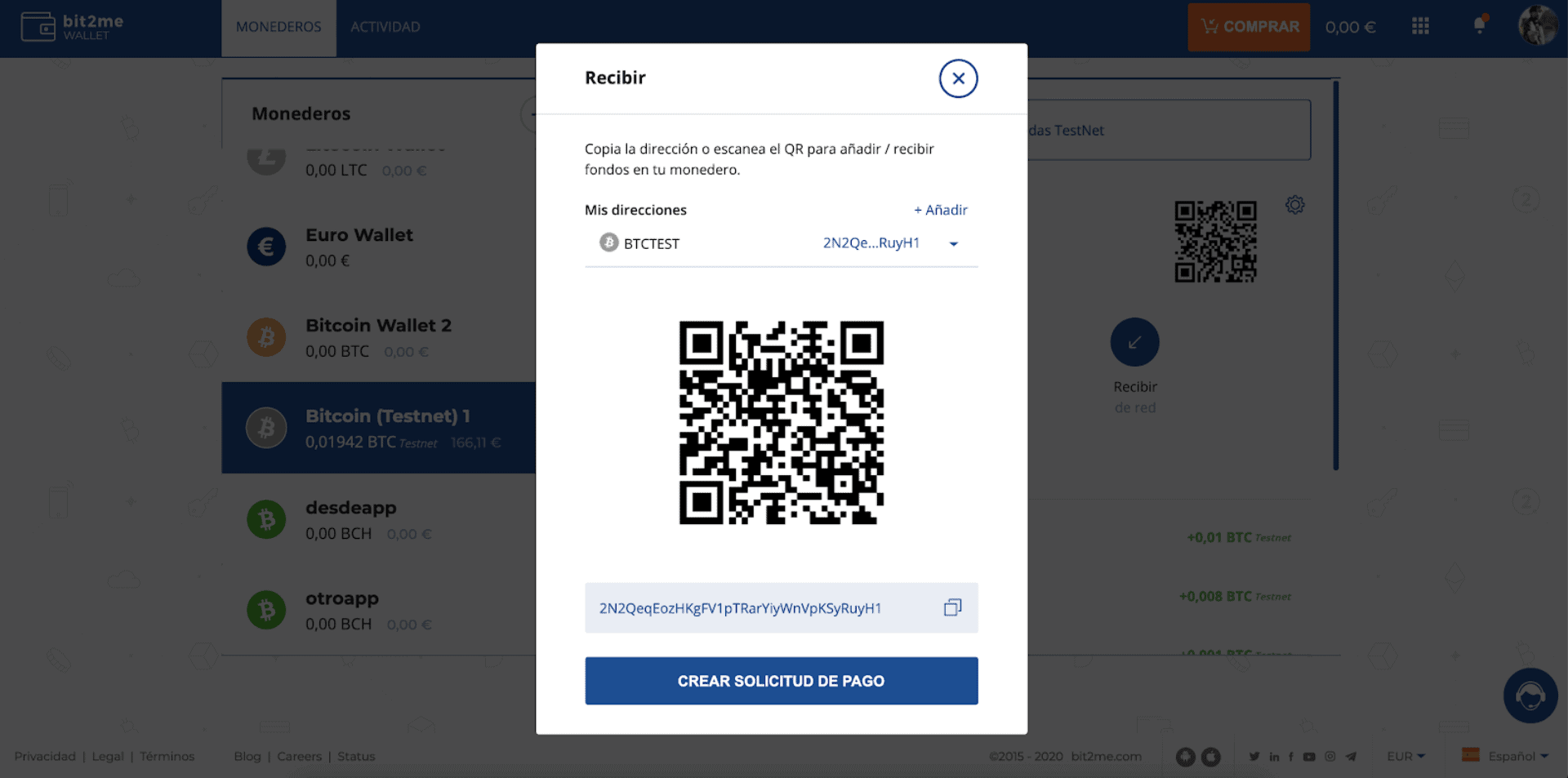 Step 4: Sell the bitcoins for euros
With the bitcoins in your wallet you can do 2 things:
Fully or partially convert bitcoins to euros.
Keep bitcoins as a way to invest in bitcoin without paying any kind of commission for the exchange.
If you want to make the first option, you must press the "Sell" button. You will find it in Bit2Me Wallet, in the Bitcoin wallet where you have received the payment.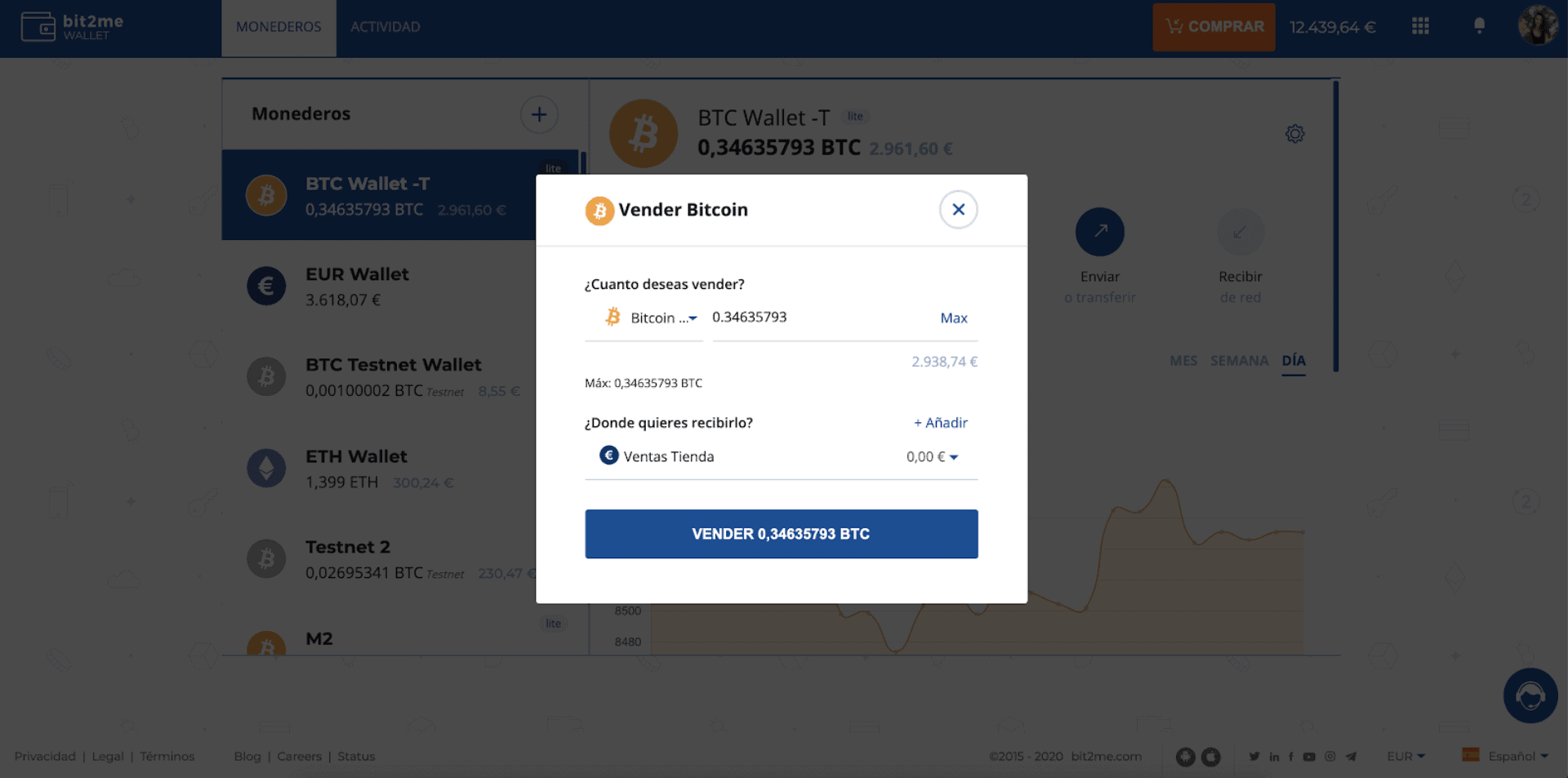 Step 5: Receive the euros in your bank
Once the bitcoins have been converted, if you want to send this money to your bank, you must press the "Withdraw" button that you will find in Bit2Me Wallet in the euro wallet.
You can enter your bank details, the amount to withdraw, and the withdrawal will be processed. Depending on your bank, it may take a while for the money to arrive, as some banks take up to 48 business hours to synchronize the balances of their clients.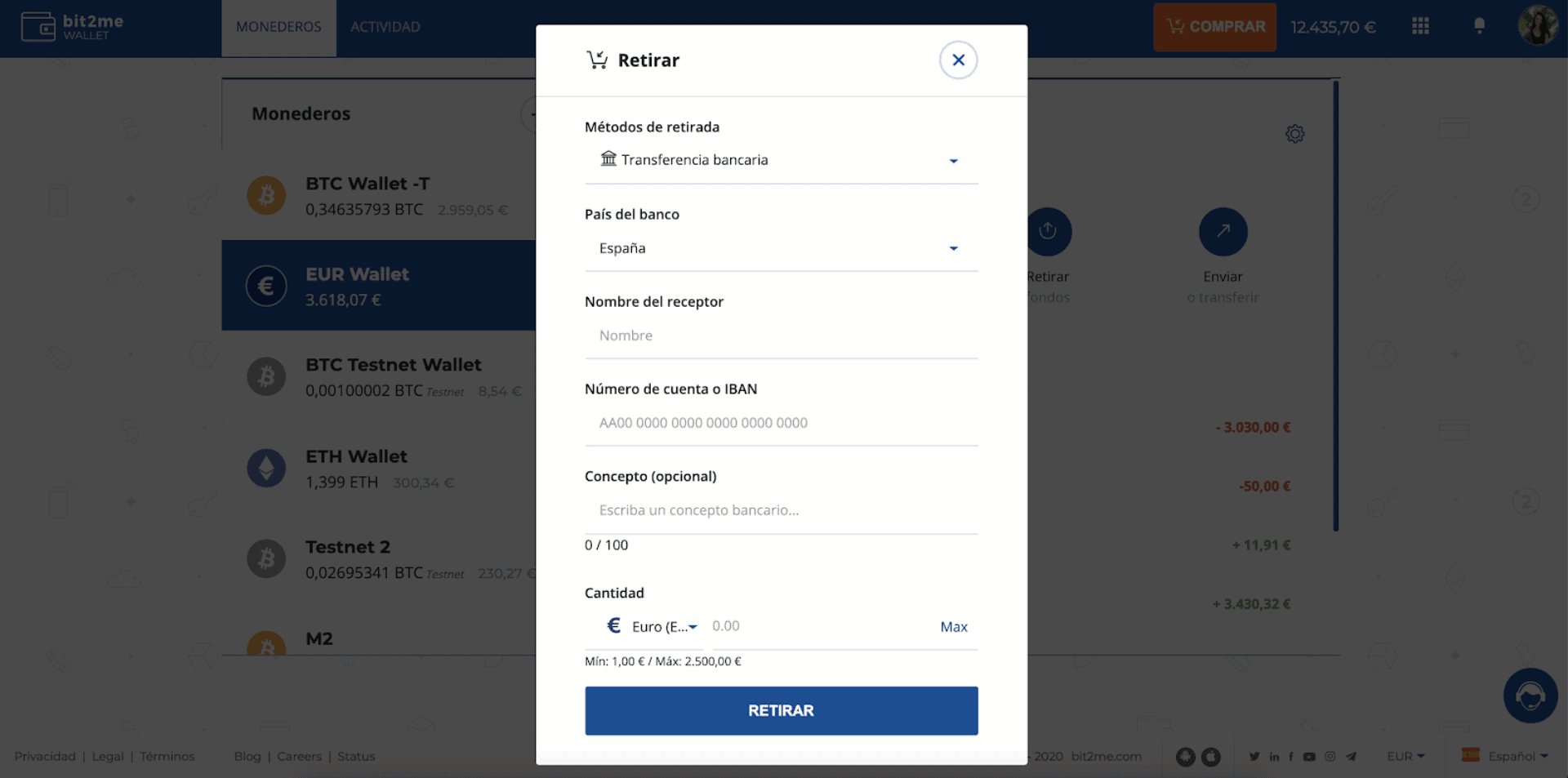 What is Bit2Me
Bit2Me is a Spanish company that was born in 2014 with a firm purpose: to bring people closer to the world of cryptocurrencies, allowing them to buy and sell cryptocurrencies quickly and safely.
Having transacted hundreds of millions of euros in cryptocurrency operations, and having a large suite of solutions for the cryptocurrency sector, we have received awards around the world and operate under the electronic money license issued by the Bank of Spain.
Now with more than 6 years of experience, we have become one of the largest crypto companies in the world, not only being the first company in Spain in the sector, but we have innovated and presented products and services that have helped hundreds of thousands of people around the world to jump into the world of cryptocurrencies.
Our goals as a company is to provide our users with a series of integrated, easy-to-use and secure solutions to manage their cryptocurrencies. All this with transparency and quality support that helps you enjoy each of our services.
Bit2Me has also become a fundamental pillar in crypto teaching, and the more than 1 million students a year in Bit2Me Academy they ratify it. Free and free knowledge, so that everyone knows what cryptocurrencies are and what the future of digital money is without a doubt.
Bit2Me develops Bit2Me Commerce, a service for businesses in Spain and throughout Europe to accept Bitcoin payments safely, quickly and easily. Also receiving euros directly in the bank account. And all this with the certainty that behind it is a Spanish company with a long and recognized reputation.
Recommendations when using Bit2Me
If you are going to receive payments for a significant value using Bitcoin, remember to wait at least one confirmation before taking the transaction for granted. This is essential if your customer uses a different wallet than Bit2Me Wallet. In the event that the client is a Bit2Me user, the payments will be credited immediately.
When you want to receive a payment for a product or service using Bitcoin, use the payment request to add the amount to receive.
Always keep the access key to your wallet in good safety, remember your money depends on the security of it.
Activate two-step verification (2FA) using an app like Authy or Google Authenticator. In this way, you will be highly protected against possible criminals.
Should I collect taxes when receiving Bitcoin payments in my business?
Using Bitcoin as a means of payment is not illegal in any free country in the world. However, accepting payments in bitcoins for goods or services is subject to the same obligations as if the payment were in traditional currencies.
In each country it may vary but, for example in Spain, if you make the sale of a good or service you must collect the corresponding VAT, they will pay you in euros or bitcoins. For example, if you sell sneakers of € 100, you must charge € 121 (€ 100 of the sneakers and 21 of VAT), and you must put the Bitcoin-Euro applied price on the ticket, with the name of the platform used, indicating the total in bitcoins that you charge the client.
This is as simple as writing it down with a pen on the sale's printed ticket. Of course Bit2Me gives you tools that facilitate this, because upon receiving a payment the quote, date, amount is recorded and you can even add a personal note (for example a sale identifier).