Buy bitcoin It has never been so easy and all thanks to Bit2Me. Discover the best way to buy bitcoin using a secure, simple and fast platform to use. It will only take you 5 minutes.
What do I need to buy Bitcoin?
The first thing you need to buying bitcoins and to start using them is to have an account in Bit2Me and a wallet or purse.
You don't have to worry, at Bit2Me we have the best wallet for Bitcoin, Bit2Me Wallet. To use it, you just have to make an easy, fast and simple registration, which will allow you to enjoy the power of this wallet.
In Bit2Me With a single user you can access your wallet cryptocurrencies, and to the purchase/sale of the same.
Do you want to start enjoying the world of cryptocurrencies? Then it is time to open your Bit2Me user account. It is very easy to do and, in addition, by following this link you will get € 5 totally free on your first purchase in Bit2Me.
Enter our platform
Head toour tutorial to learn how to create an account at BitXNUMXMe if you have not registered yet. Do not wait more! It is very simple and fast and will give you access to all the services that BitXNUMXMe offers you.
If you are already registered in our portal, you only have to enter your username and password.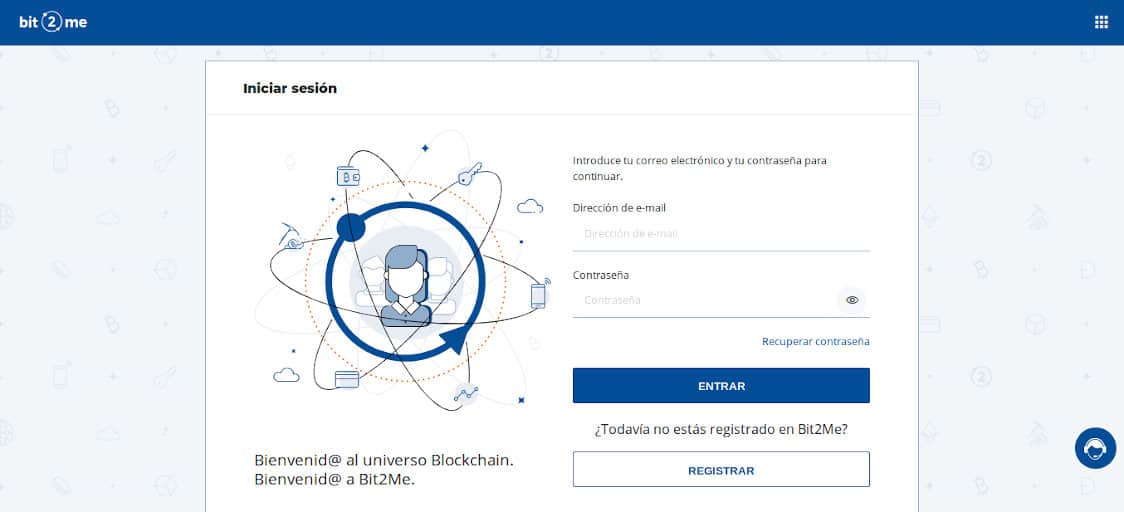 Have your wallet available
Remember you need a purse to buy and sell bitcoins. We have created a guide within our tutorial to teach you how to create a wallet in a few steps.
Also, you must have a fully verified account (meet the KYC).
How to buy Bitcoin on Bit2Me
En Bit2Me We are aware of the revolutionary potential of Bitcoin and its technology. Therefore, we have created tools so that everyone can carry out bitcoin transactions without problems. Our bitcoin trading platform is simple and safe to use.
Payment methods supported in Bit2Me
In addition, it allows you to use different payment methods to facilitate the entire process:
Credit / debit / prepaid card, either VISA or Mastercard: it is the most comfortable and fastest option.
European or international bank transfer.
Payment with cash (available in Spain, Portugal, Italy and France).
Balance: you deposit your money by bank transfer and use it whenever you want.
Tikebit: This is a new and exclusive tool that allows you to exchange cash for cryptocurrencies. No need to use deposits, cards or bank transfers. You can purchase the Tikebit service at a local store in your city and then exchange it for bitcoins on the Bit2Me platform. To check the shops where you can buy your coupons click here!.
To start the purchase process, go to the section Buy and choose the cryptocurrency what you want to buy In this case, choose Bitcoin:

Once you have chosen to buy BTC, the next step is to indicate the amount of Euros to buy. In this case, we have decided to buy € 50, which will automatically be converted into BTC so you know the amount of BTC you will receive at the end of the transaction.

Once you hit "Buy € XNUMX"(or the amount you have selected) you should start with the registration process. Said registration, you can do it by following the steps described herein the following video.
Once you are on the platform, all the purchase information will be displayed, at that moment you just have to select the payment method of your preference, and click on the button "To buy", with which the purchase of Bitcoin you want will be processed.
As you can see, an easy, fast and secure purchase using Bit2Me Suite.