The airdrop is perhaps the most striking promotional format for launching a token o cryptocurrency. And it is that in an ecosystem as populous as that of the cryptocurrencies, the distribution of free assets is one of the best ways to put yourself on the map.
Una of the most striking activities in the world of cryptocurrencies, are Airdrops. Your goal is give away cryptocurrencies or tokens to a community interested in them. A situation that undoubtedly captures the attention of many people, as it is a good opportunity to obtain money without effort. Although it is a promotional campaign format based on fairly traditional schemes, the truth is that in practice it is somewhat different. And it is that during an airdrop, the tokens are sent to the addresses that the managers of these events decide. For example, if you address was chosen, even if you did not ask for them, you would still receive tokens. This little nuance makes the cast format more like what we call buzoneo.
Reasons why Airdrops are performed
Behind this deal of cryptocurrencies and Tokens Public, there are fairly clear community economic and growth objectives.
Among these we can mention:
Capture the attention of the media and people. Airdrops, especially from serious projects, tend to attract a lot of media attention. This situation is positive because it makes the project known and more people may be interested in it.
Ensure that cryptocurrencies or tokens reach the largest number of people, and that they start using them. With the use of cryptocurrencies or received tokens, the economic activity of the project is energized. This has a positive impact on the growth of the project promoting its development. In addition, it also ensures a better distribution of tokens or cryptocurrencies, thereby decentralizing control of it.
As you can see, airdrops are used as an advertising speaker tool. And they are therefore considered a promotional element that aims to expand the audience that is reached and boost the economic activity of the project to which they are associated.
What types are there?
There are different types of airdrops, each with its own peculiarities. Among them we can mention:
Task Airdrops
It is the most common of them and aims to users to perform certain tasks to be eligible for the event. Normally, the tasks to be performed are focused on the presence on social networks or similar. For this reason, many have the condition of following the social media accounts of the project or others related to promoting it. In this way, an attempt is made to achieve a certain critical mass of users for the initial phase of the project. Or put another way, the more people know and talk about the project, the better.
Airdrops with exchanges
This is another very common type of airdrop. In this case, those who manage the airdrops system are the projects and exchanges associated with it. The project selects a pair of exchanges that allow you to manage the cryptocurrency or token on your platform. It is therefore the exchange, who is responsible for receiving users, as well as informing and managing the necessary requirements to make them eligible for the airdrop.
An example of this type of airdrop can be seen between exchanges Blockchain, Coinbase and the project Stellar. They both operate an airdrop that enables the delivery of $ 50 in Lumens (XLM) who passes the entire identification process KYC of their platforms. Only after completing the entire process is the user eligible to receive the airdrop reward.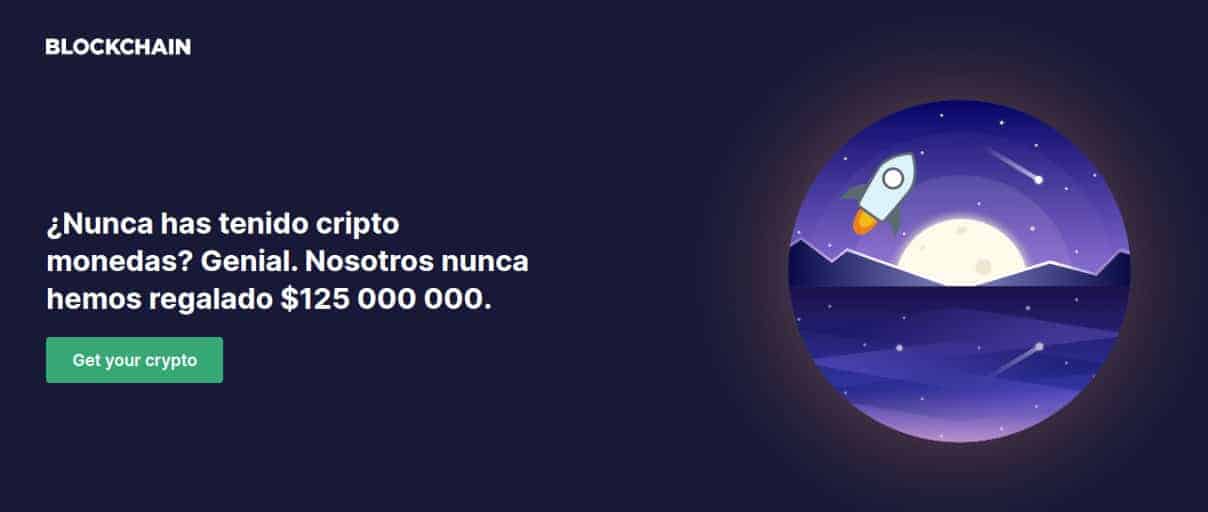 Airdrops with purses
This is another quite common form of airdrops and widely used by projects with purses. multi-pocket. These airdrops typically deliver cryptocurrencies or tokens to those who install or use their wallets under certain circumstances. The intention of this is clear: bring your wallet to as many users as possible. All in order to increase the size of your community and your profits. This is so, since these wallets usually offer other payment services associated with them.
Airdrops for possession
This is a rare form of airdrop. It occurs when the requirement to receive the airdrop is to have a certain amount of a cryptocurrency in a personal wallet. Normally, the amount to receive for the airdrop is related to the amount of cryptocurrencies or tokens in your possession. In this way, the more tokens and cryptocurrencies you have in your possession, the greater the reward you will receive. The managers of the airdrop, previously warn that they are going to make a capture of that blockchain at a specific moment. This capture allows them to know how much each portfolio has at a specific time. From here, they will use these amounts as a scale method to assign the amounts of tokens to send.
How can I participate in an Airdrop?
Participating in an airdrop is not particularly difficult. As a user we should only be aware of those projects that will launch one soon. A good place to start is the web. airdrops.io, dedicated to following and showing different Airdrops that occur around the world.
On these websites, all the steps necessary to participate in the different registered airdrops are shown. Generally these will perform very simple tasks such as:
Join the social networks of the cryptocurrency.
Make some kind of publication to highlight the project.
Some specific tasks in order to make the user eligible for the airdrop.
Another way to keep an eye on airdrops is to watch the news of new projects and follow their official websites. Certainly, this takes a bit of work but in general it is usually a safer way and without intermediaries for such a task.
You should also be aware of the requirements of the airdrop to claim your prize. Generally, projects launch their wallets or explain how to create one to receive the prize. At this point, you must carefully follow the steps to receive the airdrop award if chosen.
Airdrops dangers
Airdrops can be a powerful and interesting project activity. Still, you must be careful, as they are not without some risk. In this situation, it is best to be alert and not get carried away by emotions. Some airdrops can be a form of scam. Especially, those who ask to carry out some action with economic cost for the user.
Therefore, it is important to verify the validity of such actions and review the official or community media to find out if there are complaints or allegations. Of course, you should never accept an airdrop that asks you to transfer money to an account or asks you to control your private keys. Both situations are highly dangerous for your privacy, as well as a good starting point to lose your funds.
On the other hand, do not forget that both hackers and scammers also pursue these opportunities. The reason for this is that many of the people who participate in these events are newbies. Something that makes it easier for them to carry out their dishonest activity.
In the face of these dangers, always keep in mind the following safety considerations:
Never send money to an address in order to participate in an airdrop. It doesn't matter if that person claims to be Vitalik Buterin or the very Satoshi Nakamoto, do not do it. The magic of the airdrop is in receiving for free, not in asking for money to make you participate in it.
Always keep control of your private keys, never share them with anyone. Remember that these keys are only for your eyes.
Maintain differentiated profiles between your real social networks and those of participating in airdrops. Maintaining this separation will help you take care of your privacy.
Don't install third-party apps lightly. Always check that the software is safe and that it is not a malicious application. At the very least, use antivirus software to keep you safe.
How much do you know, cryptonuta?
Are airdrops a form of investment in a cryptocurrency project?
FALSE!
Airdrops are free remittances of cryptocurrencies or tokens, which are made to users in the hope that they will be used and boost the project's economy. In no case should they be understood as a kind of investment within the project, for which you may be asked for money in exchange for profits or participation in it. In such a case, you could be facing an ICO (Initial Coin Offering), something with a completely different set of rules.
How much can you earn on an Airdrop?
Earnings on an airdrop can vary greatly, but generally, these are usually above $ 5. There are also certain cases where the profits can be much higher. For example, the Stellar airdrop is a total of $ 50 (approx. 360 XLM). This is one of the clearest examples of how much you can earn on an airdrop. Also, many airdrops have added rewards campaigns. With them you can maximize the profit by multiplying, between two and five times, what was obtained in the first step of the airdrop. This way is therefore a way to reward users' loyalty to the project.