One of the most important DeFi protocols is Yearn Finance (YFI), a project that seeks to facilitate access to yield farming and liquidity mining strategies in the increasingly extensive and economically important community of decentralized finance projects.
Uno of the latest protocols DeFi or decentralized finance es Yearn Finance (YFI). A curious protocol that from the first moment of its creation was designed to facilitate and enhance the operations of yield farming or yield agriculture in the DeFi ecosystem of Ethereum. And the thing is, Yearn Finance is a platform for investors. Users looking to increase the profitability of their investments in some cryptocurrencies.
In fact, Yearn Finance makes use of the smart contracts or smart contracts to exchange value between different liquidity pools thereby seeking to maximize the profits obtained from these operations. Seen from a certain angle, Yearn Finance is a self-investment platform, which mobilizes capital between the different pools seeking to obtain the best possible profit at all times.
But how does Yearn Finance work? Why has it become a model platform for today's DeFi? We will see this and more below.
Origin of Yearn Finance
The birth of Yearn Finance responds to the idea of Andre Cronje, to design an easy-to-use DeFi platform that will facilitate yield farming operations. Andre Cronje, is a recognized character in the crypto world, with extensive knowledge in mobile development and distributed systems. His early jobs in the crypto world led him to do code reviews on Bitcoin y Ethereum. In fact, he became a code auditor for Crypto Briefing.
However, the rise of DeFi and yield farming led him to create Yearn Finance. Thus, in January 2020, Andre presented his first version of this platform. Since then, Yearn Finance and its YFI token have become one of the 10 largest DeFi platforms in the world. In fact, it had a locked value (TVL) of $ 821 million, and its YFI token was worth $ 31.900 with a market capitalization of $ 958 million. Although currently (January 2021), the value of its token exceeds 34 thousand dollars, and its TVL on DeFi platforms has decreased to 300 million dollars.
Without a doubt, a record that has been achieved in a few months of work. And, perhaps the most surprising of all is that it has been reached by only one person, Andre Cronje, since he is practically the only developer of this entire system.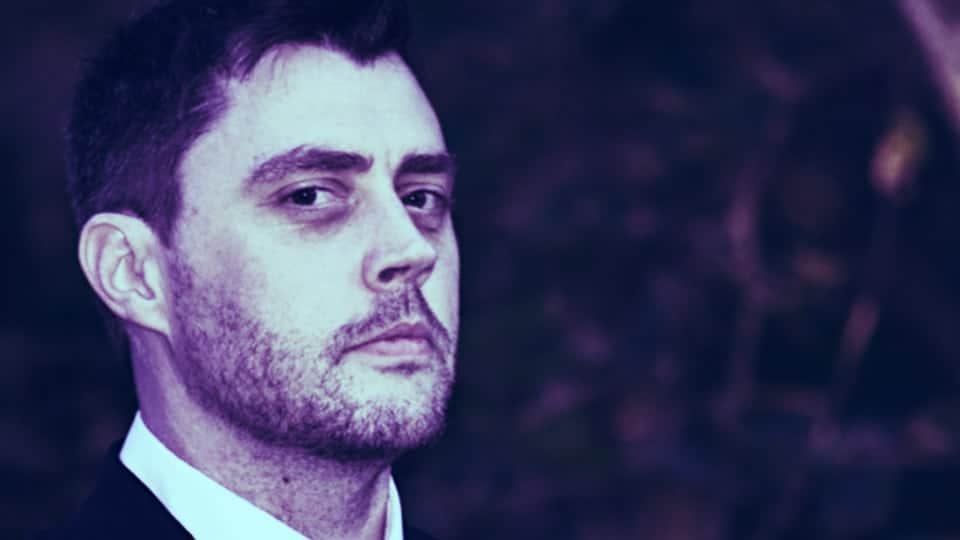 Yearn Finance, making yield farming easy
Now, What led Andre Cronje to create Yearn Finance? As we discussed at the beginning, the objective of Yearn Finance is to facilitate and enhance yield farming operations. For this, Yearn Finance is based on a series of smart contracts that allow the best investment strategy to be drawn up in the different pools linked to the Yearn Finance protocol.
In this sense, you could see Yearn Finance propose itself as a "Decentralized bot for yield farming". That is to say, a space in which you can invest money, leave it for a period of time, and when you return you will have great possibilities of profit, all without much worries. Best of all, the system works without human intervention and is completely decentralized, reasons that have made Yearn Finance take on a great relevance in the community.
How does Yearn Finance work?
First, the operation of Yearn Finance is based on the huge Ethereum network, its EVM and the smart contracts of this blockchain. Thus, we have the first part of the operation of Yearn Finance, everything is built on smart contracts, everything is decentralized and there are no custodians centralized in people. In addition, we have that each of the Yearn Finance functions is written in a smart contract. In its GitHub, we can see that from oracles, its vaults and all control of its operations rests on smart contracts. And in that sense, the whole operation of Yearn Finance is simple. For example, if we go to its website we can see its simple interface: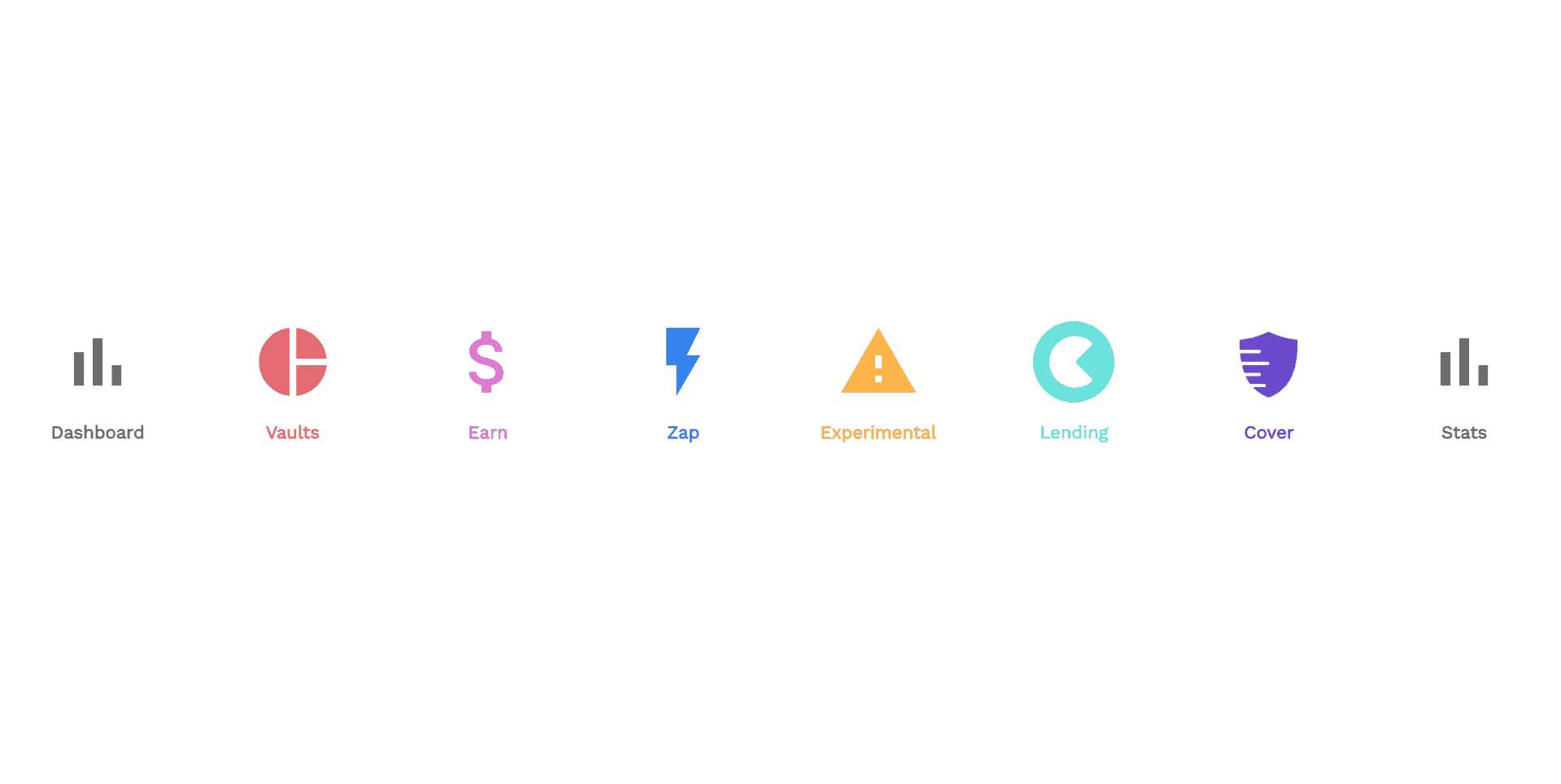 If you choose the option "Vault"What you will see are the different options you have to invest your tokens, block them and let the platform mobilize them to offer you the highest possible return on them.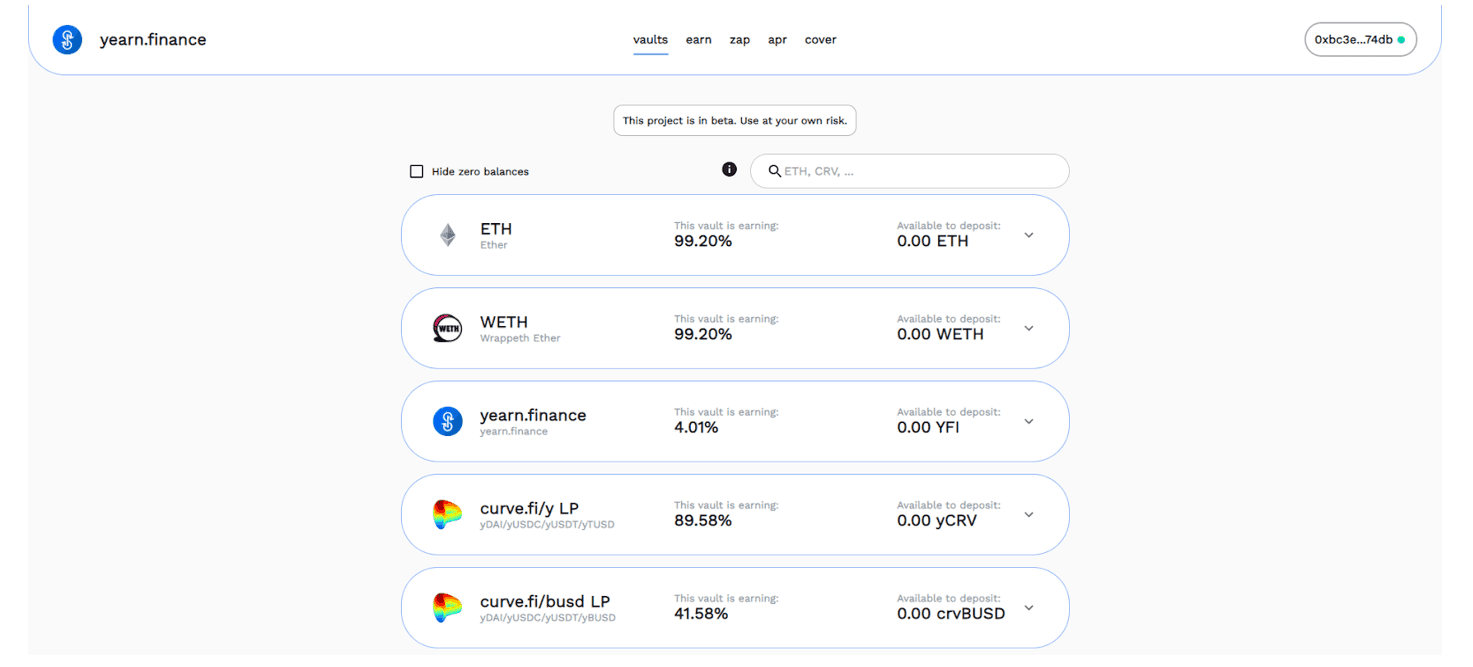 The strategy in this case is executed by the smart contracts of the Vault that you choose, fed by the information that comes from the oracles or external eyes of the protocol, which monitor the markets in different pools and protocols that Yearn Finance uses for its operations.
Yes, it is a strategy very similar to arbitrage, but in this case, the Yearn platform does everything for you, transparently, and the best thing is, it is a proven strategy (although not without risks, many risks).
Of course, this is the case for the first option Yearn offers us. If you choose for example "Earn", you can use the pools Curves (from Yearn and BUSD) to invest money and earn interest on it. The interest paid by Yearn in this case comes from the earnings of the loans made by the platform within the liquidity pools used (in this case Curve) through different platforms such as dYdX, AAVE y Compound.
On the other hand, the option "Zap", it is a simple exchange of coins within the platform. You choose the currency that you are going to exchange, the amount and the currency that you want to receive in exchange and that is available on the platform.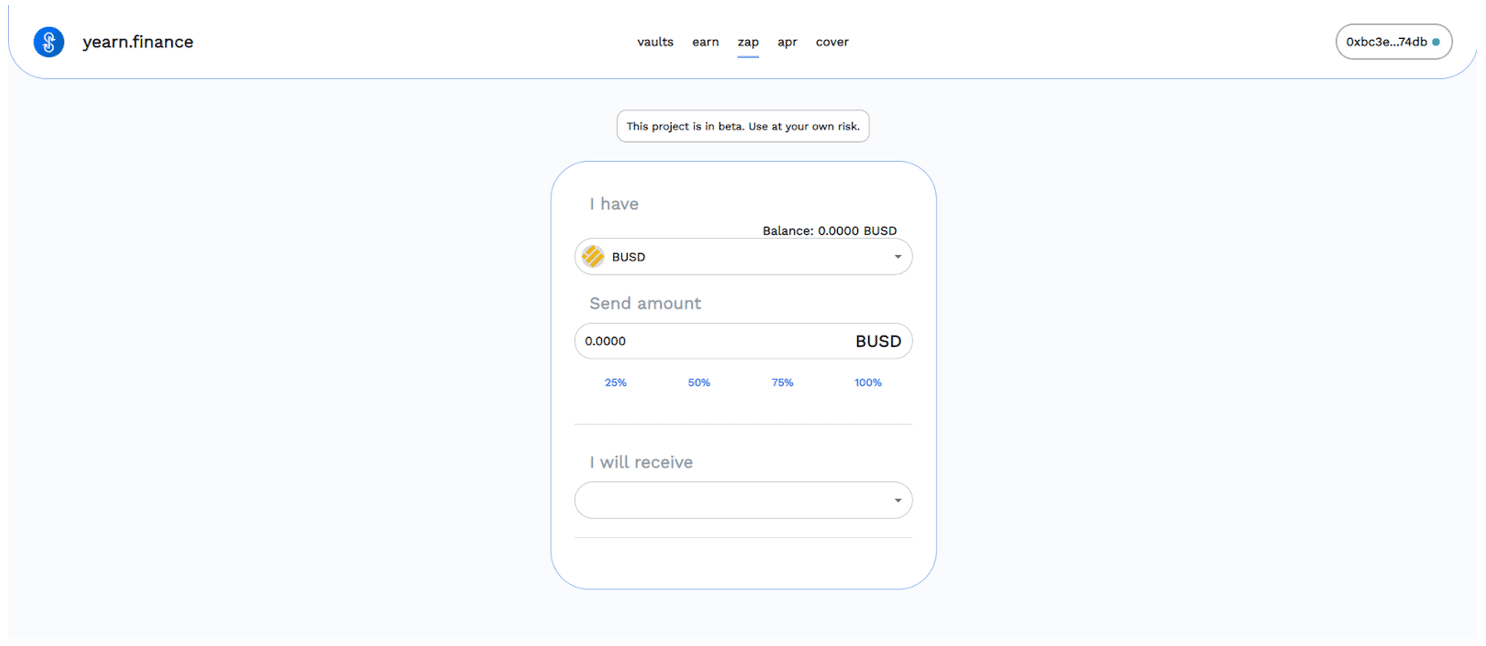 In the case of option "APR"In this case, it will simply help you to know the APR or APR (Annual Equivalent Rate) what you will get from an investment you make in Yearn. It is a simple interest calculator that will be useful to know how much you can get in profits within the platform.
Finally, the last utility of Yearn Finance is "Cover", a recent feature that allows you to secure your investment using the Nexusmutual infrastructure, which uses a chain insurance system to keep money safe against hacking events and more.
The YFI token
Now, we already know what the functionalities of Yearn Finance are and what each of them do. Now let's examine a curious point of Yearn Finance, we talk about its governance token, the YFI token.
In Andre's words, the YFI token "Has a financial value of 0". However, the reality that his current listing is in the tens of thousands of dollars leaves his words far behind. Is it a lie? We believe not. The YFI token has no utility other than governance within the Yearn ecosystem, and beyond that, the token has zero utility.
The current value of the YFI token can be explained by the following reasons:
It has a unique supply of 30 thousand tokens and has no pre-mined.
The products presented by the platform are simple to use.
The community around the project is very active.
The project is constantly growing and improving, both technically and in the user community.
It enjoys good decentralization (even taking into account its low emission).
But beyond its extraordinary value, the YFI token as we explained only gives you voting power within the platform, and nothing else.
How much do you know, cryptonuta?
Is Yearn Finance a complete DeFi solution?
TRUE!
In the beginning, Yearn Finance was only focused on being a platform to facilitate yield farming, but over time it has quickly evolved to be a fully integrated DeFi platform with other options. For example, its Cover protocol allows the safe storage of value that will be covered by an insurance policy given by the system. In this way, the custody of assets can be carried out in a completely decentralized way within the platform. For this and more, Yearn Finance is considered a very complete and highly integrated DeFi solution.
Security within Yearn Finance
An important point that you should know is related to the security that Yearn Finance can offer on the different services it provides. In previous opportunities, we have spoken that although blockchain technology is very secure, 100% security does not exist.
In fact, this is something that its creator, Andre Cronje, has expressed in his presentation of Yearn, and has expressed it in the following words:
Yearn Finance is a work in progress, security is not guaranteed, only proceed if you fully understand this.
In fact, on his Twitter account you can read the following:
Disclaimer: When I create software, I do it by myself. If you insist on interacting with him, be careful, there will be mistakes. The interfaces are designed to make my life easier. I will make mistakes. If you don't understand it, don't use it.
This makes one thing clear, Yearn Finance seeks to be a secure product, but security in DeFi is not 100% guaranteed. In the case of Yearn, there are several audits that attest to the quality of the implementation, but again this is not insurance against everything. We are talking about software and as such, errors can appear in the eyes of a malicious actor who seeks to profit at the expense of other people's money. Hence, at Bit2Me Academy, we always make this recommendation:
Do not invest in platforms that you do not understand, that promise impossible things, that have not been tested and recognized by the community. Research, learn, recognize strengths and weaknesses and above all, never invest money on which your future or that of your family depends, especially if there are great risks of loss.
Yes, Yearn Finance in all its time has proven to be a quality product, but it never hurts to be cautious and be attentive to the security news about this protocol, especially if you are a user of it.
Advantages and risks of Yearn Finance
As in any investment platform, Yearn Finance puts us in the middle of a series of advantages and risks that we must take into account if we want to use its tools. In that case, we can mention that among its advantages are:
It is extremely easy to use. DeFi has always been a very complex space, but Yearn Finance makes up all of that to make it easier. Anyone with a little basic financial education can start using Yearn without major difficulties.
It is a protocol in constant improvement and evolution. In less than 8 months, the protocol made huge qualitative leaps, improving not only its options and benefits, but also the information and quality of its operations.
The project has great transparency, all the smart contracts are on its GitHub. In addition, it now has several audits that attest to the quality of its code. At the same time, the project relies on other well-known projects to yield good quality data (such as the Compound and dYdX oracles, which are used within Yearn).
The project is highly liquid, which means that other projects open the doors for its integration.
In contrast, among the risks that we can find with this protocol are:
The yield farming strategies of Yearn Finance, cause the Vaults to have a debt, which if the case exceeds a certain level causes said Vault to block the assets within it. That is, if the debt of a Vault exceeds a certain level, you will not be able to withdraw money from said Vault, until the debt level is below that level, which will depend on the investment strategy followed by the Vault in question. Keep this in mind, because in the midst of a market as volatile as that of cryptocurrencies, it is not unusual to find a situation like this and lose money for it.
Yearn Finance Vaults have not been audited at any time. The only thing that has received a formal audit has been the governance system, the YFI token smart contract, the APR oracle (TAE) and little else. If you are one of those who trust more than well audited projects, then Yearn Finance is not for you.
Many specialists consider the growth in the value of the YFI token "unhealthy" and call it "The biggest DeFi bubble of the moment".
The protocol is heavily dependent on other platforms that may or may not have serious security or liquidity issues. This makes Yearn Finance an amplification point. That is, if a platform goes down (eg Compound) and Yearn has assets there, Yearn users who have assets committed to that platform (and who have been invested in Compound) will also lose.