Hot wallets are a type of wallet that always remain connected to the Internet and the blockchain network for which they are created. This in order to allow its users to carry out transactions quickly and comfortably.

Una Hot wallet, is a term used to refer to those wallets or cryptocurrency wallets they store private keys in places that they are always connected to the internet.
It is a very common type of wallet, widely used for the storage and management of cryptocurrencies. Its main utility is that it offers quick and convenient access to funds due to its constant internet connection. However, this also represents a higher risk compared to other types of wallets. For example, a cybercriminal could breach the security of the device where the wallet is used and steal the private keys, with it the funds. It is for this reason that it is not recommended to handle large amounts of digital money in Hot Wallets.
Despite this, hot wallets are a very good option, due to their ease of use, to handle cryptocurrencies on a daily basis for relatively small amounts. Here we will talk about them and their characteristics.
Features of Hot Wallets
Constantly connected to the blockchain and the Internet.
They can be of two types: a web service that facilitates access to cryptocurrencies or a free download software for the computer or smartphone.
In case they are purses where you manage the keys, you will have to worry about security yourself.
They are generally free wallets.
They are more likely to suffer from computer attacks. This is because they are connected to the Internet all the time and therefore maintain a higher level of risk of theft and piracy.
Recommendations for use
All wallets are created in order to offer high levels of security to users. And the truth is that they are very difficult to hack. However, the weakest point is almost always the same user. If the user loses the keywords or misuses the addresses, it means that they can lose their money. Therefore, here we give you a series of practical recommendations that you must take into account if you operate a wallet.
First of all, you should make sure type of wallet to wish to operate (desktop, smartphone, online). Make sure it offers you services that meet your needs. That are verified and reliable services. And that is available in the operating system that you have (in the case of desktop and smartphone wallets).
Keep your computer free of viruses and malicious software. So make sure always have an efficient and updated antivirus.
At Bit2Me we repeatedly recommend that you make sure download software and applications only from official websites of the wallets.
You are solely responsible for taking care of your funds. So when you start creating your wallet, the system will show you a series of keywords known as seed. Be sure to copy these words on paper with total precision and keep them in a safe and protected place.
Bit2Me does not recommend safeguarding the seed or keywords in emails or other digital media without first encrypting or encrypting them as a security measure. Otherwise, you may experience a hack or other hacking attack on your computer or online and lose your assets.
You can add a extra security to your wallet by integrating a password PIN or your fingerprint (in case your mobile device has this option). However, we must not forget that this PIN or fingerprint does not replace the seed at all.
In case of accessing a online wallet, You make sure the address is safe. And access from the official website, not from dubious links or advertisements. Never access them from public addresses.
Add as many layers of security as you can. The more the better. You can use options like Google Authenticator, SMS messages, PIN, fingerprints, others.
If you use a multi-currency wallet that allows you to operate with different cryptocurrencies, be very careful when adding cryptocurrencies or altcoins that are short on time and have a low market capitalization. We recommend you investigate which cryptocurrencies and projects are most used, useful and reliable. However, the volatility suffered by cryptocurrencies must always be kept in mind.
When you make a transaction, if possible, use the QR code of the recipient of the cryptocurrencies to avoid mistakes. If it is not possible, use the copy and paste option to add the address. The same for when you go to receive a payment. We do not recommend copying the address by typing letter by letter and number by number, as there is a high margin of error. And if you are wrong, you would most likely send your money to another address where you can never get it back. Whenever you make or receive a payment, double check the addresses to make sure they are correct.
If you do not want all your funds to be related, each time you will receive a payment be sure to use a new address. Wallets allow you to create addresses without limits.
Some well-known hot wallets
Hot wallets are managed through an application that can be web, installable on your computer or smartphone. Now let's get to know some of them and what they offer us.
Desktop
Software downloaded and installed on computers. They are designed to receive and manage cryptocurrencies offering higher levels of security compared to other hot wallets. Although if for some reason the computer is hacked there is a risk of losing all assets.
Among the most common desktop wallets we have:
Electrum
It is an easy and secure software wallet that meets the needs of users. In Electrum the keys are encrypted on the computer and are kept on it, offering a high level of security. In addition, it allows you to retrieve the purse by using a secret phrase.
This wallet gives users full control over bitcoins, so no third party can block or intervene the funds. It also allows for address rotation every time a payment is received, making it difficult to track funds. One of the advantages of using this wallet is that it does not require downloading the entire blockchain, making it lightweight and easy to use, as well as being compatible with Windows, Linux, Mac and Android systems.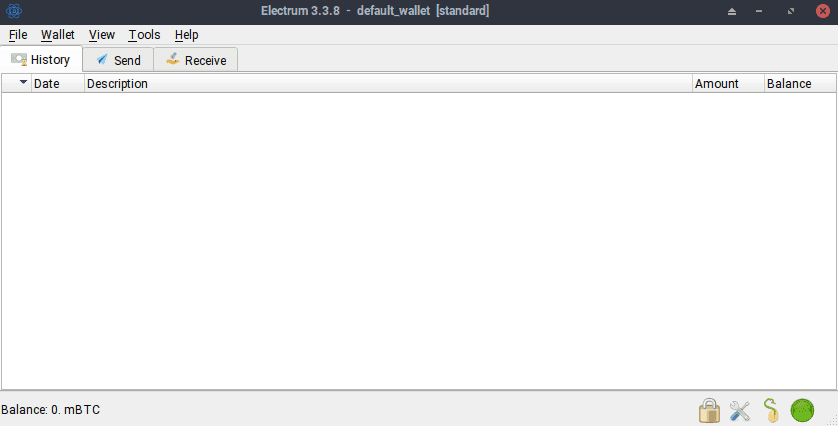 Exodus
Another desktop wallet that offers a secure platform for investors. Exodus supports a wide variety of cryptocurrencies. So your operator can use it as a currency exchange to exchange the cryptocurrencies of your choice without interruptions thanks to the ShapeShift tool. That it is an exchange within the same application that allows transactions to be made in seconds.
The assets are stored within the same computer that runs the application. So like Electrum, it doesn't require that the entire entire blockchain needs to be downloaded.
Bitcoin Core.
This wallet only supports bitcoins. It is used to send and receive bitcoins through addresses or the generation of QR codes, but does not support the purchase or sale of these. Bitcoin Core (thus renamed to distinguish it from the Bitcoin network) is the first Bitcoin network software to function as a wallet.
Its use is more complicated than the other mentioned wallets, so it may not be suitable for all users. However, using it contributes to the Bitcoin network, since operations are validated and the blockchain is stored. So it does require bandwidth and memory availability on the hard drive. It is currently compatible with Windows, Linux and Mac operating systems.
Smartphone (mobile phones)
Very similar to the previous ones, the mobile wallets they are applications installed on smartphones. Although they have a much more limited space than the computer. These allow us greater ease of use because they can be used from anywhere, making them ideal for day-to-day operations.
The most used are:
Electrum
As we already mentioned, the software Electrum It is compatible with Android. So this wallet can be installed on a smartphone. And it also offers its users security and efficiency in the management of cryptocurrencies. It also has a constantly updated support.
Mycelium
It has been ranked as one of the best wallets for mobile devices as it offers high-level business security for managing bitcoins and protecting private keys. Mycellium allows integration with other services including physical wallets. It is compatible with Android and iPhone systems.
Although this wallet is only compatible with the cryptocurrency, Bitcoin supports the process of buying and selling bitcoins to fiat money such as the dollar, euro, others and vice versa. Thanks to the integration of the platforms Cashila y Glidera.
Coinomi
Another mobile application wallet that allows you to store and manage bitcoins and more than 1500 digital assets. It was created in 2014 making it the oldest multi-chain wallet that exists. To date, it has not suffered any type of attack due to the level of security it offers thanks to encryption and cryptography. In Coinomi private keys are always kept on the device.
It is enabled to followed offering 168 fiat currency representations, readable in 25 languages. All supported assets can be instantly exchanged through the built-in support for ShapeShift & Changelly. It has a simplified and easy to use system. It is compatible with Android and iOS and is incorporating a desktop version.
Trust wallet
It offers a safe and reliable service for the management of a wide variety of cryptocurrencies. Trust wallet is a decentralized, fast, secure and open source Ethereum application. It is multi-currency, so it supports the main cryptocurrencies on the market. It also offers full support for more than 20.000 tokens including ERC20 from the Ethereum network and BEP2 from Binance.
Among other advantages we have to Web3 Browser Allows you to interact with decentralized applications (DApp) directly from the application. Furthermore, this application provides a high level of protection for private keys since they are stored locally and protected under various layers of security. It also offers an anonymous service since it keeps personal data protected and safe.
How much do you know, cryptonuta?
Are hot wallets more prone to hacking by cybercriminals?
TRUE!
Due to their nature connected to the Internet all the time, hot wallets are more likely to be hacked by cyber criminals. Hence, the user must take precautions such as keeping their systems virus-free, not trusting dubious websites, emails or online content, or updating their wallet at all times to be protected against these attacks.
Online (online)
These wallets are services offered by the websites without the need to download or install any application. They work directly online as the name implies. Its biggest advantage is that it makes it easy to carry out an operation from any part of the world that has internet. However, to operate most of them, it is necessary to transfer the private keys to a third party, which implies entrusting the funds to another person. In security matters it is not recommended.
The most used are:
BitGo
This is one of the most trusted providers of Bitcoin wallets. It offers an institutional grade cold storage and custody service. BitGo It offers support for over 100 cryptocurrencies and tokens. It operates on a platform under the multi-signature technology (P2SH) y HD (BIP32) to guarantee maximum financial privacy.
Blockchain.com
One of the most popular wallets to store and manage up to 4 types of cryptocurrencies (BTC, ETH, BTH and XLM). It offers a simple, easy-to-use service and provides a level of security with 2-factor authentication. This implies that to access the online wallet an SMS, Yubikey or Google Authenticator code (2 of these 3 factors) is required to protect the accounts from unauthorized access.
Bit2Me Wallet
Our own wallet designed to integrate with all Bit2Me services. Bit2Me Wallet It offers the ability to multicurrency, multicurrency, atomic swaps, multiple languages, block explorer and integration with the rest of the services that Bit2Me loans. Create your user account nowIt will only take you 20 seconds and it is completely free.