Learn how to send Bitcoin from your Bit2Me Wallet to any other Bitcoin wallet anywhere in the world, quickly, safely and easily.
Uone of the most basic and elementary functions that we can perform with wallets or purses cryptocurrency is sending and receiving payments. In fact, performing these operations is as simple as opening your wallet, entering the address where to send the payment, enter the amount of money and click on "Submit" so that the payment begins to be processed by the network.
Said in this way it is very simple, and it really is, but many of those who come to the crypto world lack the knowledge to deal with these issues. For that reason, we have decided to create a step-by-step tutorial to show you how easy the process of how to send Bitcoin is.
Open your Bit2Me user account. Following this link You will get € 5 totally free on your first purchase.
Before starting
For the tutorial we are going to send bitcoins between two wallets using Bit2Me Wallet, and both wallets will be Bit2Me users. Why? This is thanks to the fact that Bit2Me has developed a second layer of payments over Bitcoin that allows to transfer cryptocurrencies with 3 great advantages that Bitcoin does not natively allow:
Free transactions between your users.
Instant transactions between your users.
Transactions from 1 satoshi (micropayments)
For this reason, we can send payments between both wallets at no cost, instantly and for just a few cents if we want. However, if you wish, you can send in the same way to any address Bitcoin the planet.
Steps to follow to send bitcoin from wallet to wallet
Here is a step-by-step description of the process you must follow to send bitcoins between two wallets using the Bit2Me Wallet:
Step # 01: Open your Bit2Me wallet
The first step to start sending your bitcoins begins by opening your Bit2Me Wallet. In case you don't have a Bit2Me wallet yet, don't worry, it's very easy to open one, it only takes a few seconds, and it's completely free. Everything you need to do is described in our tutorial How to open a purse? There you will have a detailed explanation of our registration process so that you can enjoy our wallet, and it will not take you a minute to complete.
Once you have your Bit2Me Wallet, you will have what you need to be able to send bitcoins from wallet to wallet.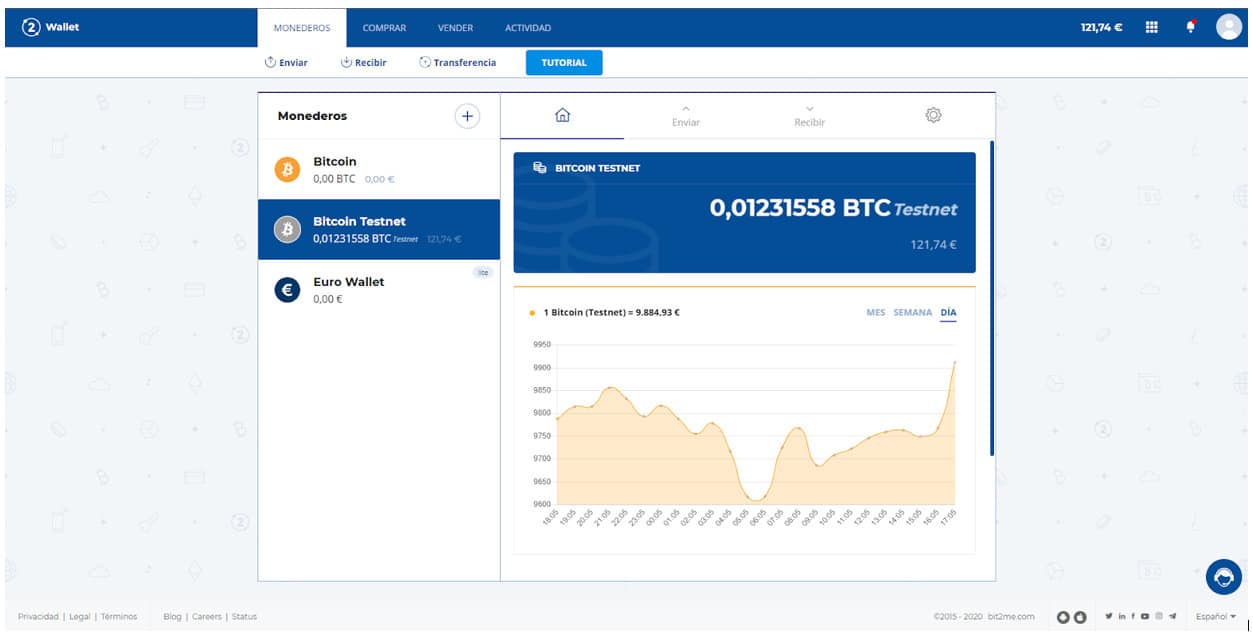 Step # 02: Get some bitcoins to send
To send bitcoins to another wallet you must first have some balance available for that purpose.
For this you can buy some Bitcoin with our purchase option, which will allow you to buy Bitcoin quickly using your credit card, bank account or Tikebit ticket. To do this, you just have to click on the option "BUY"From Bit2Me Wallet and carry out the process that we describe in this tutorial How to buy Bitcoin?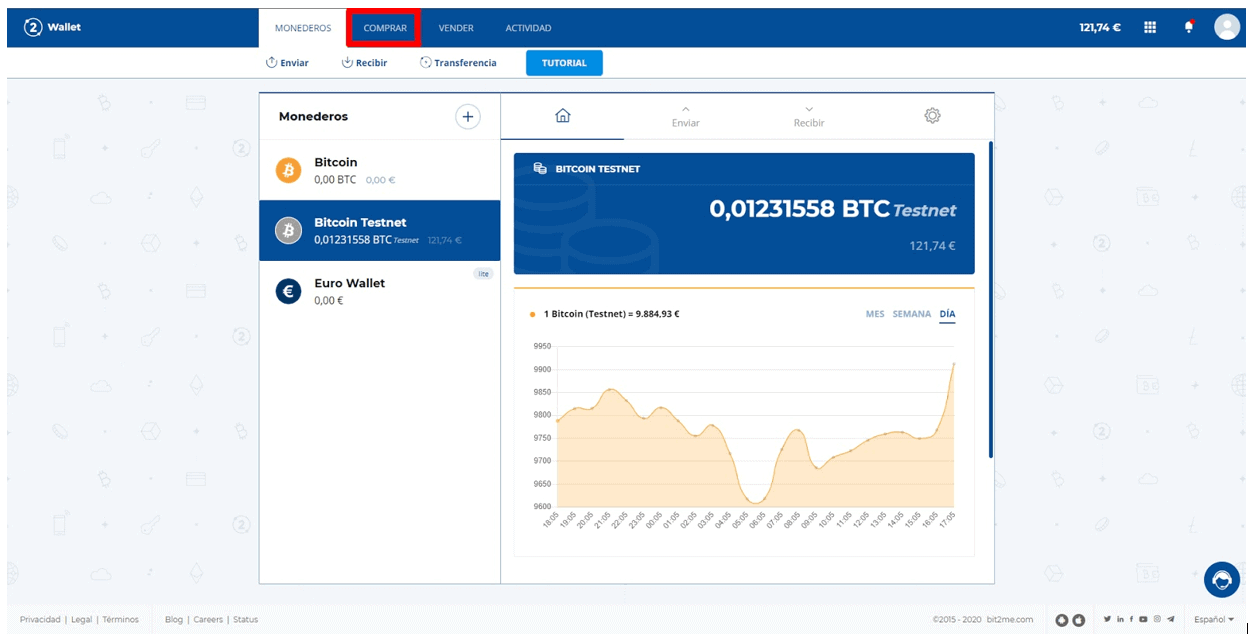 Step # 03: Get the address to send
Now the next thing is that the person to whom you will send the balance gives you a valid Bitcoin address. To do this with the Bit2Me Wallet, all you have to do is go to the option "To receive"And then a cryptocurrency address will be generated with which you can receive Bitcoin.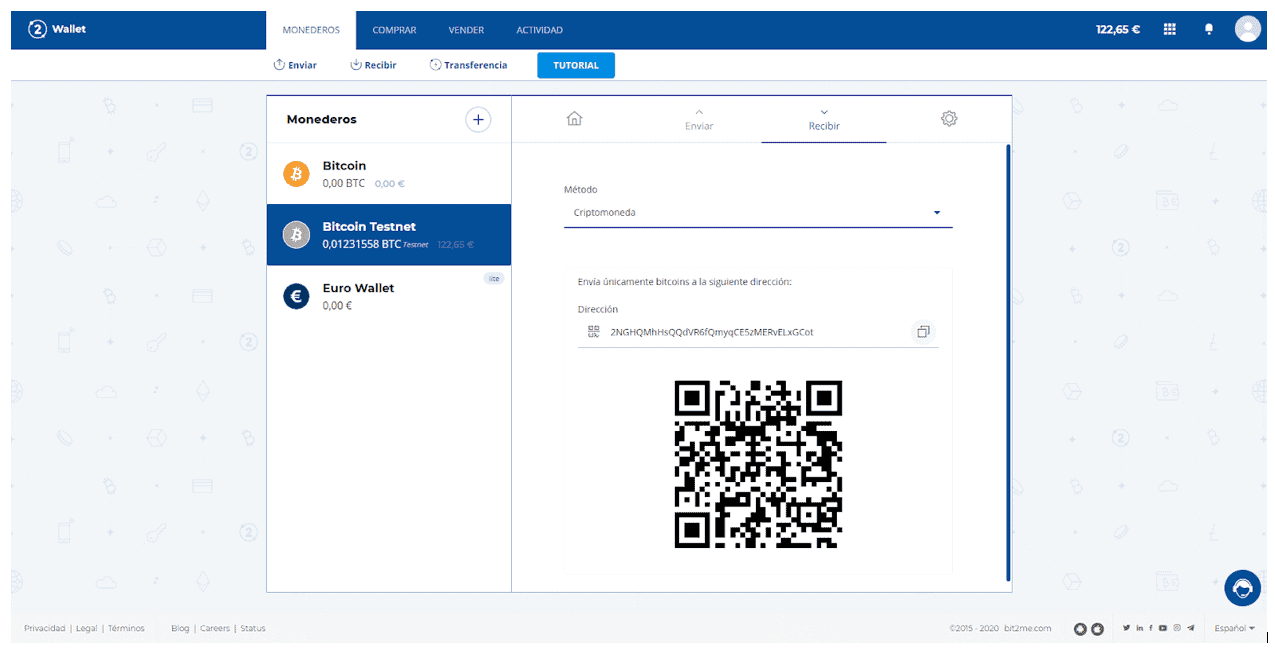 Once this is done, you must ask that person to pass you that address or, failing that, scan the generated QR code with the cell phone. In this way, you can copy the address and send cryptocurrencies to that address.
Step # 04: Get started with the submission process
To start the process of sending cryptocurrencies, the first thing you should do is select the Bitcoin wallet and click on the option "Submit"(Marked in red in the image).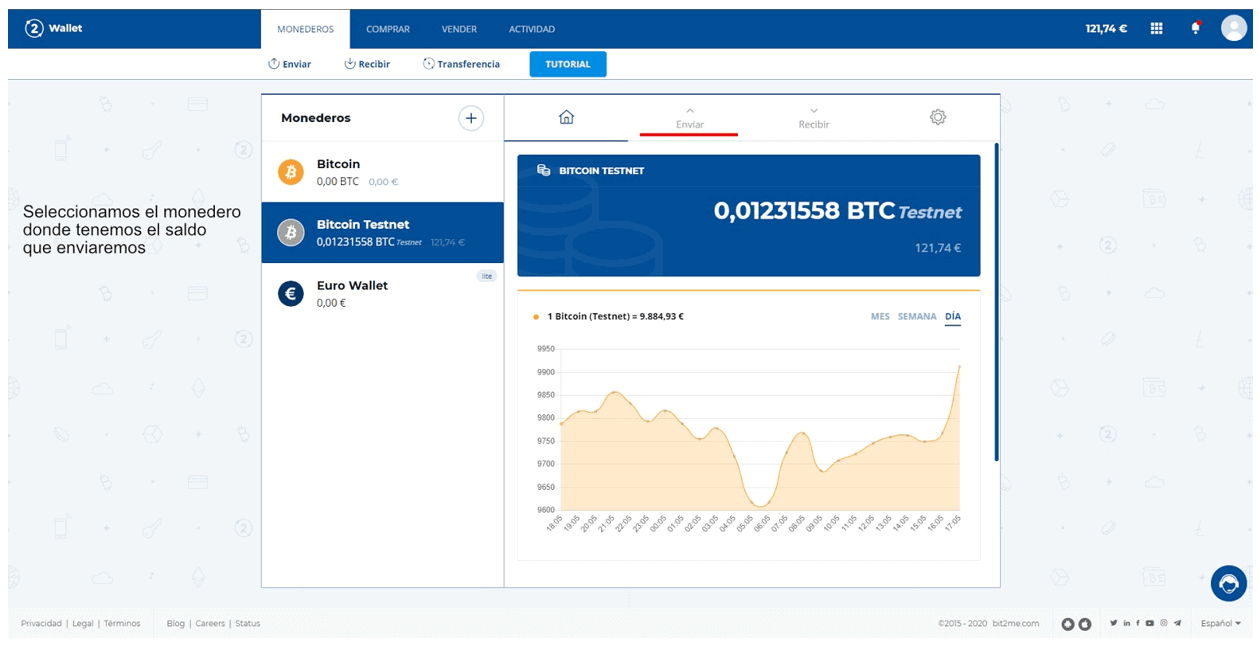 By selecting this option we will find the interface to send cryptocurrencies from Bit2Me Wallet. There you will have a selectable menu with two options
Transfer: which allows you to transfer balance from fiat coins (like the Euro) to a cryptocurrency that is supported by our platform.
Cryptocurrency: allows you to send cryptocurrencies directly from your wallet to the destination wallet.
Choose the option that suits your need, but remember that in any case you must have an available balance in your wallet to perform any of these options correctly. For example, we will choose the option "Criptomoneda", Which brings up the shipping interface.
Once there, we only copy the address where we will send the balance (the process of copying the address is automatic when we scan the QR code) and indicate the amount of the transaction.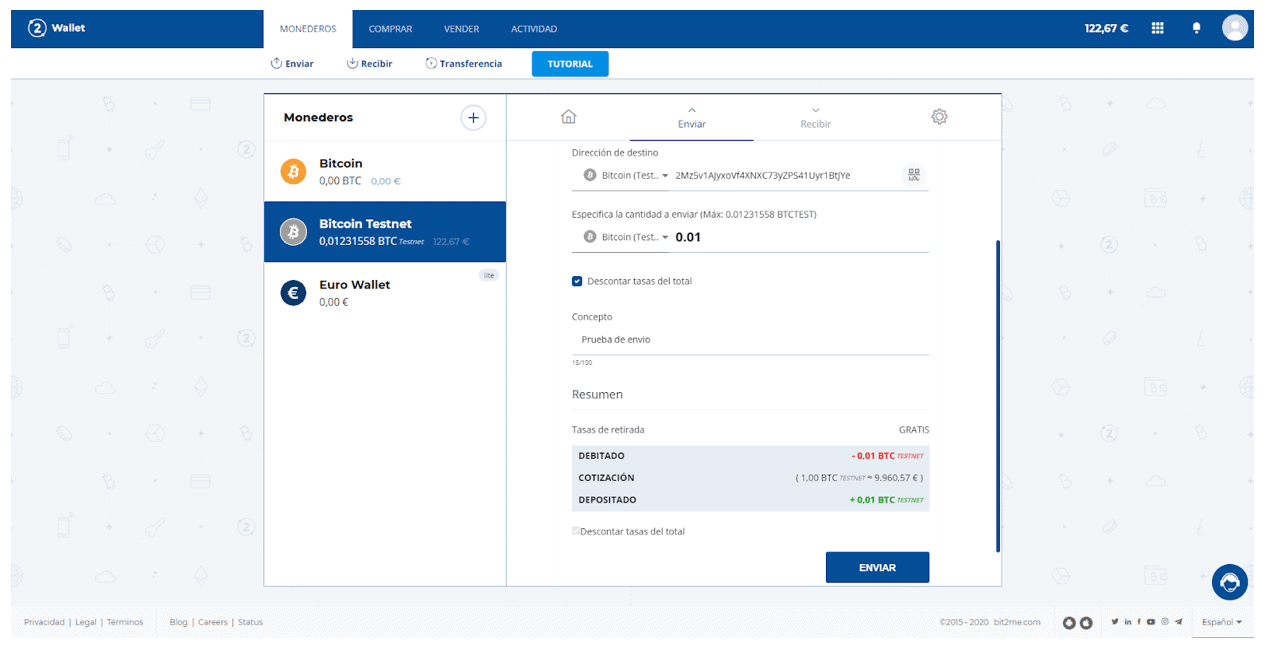 And finally we accept the balance shipment.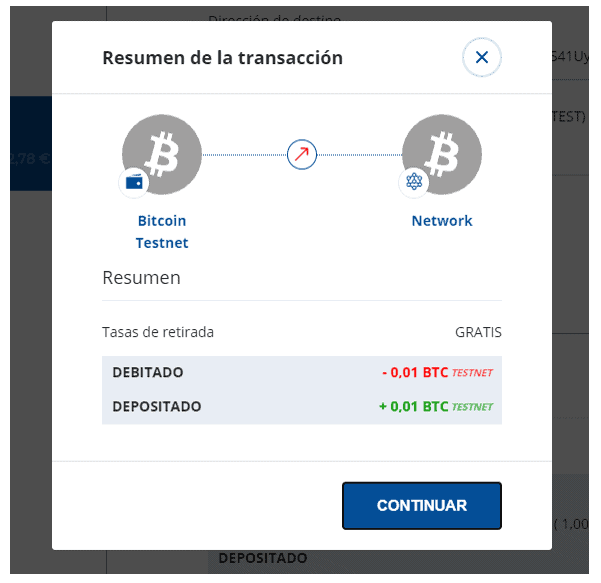 With this we have already made a successful shipment of cryptocurrencies between two Bit2Me Wallet wallets without major problems.
Recommendations
Now we will give you some recommendations to carry out this process in a simpler and safer way:
Don't fall for scams
Never send money to a third party that you do not know or do not trust. In addition, Bitcoin scams that promise incredible profits with little capital are more and more frequent. Do not fall in the trap! Scammers are becoming more and more specialized in their offers, seeking to gain your trust with ideas that seem true, but are actually theft.
Payment has not been confirmed
If you make a cryptocurrency payment and the person you are sending to says the payment has not been confirmed, don't panic. Coins such as Bitcoin and Ethereum have recently experienced some delays in their operations due to the intense use of their networks, and this can lead to delays in confirmations. In those cases, what you should do is go to the "Recent activities" section of the wallet and review the transaction you have made.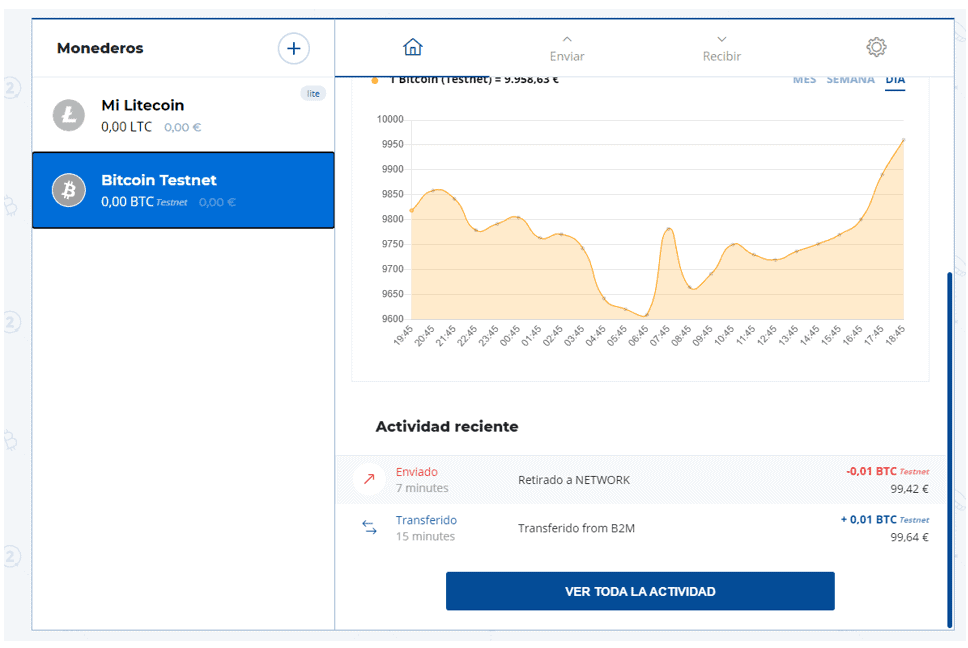 By selecting the operation you will see its status, and at the same time you will have access to a link in the Bit2Me block explorer where you can see the current status of your transaction.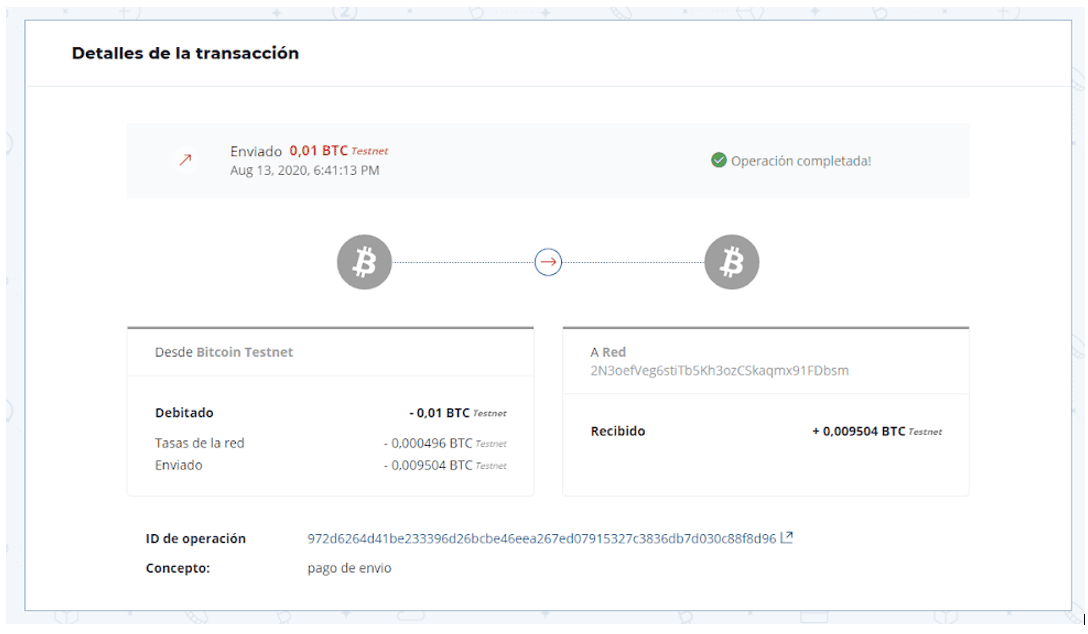 In this case you can see that the transaction has been carried out successfully so it will be duly confirmed and credited to the address that your partner has given you. It is also good that you know that in Bit2Me, if you make a payment operation from a Bit2Me wallet, these operations are instantaneous and you will not have to wait for anything to be confirmed.
What if it still says that the transaction has not arrived? If you get to this extreme where the person says they have not received the payment, but the blockchain says otherwise and actually shows the balance in their address, it means that the other person is not telling the truth or is not looking well. The blockchain in these cases is the absolute truth, if the transaction is confirmed and the money appears in the address it is because it is, and nothing and no one will be able to say otherwise.
Open your Bit2Me user account. Following this link You will get € 5 totally free on your first purchase.