Axie Infinity (AXS) is one of the games blockchain most famous around the world, on which a huge community has been created and which has shown the immense power of this new form of monetization and interactivity.
SYou have probably heard of Axie Infinity, a famous online game of the Play-to-Earn (P2E) type that has caused a furor in the crypto community for its game mechanics, its huge community and its explosive tokens that make life online Ethereum. And, no wonder, Axie Infinity is considered one of the largest P2E games in the crypto world, with tens of thousands of players and a market force that does not go unnoticed by anyone.
But how did all this start? doWhat is what makes Axie Infinity and its tokens so special? We explain it to you below…
Beginnings of Axie Infinity
Axie Infinity is a game whose history began to be written by the hand of a Vietnamese company named Sky mavis in 2018. Leading the company were Aleksander Leonard Larsen (current COO), Jeffrey Zirlin (current GL) and Trung Nguyen (current CEO), who were interested in the nascent world of NFTs about Ethereum.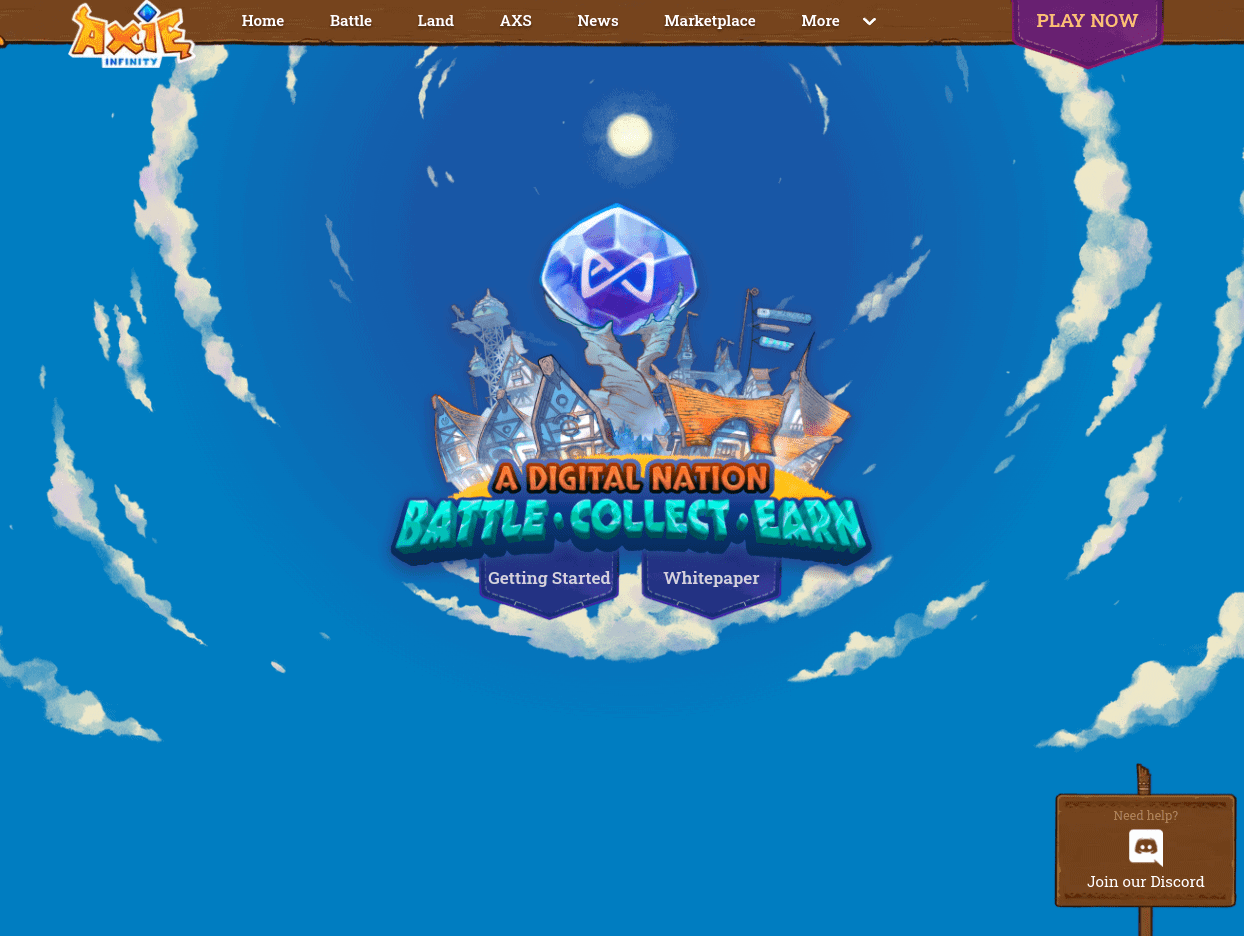 Do you want to acquire your first AXS tokens and start in Axie Infinity? Then it is time to open your Bit2Me user account. It is very easy to do and, in addition, following this link You will get € 5 totally free on your first purchase at Bit2Me.
BUY AXIE INFINITY ON BIT2ME
Inspired by its potentialities, they began the creation of Axie Infinity, a game where each character was represented by a NFT on Ethereum and that could be improved, traded and more, in a mechanic similar to that of CryptoKitties.
However, Axie Infinity took all this a step further by allowing to improve the characters, include combat mechanics and, in general, apply a more elaborate design, which would attract more the attention of the players.
As a result, the initial success of Axie Infinity was exceptional, achieving a strong community in Vietnam and South Korea. However, its arrival in the West was a little slower, being mainly driven by the continuous improvements of the game and the momentum that the AXS token had at the beginning of 2021, which began to attract more users and increased the price of the token. .
Game dynamics
The gameplay in Axie Infinity is straightforward. The player must gather the best Axies, creatures similar to pokémons, with which they can create battle teams with which to face other players or carry out different missions (quest) fighting bots. In this sense, the better the Axies team that the player can form, the greater their chances of winning and receiving rewards within the game.
These rewards can then be used to upgrade characters and acquire new ones. In addition, with each battle won the Axies gain experience, which makes them stronger for future battles.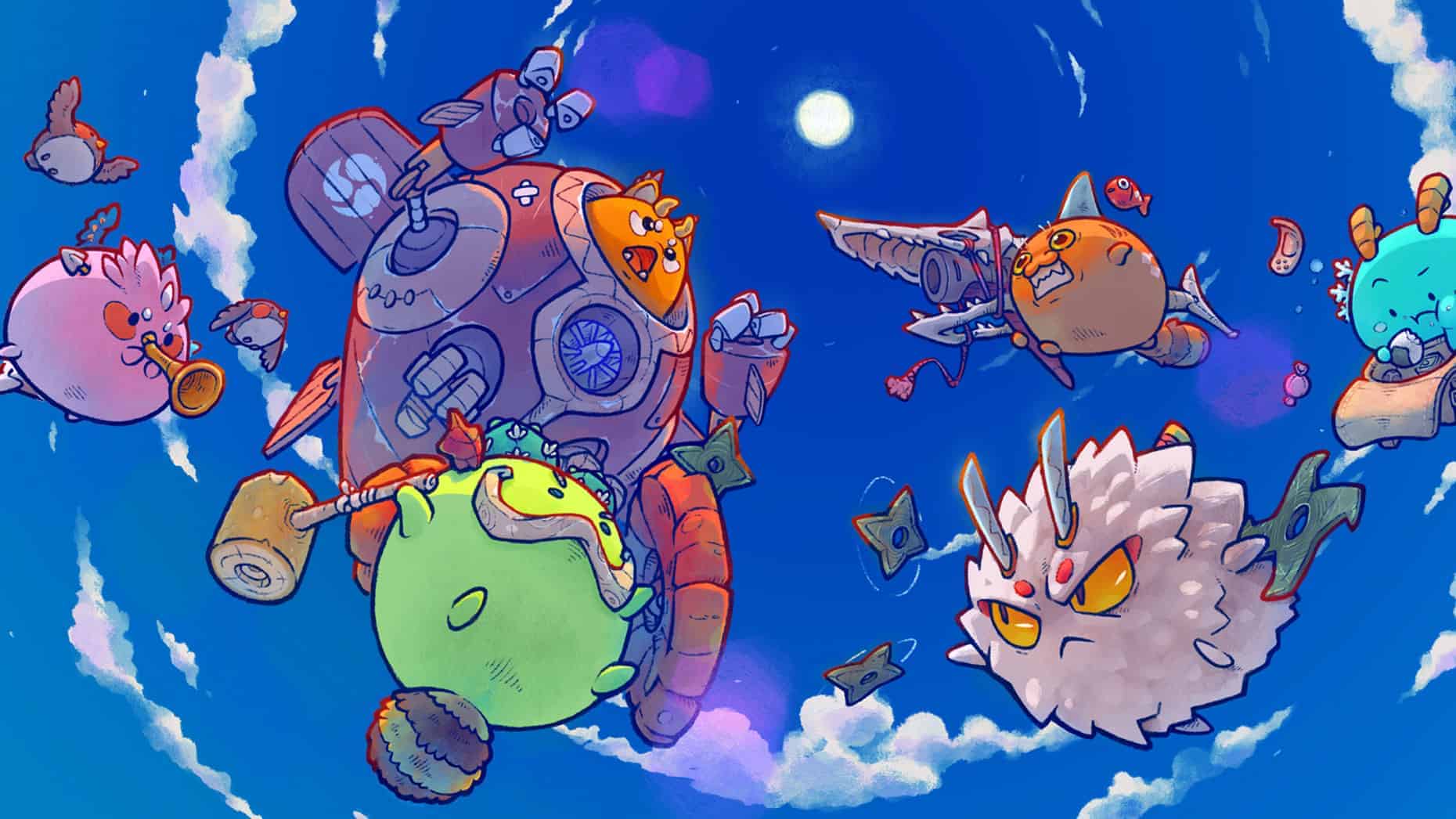 The Axies upgrade mechanism is very similar to that of CryptoKitties, based on "Digital genetics". Basically, if you mate two Axies of good level, his son, will be able to inherit the best qualities of his parents and, therefore, achieve results (stats) similar to these. In addition, this mechanism is also responsible for generating unique stats for that new Axie, so you can hardly find two identical Axies, which means that they can be more or less valuable depending on their characteristics.
This breeding dynamic is what gives rise to the huge market for Axies (which are nothing more than NFT tokens in Ethereum), and many users of the game are especially dedicated to this, breeding, matching and generating new Axies, which are then sold. On the other hand, there are those who buy these new Axies, improve their equipment, restructure their equipment and sell their old Axies to improve the new ones and continue in the battle. As you can see it is a complete circular economy in which new and experienced players benefit.
All this makes Axie Infinity a highly competitive game and thanks to its huge community, you can find spaces dedicated to professional level competitions (eSport) of Axie Infinity. In fact, Axie players have already won thousands of dollars in cryptocurrencies through numerous tournaments organized by the main team or third-party sponsors.
In fact, in this link you can find a very complete list of the different organized events where you can put yourself to the test by competing against others in Axie Infinity, and winning great prizes for it, we are sure that it will be very useful to you.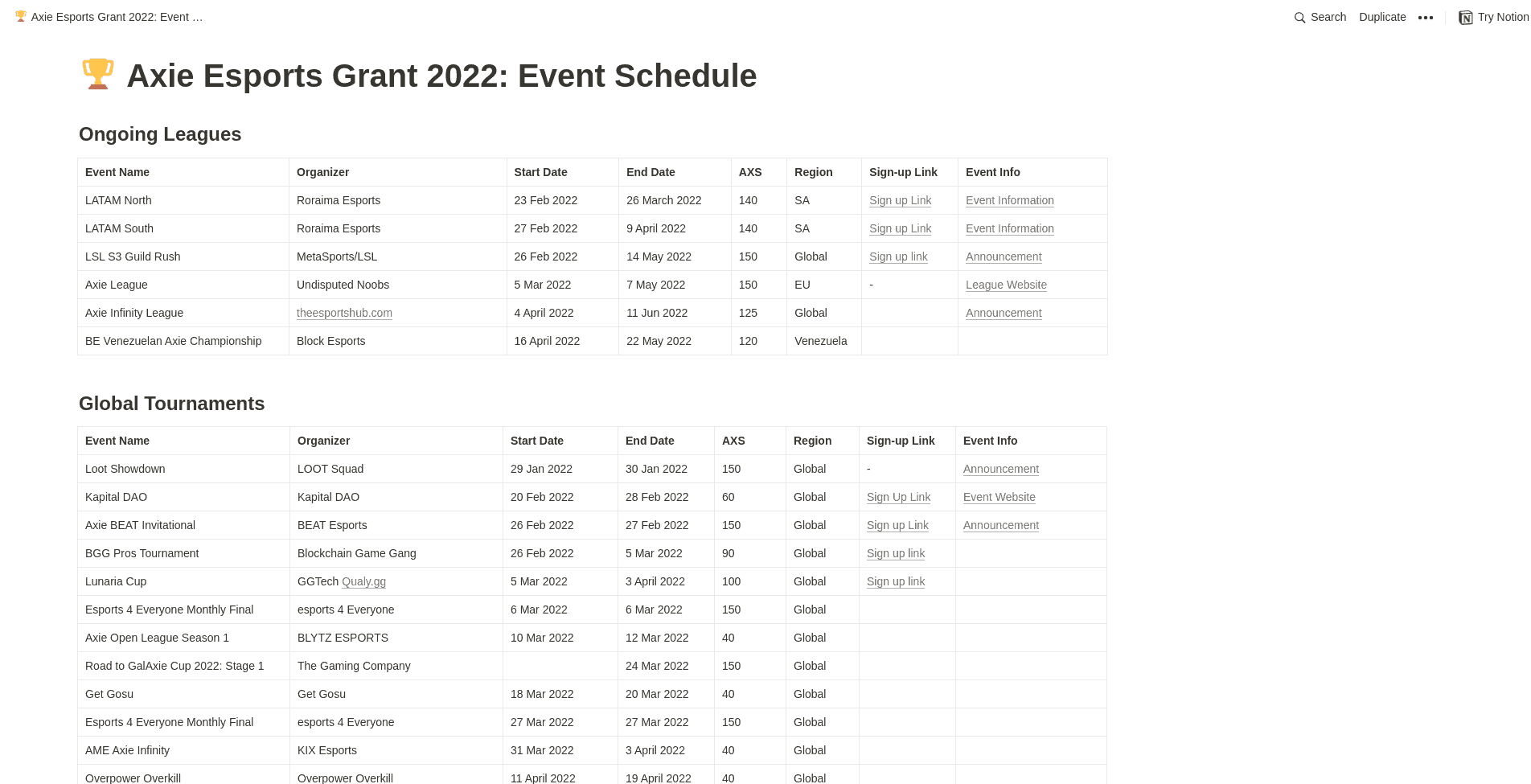 Breeding, raise and improve your Axies
Breeding is one of the options you have in Axie Infinity. The idea of ​​breeding is that you can breed new Axies using as parents those you already have in your possession. With breeding, you can generate new unique Axies that fuse the best (and worst) characteristics of the Axies you have in your possession.
The system allows you to breed up to 7 generations, each of which gives you access to certain unique characteristics. Once you reach the total of generations, you will not be able to continue breeding using said Axies, since they will return sterile. This measure is intended to prevent an uncontrolled increase in the number of Axies that exist. In addition, this process also has an economic component, since to carry out breeding it is necessary to have SLP tokens, which can be acquired in DEX or CEX, or through the game.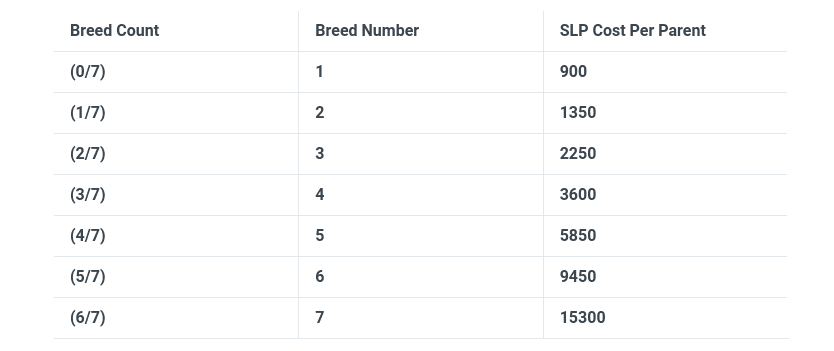 Genetics in Axies breeding
As with all royal pets, Axies are susceptible to genetics. Genetics are passed down from parent to child and are divided into three types of genes: a dominant gene (D), a recessive gene (R1), and a minor recessive gene (R2). These genes apply to one of the 6 body parts that every Axie has.
Basically, this means that we can improve each generation of Axie by seeking to get the best from their parents, inherited in their children. Of course, like all genetics, this is probabilistic, so you have to take into account the following:
A dominant gene (D), has a 37,5% chance of transmitting this gene to offspring.
A recessive (R1), has a 9,375% chance of passing this gene to offspring.
Whereas a minor recessive (R2), only has a 3,125% chance of passing this gene to offspring.
To help you calculate the odds, the Axie community has designed this powerful genetic calculator. Using it is very simple, just enter the ID of the Axies you want to match and click on "Calculate", with this you will have all the probabilities of the offspring of your two Axies.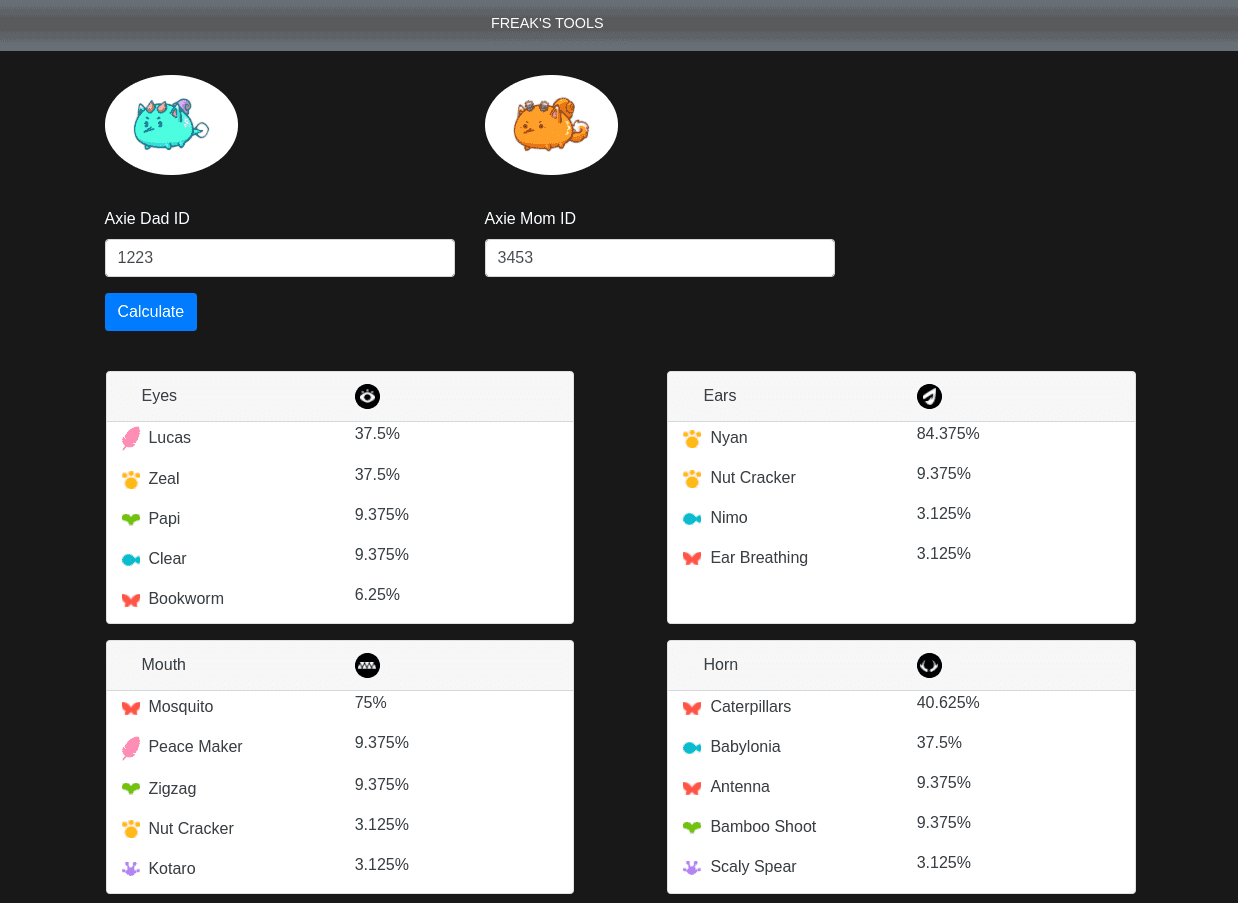 Community and economy within Axie Infinity
An important part within Axie Infinity is the integration of its community and the economic system that makes Axie Infinity possible. A good example of this community integration can be seen in the access to artistic assets and genetic data of the Axie within the platform. All of this information is publicly accessible, allowing community developers to create their own tools and experiences in the Axie Infinity universe. In addition, Axie has become a game with a clear social network approach with a global reach, where hundreds of thousands of players communicate and organize to make Axie Infinity a fun place at all times.
Of course, this same access also applies to the economic ecosystem within Axie Infinity. For example, in the Etherscan explorer we can see that there are more than 280 thousand Axies (this is the NFT pets of the game), information that highlights the operations carried out with said NFTs and much more. The same applies to tokens ERC-20 of the platform (the AXS token and the SLP token), where from the same Etherscan browser we have the same free access to all the economic activity that happens around them. In fact, thanks to this reality we can know that the AXS token has a capitalization of more than 15 billion dollars, while the SLP token has a capitalization of more than 37 million dollars.
Thus, players can know at all times the economic reality within the game, knowing that they can obtain resources by any of these means:
Competing in battles to win prizes on the leaderboard as well as Smooth Love Potion (SLP).
Breeding Axies to produce new ones with particular combinations of body parts.
Collecting and speculating on rare Axies, like Mystics or Origins.
AXS and SLP token, the Axie Infinity tokens
Within the dynamics of the game, of course, two important tokens also come into play: the AXS and SLP tokens.
AXS Token
When we talk about the AXS or Axie Infinity Shard token, we are talking about an ERC-20 type token that works on Ethereum. The purpose of this token is simple: to allow the creation of a system of rewards and incentives for players. In this etherscan link you can see all the information corresponding to this token.
Additionally, AXS also allows for decentralizing ownership and governance of Axie Infinity, as AXS token holders can participate in the governance of the game by voting for improvements to the game. On the other hand, it is worth noting that the supply of AXS tokens is limited to a total of 270.000.000, so it will be a token of limited existence and therefore with great prospects for revaluation.
However, many of the dynamics of AXS are not fully implemented yet, and it is a work in progress on the part of the game developers.

SLP Token
The second token in the Axie Infinity equation is the SLP or Small Love Potion token, another token of the type ERC-20 which is vital within the game. Its functionality is to provide rewards to the winners of battles within the game. Thus, with each battle won, the player receives a certain amount of SLP and experience points with which they can improve their Axies.
In any case, the SLP token is vital for many functions within the game. For example, if you want to start breeding an Axie, this can cost anywhere from 600 SLP to over 10.200 SLP, depending on the generation (this value is constantly changing so check the game documentation). If you want to know the on-chain reality of this token, you can review this link where you will have access to all this information in real time.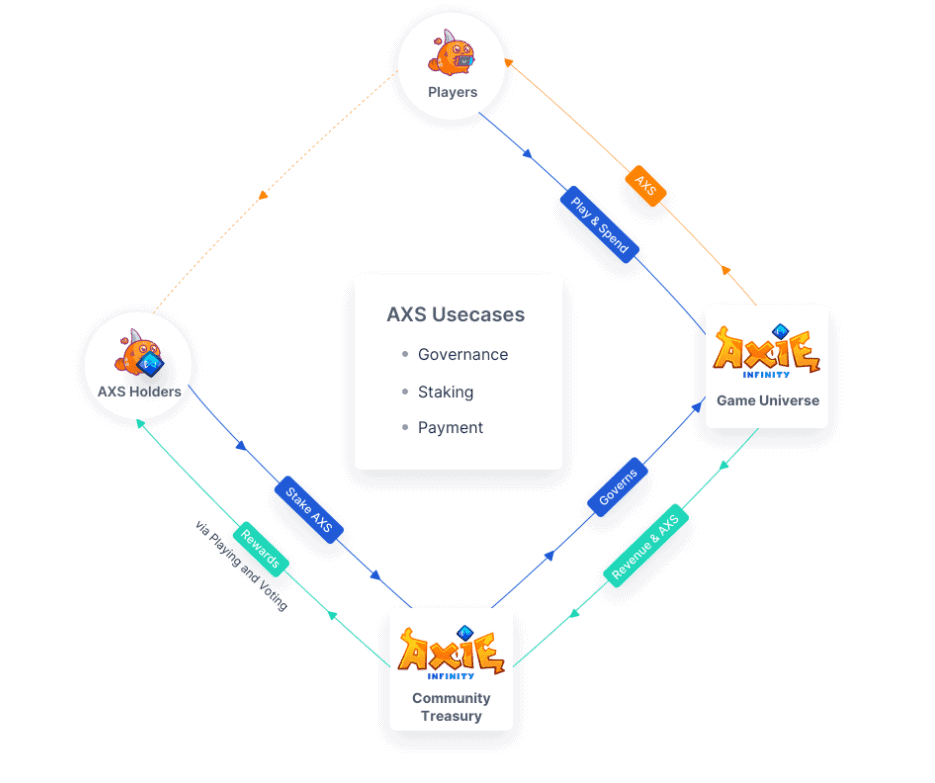 What do I need to get into Axie Infinity?
To enter and play Axie Infinity all you need is:
Go to Axie Infinity official website and click on "Play Now".
Have a purse Ronin Wallet installed in your browser, with a positive balance in both AXS tokens and SLP tokens, in order to get a first Axies team and improve it. This token allows you to manage your assets on the Ronin network, a different network than Ethereum and much cheaper, something that you will appreciate when playing.
Have a purse Dappradar to handle SLP and AXS tokens in case you have these on the Ethereum network.
Install the Mavis Hub tool, which will allow you to enter the game. In this case keep in mind that the support for operating systems is limited and is not available for GNU / Linux.
Once you have downloaded Mavis Hub, you must install it and create your account within this platform. The next thing will be to install Mavis Hub on your computer, and create an account on this system. Once you have created your account and have Ronin Wallet and Dappradar configured, you can then enter Axie Infinity and start playing.
Another point to consider is the initial investment for the game. Currently, an average Axies team can cost between € 400 and € 500. In which case we are talking about a group of basic type Axies, the kind that allow you to gradually scale and recover the initial investment. Many players argue that breaking even (covering expenses) and starting to make a profit in the game can take approximately two to three months. An average time frame, even when AXS and SLP increase in value, since you need these coins to improve your Axies.
In any case, this is not a game where you start making money from the first moment. In fact, if you are an old school gamer (and you have played DOTA, Ragnarok, Metin, Lineage, WoW or things like EVE) then you will know how much you have to invest to get to have a good team and generate profits.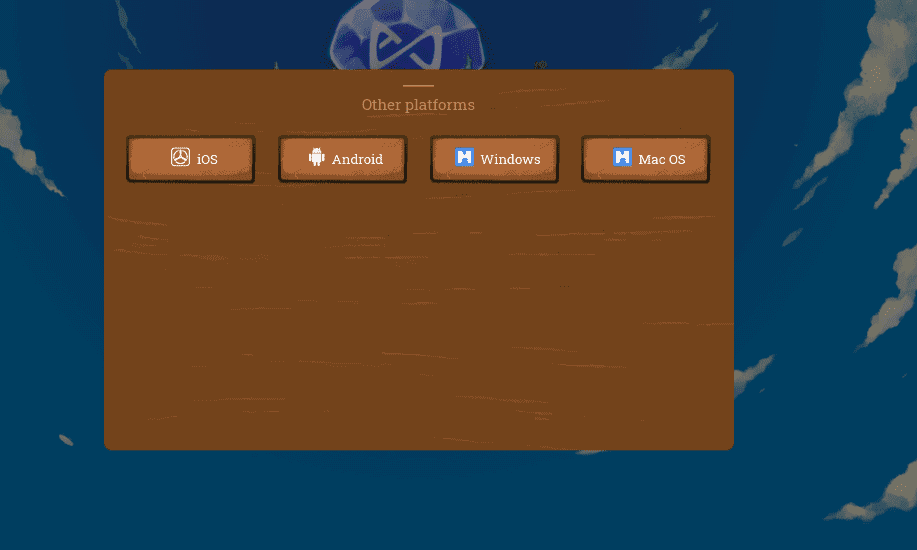 Do you want to buy your first AXS or exchange them for other cryptocurrencies, ? Then it is time to open your Bit2Me user account. It is very easy to do and, in addition, following this link You will get € 5 totally free on your first purchase at Bit2Me.
BUY AXIE INFINITY ON BIT2ME
Axie Infinity Scholarships What are they and how to get one?
The boom of Axie Infinity has been such that its community has organized to create a "Community Scholarship Program". The idea is that expert players and great investors within Axie Infinity, allow new players to enter the world of Axie Infinity with a scholarship that makes it easier for them to create a new account and buy a good team of Axies and start making money. After all, SLP and AXS tokens are in high demand on centralized and decentralized exchanges, and there are players on the Internet who report income of up to € 1.000 per month, playing an average of 4 hours a day.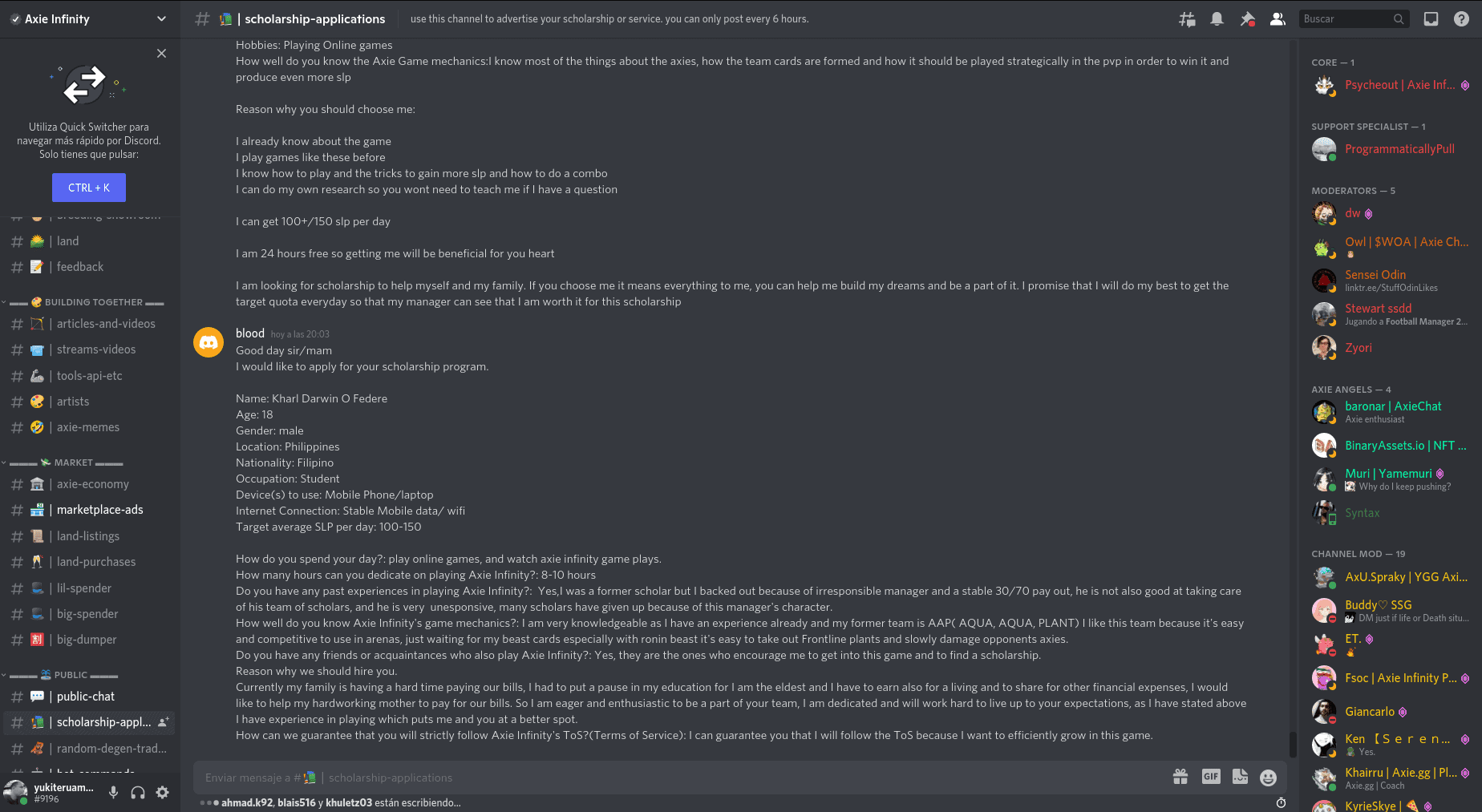 The Internet is full of stories like you are and testimonials that claim that not only is it possible, but that many people are starting to make a living from it. The "Fellows" as they are generally known, they are people who do not have a job, who seek to improve their income and who live in countries with few job opportunities or very low wages.
Generally, scholarship recipients are given these accounts on the condition that the proceeds are shared between the sponsor and the scholarship recipient. The distributions are generally of the 50-50 type (sponsor-scholarship holder), but other godparents and communities can deliver values ​​such as 40-60 or even 60-40.
However, there are other more painful cases, such as 70-30 and even 90-10 distributions, which occur mostly in poor countries and with people who by necessity accept this type of abuse. Many scholarship communities in Axie generally expel sponsors who do these types of actions, since the idea of ​​scholarships is quite clear: help those who need it and that this help makes the community grow, with which in the end, everyone gains even more.
In any case, yesIf you are interested in this system, please do your own research and don't look at dubious sites. The official Axie Infinity community itself has an official scholarship system on its Discord, which you can review in this link. The scholarship system is called Scolarships And before you despair to enter, carefully review the rules. If you do not respect them, you will never enter, and if you enter and do not comply, they will prohibit you from accessing them for life and you will not be able to enjoy the scholarship.