B2M is the token native to the Bit2Me platform, designed to give you access to new features, rewards, governance and a powerful set of solutions that you can find in our Bit2Me Suite.
You can buy your B2B tokens from Bit2Me quickly and easily.
Ethe ecosystem cripto it grows day after day with interesting proposals and one of these is precisely the token B2M. This token has been created by Bit2Me, a leading company in Spain with more than 7 years of experience in the sector. Its creation has as main objective to promote a series of unique benefits to the users of this trading platform. Said benefits go through the construction of tools of staking, cryptographic loans and rewards for the use of the different services found in the Bit2Me Suite.
Origin of B2M
Bit2Me was founded in 2014 by Leif Ferreira and Andrei Manuel Costache, two visionaries who started this idea with the firm objective of facilitating access to cryptocurrencies, to all the people interested in these within Spain and Europe. The shared vision in this project encouraged them to create a tool for access to an open, transparent and decentralized financial world as it was Bitcoin at that time, which was beginning to show clear signs of its powerful economic rise. They couldn't be more right, which led to the idea of ​​it growing, now becoming the largest cryptocurrency platform in Spain, and with a significant presence in Europe.
The path since then has led them to innovate and create different spaces that reaffirm their commitment to the crypto world. An innovation that led them to create a system for buying and selling cryptocurrencies in cash thanks to the service tikebit, which has more than 250 points throughout the country. In addition, a direct-to-cash cryptocurrency withdrawal system by ATMs using halcash, which allowed the withdrawal of your money in more than 10 thousand ATMs throughout Europe.
Growing and improving at all times
But the arrival of the crypto winter in 2017 was a difficult time in which many companies closed, however, the bet on the crypto world of Bit2Me continued and stronger than ever. This led the company to diversify its services by creating:
Bit2Me Wallet, a wallet with fast exchange options and inter-wallet payments without commissions. Said wallet currently has more than 250 thousand users, in 100 different countries and 13 million registered wallets.
Bit2Me OTC, an exchange of the Over the Counter type. This service allows the purchase and sale of large amounts of crypto privately.
The service Bit2Me Commerce, which is a payment gateway service for e-commerce that allows you to integrate payments in cryptocurrencies in your virtual store in a simple way.
Bit2Me Custody, a high security cryptocurrency custody service.
Bit2MePay, a multiplatform payment system that supports micropayments and is instantaneous.
The trading platform Bit2MeTrade, which allows professional trading in real time.
Bit2Me Academy, a teaching and learning service of the crypto universe that you are making use of and enjoying right now, as are more than 1,7 million people.
All this work led Bit2Me to be recognized nationally and internationally as one of the companies with the longest experience in the crypto space.
The arrival of B2M to Bit2Me Suite
The arrival of the year 2020 was no different, since this moment was crucial with the presentation of Bit2Me Suite, and it is where the development of B2M begins. The objective of this token is to serve as financing for the development of new services and the expansion of the company beyond Europe, with a target in Latin America and Africa.
In addition, the issuance of the token will also allow new products to be enabled as a platform for staking and crypto loans that will enable an environment of decentralized finance that can be used by all those who participate. This will be possible because B2M will be a ERC-20 token of the network Ethereum (ETH), which can be easily integrated with services such as uniswap among others.
B2M goal
The main objective of B2M is to promote the development of Bit2Me and its solutions, while offering incentives to its investors to participate in said ecosystem. The central idea of ​​Bit2Me since its inception is to close the gap between the traditional financial world and the new financial world of cryptocurrencies, understanding that cryptocurrencies are a better form of money and, that their promotion and adoption worldwide, It involves reaching more and more people, which begins with the traditional financial system that most are used to.
To achieve this, Bit2Me seeks to obtain a banking license that allows it to operate with greater freedom and security, thus providing new opportunities to its users. In addition, Bit2Me seeks to expand further in the EU, Latin America and Africa, which will allow millions of people to join the world of cryptocurrencies.
In this way, the objective of Bit2Me with this token is:
Obtain the necessary financing for your expansion plans.
Begin with the development of your new services, as outlined in the company's roadmap.
Allow investors to have a tool that provides benefits not only for using the Bit2Me platform, but also for investing and betting on it.
In fact, our roadmap shows the projects that will be driven by this token, as well as shows our successful launches so far, our ultimate goal being to create an increasingly decentralized ecosystem adjusted to your needs.
Token distribution
Now, a part of the success of the launch of tokens is to have clear the rules of distribution of tokens. In this case, Bit2Me has created B2M with a maximum issuance of 5 billion tokens, following Ethereum's ERC-20 standard. Those tokens will be distributed as follows:
First phase: private offer
In this first phase, Bit2Me may take up to 10% of the total tokens (500 million tokens), to be sold to private investors. This private sale was carried out from June 8 to July 15, 2021, being completely successful.
Second Phase: public offer
The second phase consists of the public offering of the token, which will be made in three sales, in which up to 25% of the tokens to be generated will be offered, and which will be divided as shown in the following image: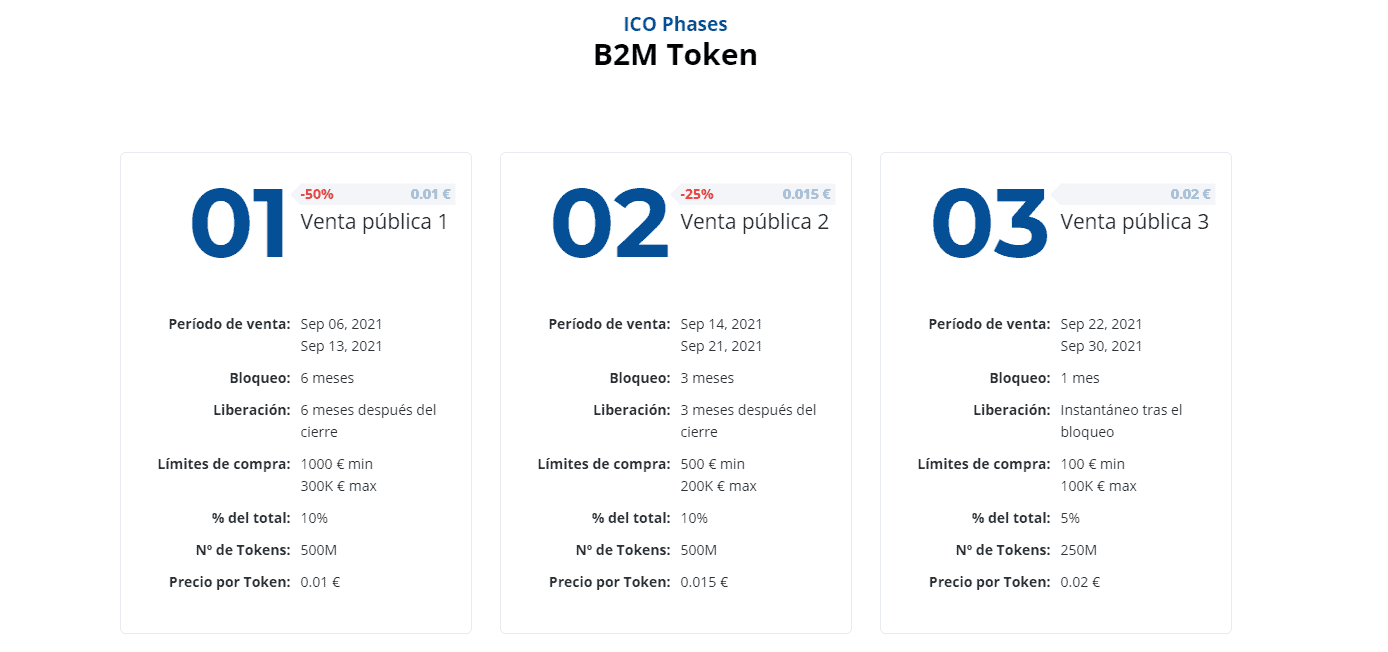 Additionally, tokens will be distributed with the following formula:
Equipment, with 10% of the supply and that can be unlocked from 6 to 24 months.
Technology partners, with 8% of the token supply and which aims to create incentives for merchants and technology partners.
R&D (Ecosystem Development), with 7% of the token issuance, in order to incentivize the development of the token, create new integrations and improve the platform.
Advisors, with an 8% that will go to collaborate with key strategic advisers with deep knowledge and experience in the industry. The lockup period that makes it impossible to sell ranges from 1 to 12 months.
Airdrops, Bit2me will reserve 2% of the total supply to perform Airdrops promoting new products and use cases of the token.
Platform reserve, it will retain 30% of all supply to maintain healthy market action in the B2M token and provide flexibility in the early stages of the suite. Even in the unlikely event of a technical or security breach resulting in loss of funds, the reserve will be used to compensate affected users.
All this leads to a distribution of tokens that we can represent in the following graph: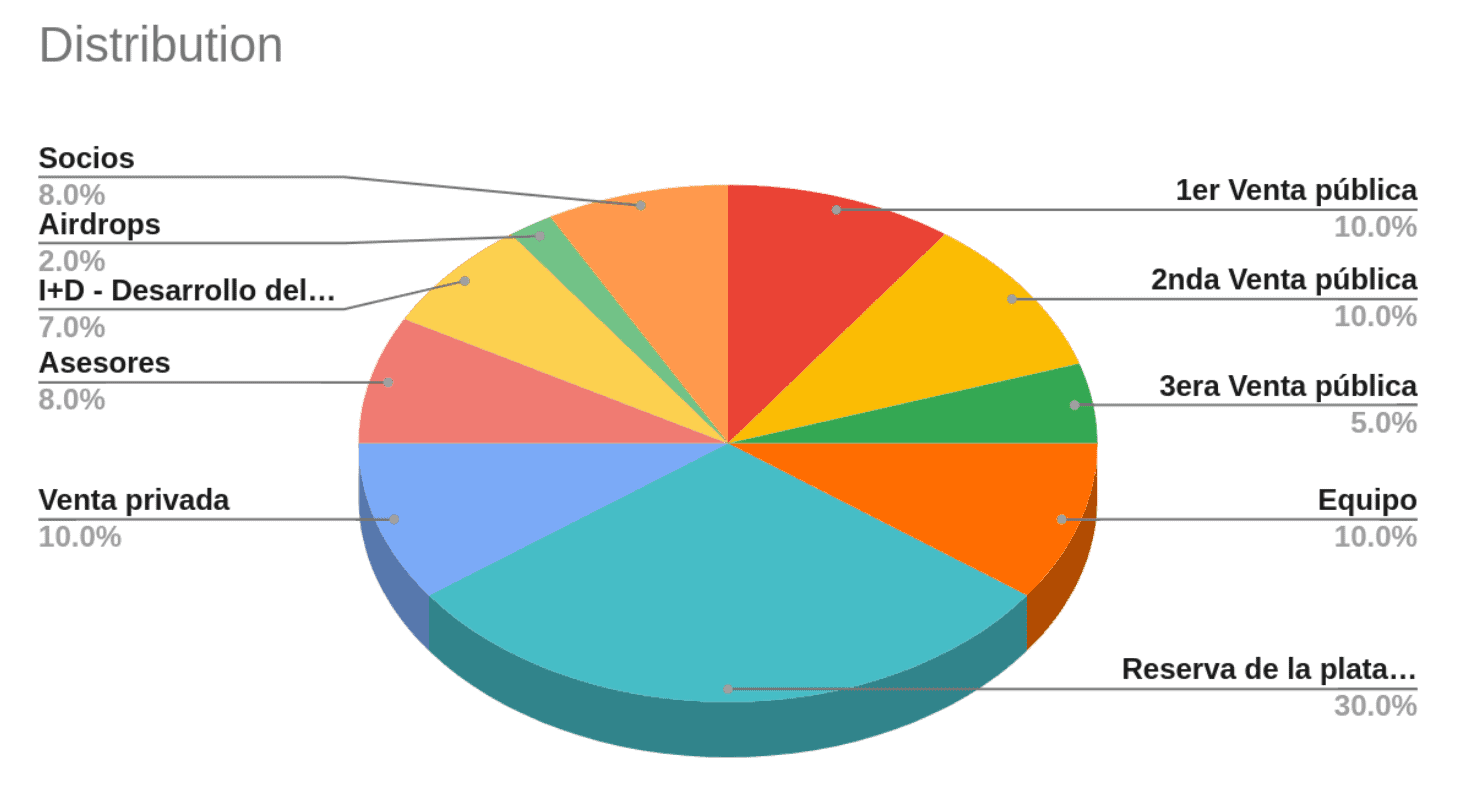 Token and platform functionalities
Staking rewards
One of the main functionalities of the B2M token will be to allow the reception of rewards for making use of the Bit2Me platform and services. Among those rewards we can mention:
Interest: the use of the Bit2Me lending platform may give users an advantage if they wish to lend their assets in exchange for receiving their returns in b2m token.
Refund for use of Bit2Me Card, which will allow users who make purchases with the BCard to receive a refund at the end of the month of a percentage of the purchase. This percentage will be higher for those who have tokens on their balance and want to receive this refund in the form of tokens.
Governance over the token
Bit2Me is a custody platform, so the control over the token is in the hands of the company. However, at Bit2Me we understand that the decentralization is desirable and towards that goal, Bit2Me may build additional functionality on top of the B2M token so that users can vote on future features to be offered in the suite, including:
List of new cryptocurrencies
Add merchants to the marketplace and refund debit cards
Supported protocols
Academy Articles and Live Interviews
Integration of systems that allow obtaining returns from certain crypto assets (staking)
Our intention with B2M is to grow this ecosystem so that everyone can have an active participation in it.