The Klever ecosystem is an ecosystem cripto which was initially built on the blockchain of TRON that currently has its own development using Cosmos technology.
Athis new development is known as Klever Chain, but in both cases with a very clear objective: to bring blockchain technology closer to the mobile world, but, above all, to provide access to a whole set of decentralized applications that work in a unified way in what which is known as Klever OS.
With all this in mind, the Klever ecosystem has introduced a set of unique tools to achieve this goal, including development and integration tools, as well as the token Klever (symbol of market KLV), which is the epicenter of the tokenomics of this system.
Do you want to start enjoying the world of cryptocurrencies, ? Then it's time to open your Bit2Me user account. It is very simple to do in a few steps following this link.
How does Clever work?
The operation of Klever is based on a series of ideas and projects designed to offer everything necessary to take full advantage, not only of the capabilities of the TRON network, but also for the construction of interconnected ecosystems with Klever Finance and its Klever Chain, two elements that are also vital within the Klever ecosystem. But, to understand a little more how all these systems are interconnected, we explain each one of them.
Klever OS, building an ecosystem of decentralized applications
First of all, Klever OS is a series of development resources that seek to facilitate the creation of decentralized applications (or Klever Apps). Among the resources available for this we can find:
A complete Web SDK for the development of decentralized, secure, friendly and interoperable Web applications with other Klever Apps deployed in the ecosystem.

Support for creating native applications on iOS and Android, using SDKs for mobile development.

Highly secure handling of wallets and all data handled by the Klever Apps. This includes the handling of seed phrase, private keys, API Keys and other private and strictly secret data of these applications.

Use of known standards for wallet development. For this reason, the Klever wallet (vital for the interaction with the Klever Apps) uses HD derivation cryptography under the BIP32, BIP39 and BIP44 standards, the same ones that are handled in the wallets Bitcoin.

Support for advanced smart contracts and cross-chain operations.
At first, all these functions seek to exploit the capabilities of the TRON network, but with the development of Klever Chain, new elements have been added that make Klever OS a better option for the development of all these capabilities. First of all, Klever Chain, being part of Cosmos, can be integrated into this much broader and more developed ecosystem. Additionally, Klever Chain can benefit from the better prospect of scalability and decentralization of Cosmos, which improves its position as a long-term project.
Because of this, Klever OS can be thought of as a series of building blocks that together enable the building of decentralized applications. Tools that are available for developers to make use of and exploit all their possibilities, whether on the TRON network or on the Klever Chain.
Klever Coin, the economic epicenter of Klever
Klever Coin (KLV) is a utility token that powers all Klever OS and Klever Chain products and services. The token is designed to provide credibility, agility, responsibility and independence to the users of the ecosystem, in addition to strengthening the relationship of the community. The KLV token had its beginnings on the TRON network, as a TRC-20 type token, under this contract in said network.


However, with the arrival of the Klever Chain, the KLV token has become the native token of this new blockchain and this network is where most of the economic management of said token is carried out. In any case, the KLV token is designed so that it can be used in the following ways:
Pay transaction fees (on the Klever Chain network).

Reduce swap fees when using Klever Swap services (on both networks). For example, each KLV HODLer, by the simple fact of having KLV in his wallet, can reduce the payment of the corresponding commissions for his operations within the Klever Chain.

Make P2P payments.

Buy VIP tokens.

Participate in new projects through crowdfunding.

Participation in NFT markets.

Creation of a system of programmed burning of KLV tokens that reduces their circulation and helps to improve their valuation in the crypto-markets.

Generation of a buying and selling system for other tokens in Klever Chain. For example, KLV can be used to buy KFI (Klever Finance Governance Token), with which you can participate in the governance of the Klever Finance ecosystem.
The KVL token has a maximum issuance of 10 billion tokens. And despite the fact that it exists in two different networks (TRON and Klever Chain), this value has been very clearly respected.

In this way, KLV holders can carry out DeFi operations and more within two large networks such as TRON and Cosmos, knowing that in both networks speed and low commissions are an essential part of the blockchain ecosystem on which they work.
Klever Chain, the future of the ecosystem
Klever's biggest bet right now is on Klever Chain. The technology applied to this blockchain seeks not only to facilitate the development of decentralized applications, but also to take advantage of the technological elements of Cosmos to maintain high scalability and interoperability.
In addition to this, Klever Chain enables the use of technologies such as sidechains, which will amplify the capabilities of this network, to support more complex applications and larger communities. Klever Chain is a blockchain still under construction so at the moment, only basic operations are available: such as token creation and basic decentralized applications.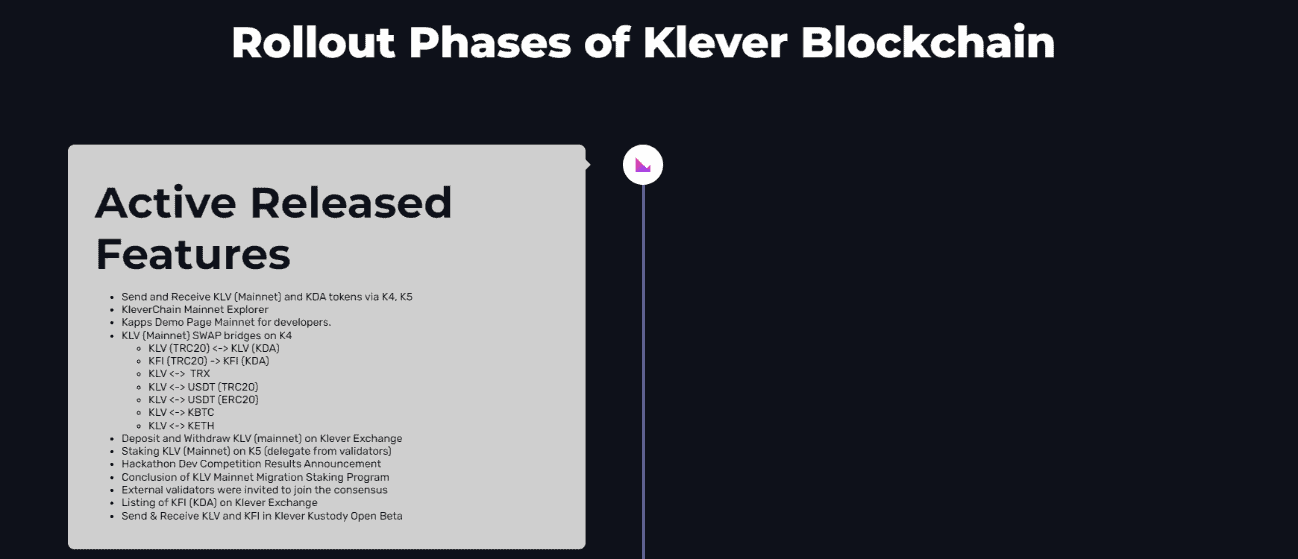 However, the roadmap clearly shows that the ecosystem is aiming for rapid development of more advanced features where KLV will be a vital part of all its operations.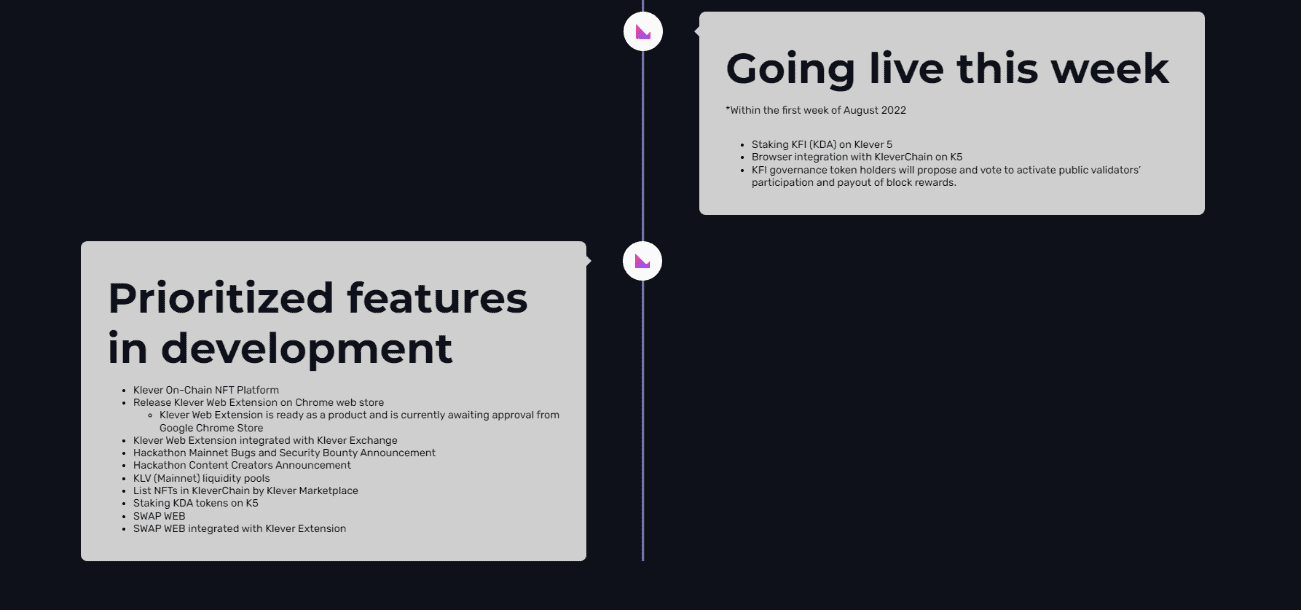 That said, Klever Chain will gradually become a new benchmark within the blockchain ecosystem, one that will surely give a great boost to its KLV token and to the community that lives around it.