Shiba Inu (SHIBA) is a meme coin that was created by the anonymous Ryoshi, in order to dethrone Dogecoin and be the king of meme coins in the critical world.
EThe Shiba Inu (SHIBA) token is a meme token launched on the network Ethereum (ETH) that has a clear objective: to dethrone Dogecoin and set a new standard for a meme coin.
However, this new standard for a "meme coin" goes far beyond simply throwing a token or cripto without more (as has happened with Dogecoin). In fact, Shiba Inu has a fairly large development community and it has been precisely this that has given it great growth and prominence in such a short time.
Shiba Inu, a new meme token
Shiba Inu is a "meme coin" or "meme token" a type of currency that has been created with the clear purpose of being a joke. The creation of this new meme token was the idea of ​​the anonymous "Ryoshi" who in August 2020, created the smart contract ERC-20 that would give life to Shiba.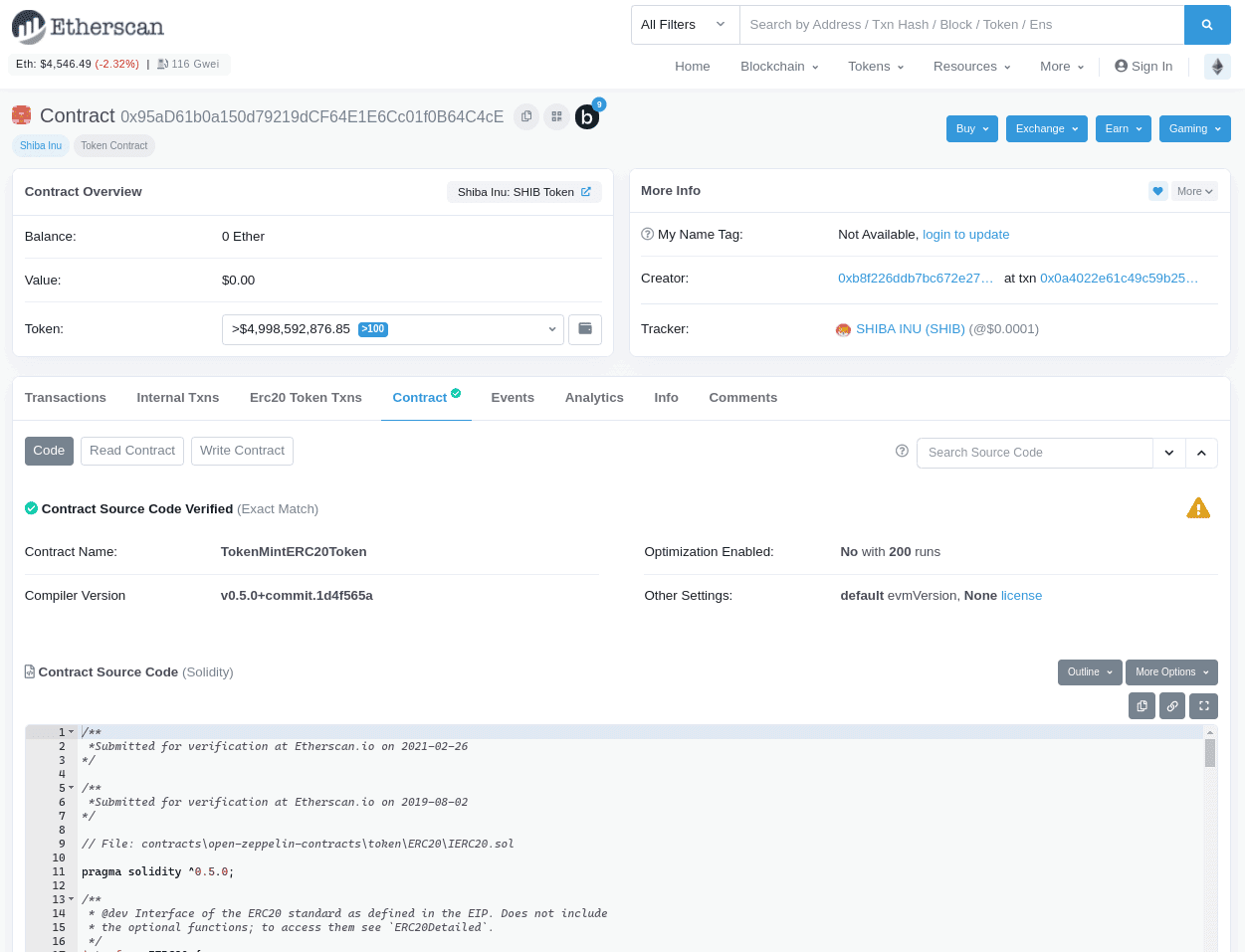 Do you want to start enjoying the world of cryptocurrencies, ? Then it is time to open your Bit2Me user account. It is very easy to do and, in addition, following this link You will get € 5 totally free on your first purchase at Bit2Me.
BUY SHIBA INU AT BIT2ME
In any case, Ryoshi's idea with his meme coin was very clear: dethrone Dogecoin. Ryoshi, from his point of view, saw that DOGE it did not offer anything new, and thus wasted a huge opportunity for the adoption of cryptocurrencies.
To achieve this, Ryoshi who also defines himself as: "someone of no importance and whose identity will disappoint everyone", decided to create Shiba with a maximum issuance of 999.992.159.191.335,356872165285409628 of SHIBA token. Next, and after drawing the attention of the crypto community on Twitter, Ryoshi decided to hand over to Vitalik Buterin 50% of all that existence, and leave the other 50% so that he could move in the community, leaving Ryoshi with zero tokens in his possession.
The SHIBA boom begins
Activity on Twitter began to fizz. For one thing, Ryoshi had played the SHIBA release well amid a DOGE boom boom, fueled by Elon Musk's tweets. Along with this, SHIBA began to appear on DEX as Uniswap or SushiSwap, which quickly skyrocketed its use and adoption.
In addition, the idea of ​​expanding SHIBA's functionalities with its own DEX, liquidity pool and yield systems farming, further captured the attention of the community, who perceived it as an opportunity to make good profits, in particular the early adopters and Hodlers of the coin.
The result: a complete boom that has allowed SHIBA to become one of the 20 largest cryptocurrencies in the world with a market capitalization that exceeds 26 billion dollars. Part of all this success was in the hands of Buterin, who donated part of his SHIBA holdings to the India Covid Aid Fund. The donation was valued at $1.000 billion at the time and, after being sold by India at a bad market time, netted $437 million. On the other hand, Buterin ended up burning the rest of his holdings, leading to a sharp rally in this cryptocurrency.
How does Shiba Inu work?
Now, as we discussed at the beginning Shiba Inu (SHIBA) is a token about Ethereum which has been built using the standard ERC-20. This means that it is compatible with all wallets. Web3 ERC-20 that exist (such as Dappradar). Additionally, this guarantees that the functioning of SHIBA and its evolution depend on the development of Ethereum, so the SHIBA developers only care about one thing: offer services that use SHIBA and grant functionality to the token.
Thus, for example, through free software constructions such as Uniswap or SushiSwap, SHIBA could create its own DEX, adapt them to its needs and offer them to the community, reducing the need for development from scratch, while rapidly deploying useful tools to all the token hodlers.
Of the rest, SHIBA is an ERC-20 token like any other token of its type (ex: DAI or USDT) so it does not have special functionalities beyond those provided by Ethereum and its platform.
Options within the Shiba Inu ecosystem
Now, the fact of being an ERC-20 token within Ethereum, allows enormous flexibility when building and integrating services to it. Thanks to this, Shiba Inu currently has interesting options among which we highlight:
ShibaSwap, a DEX focused on SHIBA
ShibaSwap is the name of the decentralized exchange (DEX) fully focused on Shiba Inu. The exchange has a swap, collateralized loan system, liquidity mining, a market for NTFs and yield farming options.
The DEX interface is "shibanified" so that anyone can use it and have all the information they need at their fingertips. In fact, right at the top you can see data as important as the TVL (Total Value Locked or Total Value Locked) which is generally over 500 million dollars. Also, data on the price of the SHIBA token, LEASH (a token for the governance of SHIBA) and BONE (the DEX rewards token).
DoggyDAO, Shiba Inu's DAO
After the initial distribution of tokens by Ryoshi, Ryoshi also renounced control over the smart contract and left control of it in a DAO. To participate in the DAO you need to have in your possession LEASH tokens whose existence is limited to only 100 tokens, which has given it enormous value.
In any case, the role of the DAO is to maintain the good health of the SHIBA ecosystem, a unique endeavor, since other projects (ex: Dogecoin) lack a structure like this. At the moment, DoggyDAO is a project still under construction, although the LEASH token is already in operation and can be acquired under the conditions provided to participate in this system.
BUY SHIBA INU AT BIT2ME
Conclusions
While Shiba Inu started out as a "meme" token, many of its Hodlers and advocates think it is much more than that today. The project has evolved into something more than just a token susceptible to pump & dump and massive market manipulations, as was initially observed. Functionalities such as DEX and DAO give clues that its developers want to cultivate a better SHIBA ecosystem for all those who bet on the project.
Of course, these are two positive efforts in that regard, but it takes much more to consider that Shiba Inu is no longer a "meme token", but has become a crypto of value for all. If anything, the future of the token is in the hands of its community, its SHIBArmy, and the reaction of the entire crypto community.