Stablecoins or stable cryptocurrencies, came to change the way we mobilize and protect our money from the volatility of the rest of cryptocurrencies. That is precisely one of the functions of USDT, the cryptocurrency that is always worth a dollar and that we invite you to know.

SSurely you have heard the name of USDT in the listings of cryptocurrencies and you have wondered What is USDT?. Well, USDT is a stablecoin or stablecoin created by the company Tether. A stablecoin is a cryptocurrency that maintains a fixed value with respect to a fiat currency high value, a cryptoactive or some commodity. And it is that regardless of what fiat currency or value has been chosen, A stablecoin will maintain the relationship with which it was created with it. That is the main difference of stablecoin with the rest of the cryptocurrencies whose volatility is practically their nature.
BUY TETHER AT BIT2ME
In the case of USDT, the company Tether has created it with a 1: 1 parity against the dollar. This means that 1 USDT will always have a value equal to or very close to 1 $ USD. further the name of USDT comes from uniting, USD (financial symbol of the dollar) with T (for Theter). However, the implications of creating a stablecoin are many and Tether has created a vast ecosystem around it. This has allowed Tether not only to evolve as a company but also to demonstrate the transformative potential of USDT.
Despite this, USDT is a stablecoin with collateral in FIAT (USD in this case) full of shadows, being the most hated stablecoin in the ecosystem despite being (or seems to be) the most transacted stablecoin: inconsistencies in its audits, auditors who publicly resign stating that it is impossible to determine the veracity of the accounts, bank in Taiwan where financial regulation is really weak, instant currency issues, a tangle of companies behind them seeming to want to hide the trail, multiple lawsuits, unfavorable reports against them , hugely inflated trading volumes tripling the capitalization of the currency, ... There are many reasons and in this document we will also leave you links to them at the end.
But first, let's get to know the currency in detail, its birth, evolution and the revolution that led to its birth.
USDT History
The idea that led to the creation of USDT began to develop in the minds of JR Willet in 2014. JR Willet is known in the world of cryptocurrencies as "The man who created ICO". In 2014 Willet worked in Mastercoin, a blockchain that served as a communications protocol working on Bitcoin. With Mastercoin it was possible to create a series of layers over Bitcoin in which it was possible to execute other cryptocurrencies or Tokens. This was quite a revolution for Bitcoin and opened the doors for new applications and features.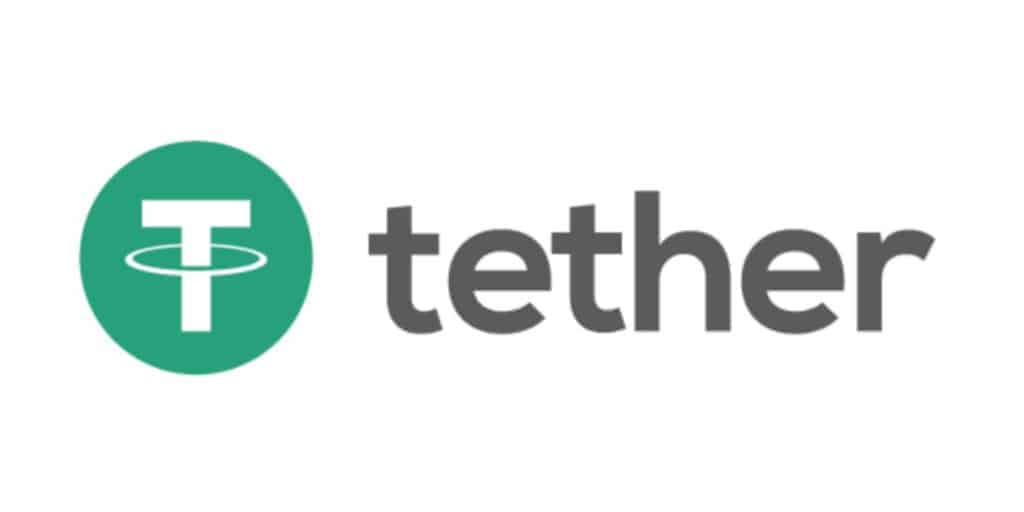 In the development of Mastercoin, they were Brock Pierce y Craig Sellars. Both were members of the Mastercoin Foundation and they believed that the enormous potential of Mastercoin gave to build something very ambitious. In that sense, in 2014 Pierce and Sellars presented in 2014 their project called Realcoin. This project was launched using the protocol Omni Layer, the evolution of the well-known Mastercoin.
With the use of Omni Layer, Pierce and Sellars were able to launch Realcoin using the Bitcoin blockchain. This was possible because Omni Layer allows operations with asset representations. This means that you can generate, send, exchange, redeem, pay dividends and place bets with tokens that represent any type of asset. All this working on a second layer built on Bitcoin and operated directly by the Omni protocol.
The appearance of Realcoin would be one of the largest projects carried out on Omni at that time. However, Realcoin would later change its name. On November 20, 2014, the CEO of Tether, Reeve collins, ad that the project would be renamed "Tether". At that time, he also indicated the creation of three coins: USTether (USDT), EuroTether (EURT) and YenTether (YENT). With this, Collins presented to the world the birth of three stablecoins, thus beginning the history of USDT and its sister currencies.
Start its adoption on trading platforms
The project began to quickly create and gain popularity in late 2014. This is how in early 2015, Bitfinex you decide to add USDT and its sister cryptocurrencies to your platform. However, this situation was quickly clouded by the partnership between Bitfinex and Tether Holdings Limited. The truth is that Tether Limited, the company responsible for this token and based in Hong Kong, is a subsidiary of Tether Holdings Limited.
Despite this, USDT and its sister tokens began to gain increasing popularity. Amid its evolution, in June 2017 it was announced that USDT could be used on top of Litecoin's Omni layer. However, this project is currently abandoned due to the lack of interest in developing the protocol on Litecoin. Despite this, the advance would not stop there. A few months later, in September 2017, Tether ad that would launch ERC-20 tokens additional for US dollars and euros on the blockchain Ethereum.
Thanks to this, Tether was able to bring its tokens to the two largest blockchains (Bitcoin and Ethereum). This boosted Tether's presence on trading platforms quickly. This to the point that today, USDT trading represents about 80% of all Bitcoin trading. Thus USDT has become one of the crypto world's most important cryptocurrencies. Which has led him to occupy a place among the ten great cryptocurrencies in the world.
More recently in 2019, a new token was launched taking the yuan as collateral currency, the CHNT which is active on various exchange platforms.
Why was this cryptocurrency created?
Now surely you are wondering how useful can be a cryptocurrency that is worth the same as the dollar. Especially if we have the dollar and electronic payment options that use that currency. Well, the truth is that a stablecoin like USDT makes a lot of sense if we consider the following:
It does not limit you when making a transfer. USDT enjoys all the advantages of a normal cryptocurrency. This means that you can send USDT anywhere in the world without major problems and with low commissions.
It allows exchanges to maintain a high degree of liquidity and protection against the high volatility of cryptocurrencies.
It offers a means to protect investments from traders within an exchange platform. For example, a trader can carry out cryptocurrency buying and selling and at the end of his trades he can convert his balance into USDT. In this way, it protects itself against the fluctuation of cryptocurrency prices until it operates again.
It offers a secure payment platform in terms of volatility. This is due to the fact that the cryptocurrency always maintains its value of one dollar, which makes it ideal for payment systems where volatility is not desirable, but you want to use a cryptocurrency.
Technical characteristics of USDT
USDT is a quite particular cryptocurrency technically speaking. First, its operation is directed and orchestrated on the Omni protocol. This protocol is executed in an embedded way on a blockchain. As a result of this, This cryptocurrency inherits the properties of the tokens of said blockchain and benefits from the capabilities offered by said blockchain.
Furthermore, the Omni protocol can grant (create) and revoke (destroy) digital tokens represented as metadata integrated in the blockchain. Currently, USDT runs on Bitcoin, Ethereum, EOS, TRONand Liqudity Network. It also allows users to transact and store links and other assets. All this means, that USDT tokens cannot be mined and are only created according to the needs of the ecosystem by Tether.
On the other hand, Tether takes transparency very seriously. The USDT transaction log is public and there is also the transparency website. All this in order to offer peace of mind to the community that uses stablecoin. This has led to the creation of the call Proof of Reservations. This system unites the blockchain accounting together with the accounting of your bank accounts to carry what is known as "Tether Equivalence". It is this equivalence that ensures the 1: 1 collateralization ratio.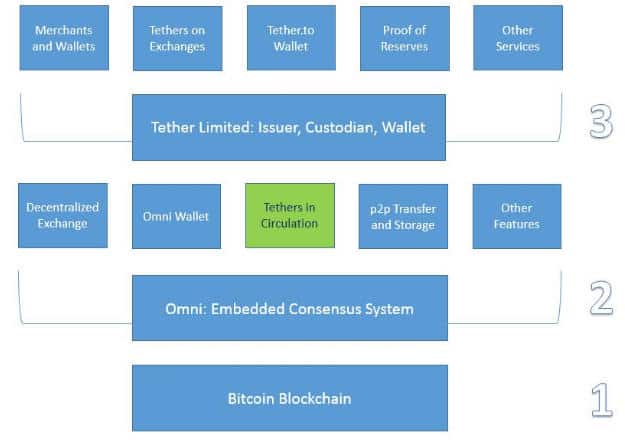 Money flow and tokens in USDT
One of the main technical characteristics of USDT is given by the way in which the flow of money between tokens and fiat currencies is managed. This is a process that broadly can be divided into five stages. These stages have specific functionality and are as follows:
First, the user deposits a certain amount of dollars in the bank account of the Tether Limited company.
Tether Limited then generates and credits the USDT tokens to the user's account. These are created in a 1: 1 ratio with respect to the deposit made.
Then, already with the active USDT funds, the user can use them like any cryptocurrency.
In order for the user to exchange their USDT tokens, they must deposit them in Tether Limited accounts to exchange them for dollars.
Finally Tether Limited destroys the USDT tokens and sends fiat currency to the user's bank account. Users can also obtain other currencies or cryptocurrencies using other means of exchange.
How to use this cryptocurrency?
The process to use USDT is quite simple but requires certain steps that other cryptocurrencies do not need. First of all, to access the USDT tokens from their origin it is necessary to go to the official Tether website and register. This step requires a complete KYC process in which you must identify yourself revealing your real data. From name and contact forms, address and even financial data, this information is required if you want to "buy" this cryptocurrency from its official website. Another way to obtain this cryptocurrency is buying it through exchanges. At this point, the exchange will also ask you for a complete KYC with which you will reveal your identity to third parties.
To handle transactions you need a wallet or purse. At this point you have options like Coinomi, Exodus o Atomic, but you can also use a hardware wallet like Ledger o Safe deposit. In any case, these purses will allow you to use this cryptocurrency without problems. You can review the transactions you make from its block explorer where you will have all the necessary information about the operations at hand.
Advantages and disadvantages of USDT
Advantages of USDT
Its price is stable. In the case of USDT, its value is 1 USDT equal to 1 $ USD.
Your transactions are very cheap. So for example, if you send money from one USDT account to another, no fees are charged for that transaction. But if you want to transform USDT for other cryptocurrencies or fiat currencies, you incur a small commission.
It is a highly integrable currency. USDT is especially easy to integrate into exchange platforms. As a result, virtually all exchange platforms offer pairs to trade.
It greatly facilitates the task of protecting the funds of traders and traders interested in working with cryptocurrencies. This since it allows to quickly exchange more volatile cryptocurrencies like Bitcoin in a stable cryptocurrency.
Disadvantages of USDT
There are doubts about whether the Tether company actually maintains a 1: 1 collateralization between the USDT tokens and their bank reserves. This is because it has never been possible to carry out a complete and public audit of this system. Due to this in 2017, USDT faced a difficult situation in which its value had well below the 1: 1 ratio with the dollar, falling to 0,9: 1. Likewise, the Tether company has been involved in several scandals such as the Bitfinex hacking scandal and even the one suffered by Tether itself, both with millions of losses.
It has been used many times to perform fairly gray operations in crypto markets. These operations include price manipulation of other cryptocurrencies and even criminal acts. While these types of stocks are not unique to USDT, the impact of this cryptocurrency more than multiplies such stocks. It has even been pointed out to be a scam and a money laundering scheme, by not making clear where its huge market capitalization has come from in such a short time that at this time it will exceed 4 billion dollars.
Tether is a company with many contradictions. First of all, it offers USDT as a 1: 1 backed cryptocurrency with the dollar, that appears on the main page of its website. However, in the legal and risk terms, it shows that they do not guarantee this claim 100%.
It is not an anonymous currency. The fact that you have to have to make a bank deposit to create the tokens removes privacy and puts your data in the hands of a company.
It is a cryptocurrency controlled by Tether, therefore it is not decentralized and its functions depend on this company.
There is no clarity on its implementation. There is no Github repository on its implementation on the Omni protocol. The only thing known is its smartcontracts on Ethereum and EOS, the rest is not clear.
There are many documents about the shadows that surround this cryptocurrency. Then we will leave a series of links about it:
BUY TETHER AT BIT2ME