A successful entrepreneur and a great visionary, Roger Ver is one of the people who fit between these two definitions within the world of cryptocurrencies, . From a very early moment, Ver opted for Bitcoin and technology blockchain becoming one of the largest investors in the sector, a tireless promoter of technology, which led him to earn the nickname "Bitcoin Jesus".
Une of the most important figures in the crypto world is Roger Keith Ver, also known as "Bitcoin Jesus", and no wonder, because Ver was one of the first promoters and investors in bitcoins, in addition to being the creator of several companies related to bitcoins. All this has undoubtedly transformed the image of Roger Ver, as one of the most important in the world cripto and here we bring you all its history.
The early life of Roger Ver
Roger Ver's life began in San Jose, California, where he was born on January 27, 1979. Ver's educational life begins at Valley Christian High School and De Anza College. However, he dropped out of school to pursue his business and business interests.
In 1999, Ver began what would be his first major project, MemoryDealers.com, a company focused on selling large amounts of computer hardware. The company grew rapidly to become one of the largest dot-coms offering some of the largest selections of custom and discounted transceivers, memory, and hardware.
However, in 2002, Ver is arrested for the illegal sale of explosives, which is why he would spend 10 months in federal prison.
Upon his departure, Ver continued his participation in MemoryDealers, and later in 2005, he moved to Japan, where he would obtain a residence permit. That same year, he began with the creation of his second largest company, Agilestar.com, a company dedicated to the design and sale of optical transceivers throughout the world.
With these two successful companies, Ver rose as a great entrepreneur, visionary and that would prove with his next big participation in the world of Bitcoin.
The arrival to the world of Bitcoin
Roger Ver knows the term "Bitcoin" in the year 2011. At that time, he states: "Which was one of the most important inventions in the history of mankind". Such was See Towards Bitcoin's vision that his company MemoryDealers.com was the first company to start accepting Bitcoin payments directly.
In fact, on MemoryDealers Twitter, you can see how the company was strongly committed to Bitcoin, seeing that its sales using cryptocurrencies were important. Just a sample of the power of Bitcoin, at a time when the cryptocurrency It was just beginning its expansion. Ver's bet went much further and, with the increasing wealth he accumulated, Ver began to invest and publicize this technology.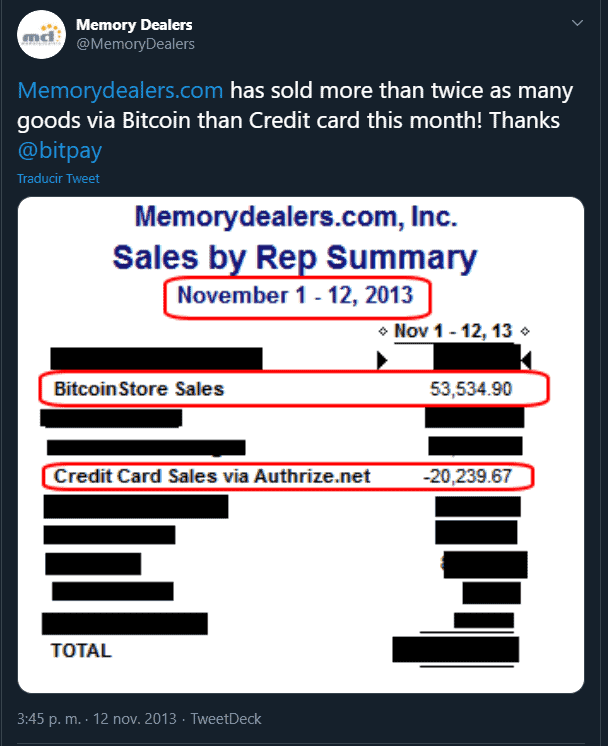 Some of Ver's biggest investments were in businesses like Bitcoin.com, Blockchain.com, Bitpay.com, Kraken.com, purse.io among many more could. All of them playing important roles today.
By 2012, Ver created Bitcoinstore.com, which would be one of the first online stores where you could buy anything using Bitcoin. It is clear that all these commercial activities accepting Bitcoin allowed him to amass a large number of cryptocurrencies. In fact, it is estimated that he obtained more than 400 thousand bitcoins. An immense fortune that in turn fed the investment machine that Ver used in the sector.
However, his biggest creation in the crypto world was yet to come in 2014 with the creation of Bitcoin.com. The company would be created in St. Kitts and Nevis, where Ver is a citizen after having renounced US citizenship. Ver obtained nationality on this island by making a series of investments.
With the creation of Bitcoin.com, his support for Bitcoin, and his constant pro-crypto activity, Ver was quickly dubbed "Bitcoin Jesus." This in recognition of its important role in publicizing this technology.
Your role in the birth of Bitcoin Cash
Roger Ver began his cryptocurrency adventures with the Bitcoin flag in his hand. However, with the increase in the use of the network and the appearance of the first problems in the scalability of Bitcoin, Ver was betting on increasing the size of the blocks to avoid the problem.
During the discussions about the block size increase and the actions that later cost the expulsion of Gavin Andresen of the project as Bitcoin Lead Developer, Ver understood (from his point of view) that Bitcoin was deviating from the path of being a cryptocurrency for everyday use.
The battle that had begun in 2014 continued until, in 2017, plans began to make a hard fork of Bitcoin. This hard fork responded to the request to increase the size of the blocks.
Ver used all his influence to make the hard fork reality, even momentarily, Ver sided with Craig Wright to make even greater force in the launch. This is how on August 1, 2017, Bitcoin split and Bitcoin Cash was born. This project was quickly embraced by Ver and his website Bitcoin.com
However, Ver and Wright's relationship quickly deteriorated and on November 15, 2018, Bitcoin Cash divided in two, Bitcoin Cash ABC (BCH) supported by Ver and Bitcoin Cash SV (BSV) supported by Craig Wright were born. From that point, the feud between Ver and Wright has been fueled to the point of going to court for civil suits.
Despite the fact that many no longer see Roger Ver as Bitcoin Jesus due to his change to Bitcoin Cash, there is something certain: he has always maintained his vision of making cryptocurrencies reach more people, defending this money model day by day versus central banks. And he has done a lot in that sense, being a true diffuser of Bitcoin. Thanks to all this, he has earned the right to be recognized as a great figure in the crypto world, and his space in Bit2Me Academy.